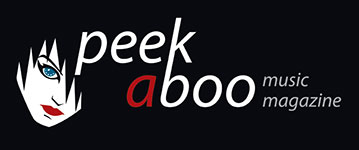 like this interview
---
VELVET KILLS
Velvet Kills Is A Paradox, Wrapped In A Mystery, Inside Of An Enigma…
02/08/2020, Stef COLDHEART
---
Su Eko (vocals & bass) and Harris Iveson (guitar & synths) met each other in 2014. It all happened during a music festival and quite rapidly they decided to start making music together. They first got based in L.A. (USA), but one year later they moved to Lisbon (Portugal) where they're still located today. They self-released the EP "Memory" in 2016 and came up with their debut album "Mischievous Urges" in 2017, which got finally released on Unknown Pleasures Records. The songs revealed a mature cold-wave sound. This year they are back on track unleashing the new opus "Bodhi Labyrinth". The work has been released as a collaboration between Unknown Pleasures Records, Manic Depression Records and Icy Cold Records. The songs hold on the influences of the debut album although the sound became more electro driven. It creates a dark and minimal opus of six songs revealing the huge potential of this formation. This is what both protagonists have to tell about it.
Can you briefly tell us how you got interested in music and finally came to set up Velvet Kills? What does music and this project both mean to you?
Su Eko: Music was always present in my life, it connected me to the freedom of self expression and helped me to develop my work as an artist. I had many amazing encounters during my life through music, one of them is Harris Iveson; we met for the first time at a music festival and eventually we became partners in crime and since that day we've been pumping music and life into Velvet Kills. This project is very close to our hearts and it's beautiful to see it growing.
Harris: I was infatuated with the theme to a classic noir film named "Laura" since before I could even talk.... "Laura" was even one of my first words… That's my first memory of music. Then I started playing piano at around age 5 and later trumpet. By the time I got to guitar at 14, I knew that music was my passion and I've been at it ever since. To me music is the most direct way of expressing complex emotions. With just one or two chords it's possible to speak volumes of meaning. Velvet Kills is a paradox, wrapped in a mystery, inside of an enigma… and we're here to decode and share that message.
I experienced "Bodhi Labyrinth" as more electro-driven, but still more personal than the previous work "Mischievous Urges". How did you evolve from the debut album towards "Bodhi Labyrinth"? What have been the challenges and difficulties in this new work?
Harris: With "Mischievous Urges" we were really still getting to know each other's tastes and searching for the direction that we wanted to take with Velvet KIlls. Also half of the album was written for a vinyl release and so when we were offered the opportunity to release it on CD we needed to come up with a few more songs in a fairly short period of time. We're happy with the way it turned out, but it did give it a bit of a Frankenstien effect. With "Bodhi Labyrinth" we already had a strong idea about what we wanted out of it, so really it was a quite natural process.
Su Eko: Very distinct experiences. "Mischievous Urges" is more diverse musically but the message behind it is possibly more focused on the inside of the mind, maybe more personal in that sense. "Bodhi Labyrinth" is the mind finding its way out of the Labyrinth with a direct message to the collective, it's also the point where we merged onto solid ground musically and we discovered ourselves inside the Velvet Kills beings.
It's always a challenge to release a new album, we had great support from Icy Cold, Manic Depression and Unknown Pleasures Records, they definitely embraced our way of growing as a band.
"Bodhi Labyrinth" is an album with a very critical view on Western society. I can imagine current news facts like the death of George Floyd only reinforce your critical perception. What is "Bodhi Labyrinth" all about and what did you try to express?
Su Eko: Even if coded in sarcasm, euphemism, hyperbole or irony this album comes with a strong intent to question the purpose of life vs government structures, as well as to appeal to collective minds to rise to a higher state of positive vibration and consciousness. Very shortly after "Bodhi Labyrinth"'s release the world shut down in quarantine which made this album's message even more clear. The songs talk about the dangerous path of ignorance, hate, ego, greed, abuse of power, unfairness and where love is recycled at a fast pace, but not plastic. It's a wakeup call to Humanity.
Do you follow an established procedure in the different stages to compose a song/album? How does it work and what makes the chemistry between you both?
Su Eko: We don't follow a specific rule, creativity happens when we're free to express, experiment, mistake and learn from it. Velvet Kill's chemistry works well because we both allow that space into our minds so creativity can exist and flow freely. For me it can start from a sound, a conversation, an emotion and when it comes out is like when you wake up from a dream...record/write the idea as soon as possible so you don't forget it.
Harris: Yeah actually we try to steer clear of anything that's too habitual… we want to keep our art from becoming formulaic. Fortunately we both have very different tastes so that always adds the randomness factor which is just great.
You recently released the clip "Bitch Face", which is showing some kind of decadence and explicit images. What did you try to express with this song and the clip?
Su Eko: "Bitch Face" tells the story of a woman craving to nurture her senses. A metaphor of her thoughts and desires, this song speaks of liberation. The video directed by Alan Deprez reflects the decadence subconscious inside that woman's dreams where we blended with a group of artists, performers and friends to make its message even stronger. We wanted people to see what life is about, crossing beyond the line of comfort and finding the place of equality, where it doesn't matter how weird you are, or your gender or your race, or your social status, or your dark subconscious. For us it was an opportunity to exchange the most amazing experience. It was like a dream, but real.
I was just referring to some explicit parts of the clip. While in the 80s such a clip would have been no problem at all, today censorship from some social media makes it impossible – even for artistic goals. Did you get some troubles with the clip of "Bitch Face" and what do you think about some social media and their sensor (dictator) ship?
Harris: Yes unfortunately what we're seeing now in social media is something that's been around for a long time in the rest of the media. It's always been a bit tricky to get the true message across without it being censored so people developed symbols and codes. We're basically doing the same thing by messing with social media rules and algorithms, but it is still possible and there are new networks growing everyday that want to support more open forms of expression.
Su Eko: We have more freedom these days to publish content to the mainstream, some boundaries need to be respected, but also simplified. Our "Bitch Face" is on Youtube available only for +18 and for the other social media we use images to promote the video, that are inside of the legal parameters of each platform.
Art, music, performance, etc will never stop existing, we just have to find new ways to contour the system that stops us from expressing ourselves and grow with healthier minds. 'Art should comfort the disturbed and disturb the comfortable' great saying by Banksy.
Stef COLDHEART
02/08/2020
---