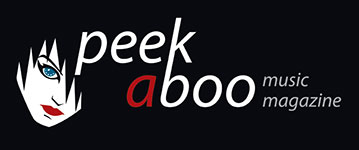 like this interview
---
THE COLOURS OF SILENCE
Isolation Is Good For Art. Embrace It And Use It
25/06/2020, Stef COLDHEART
---
The Colours Of Silence has been set up in Rio De Janeiro (Brazil) by Hélio Peixoto, but became an 'international' formation when Australian singer Michael Aliani (Chiron, ex-Ikon) joined in. After some digital EP's, the debut album "Between The Darkness And The Light" revealed a solid 80s cold-wave touch. Guest artists Kriistal Ann (Greece) and Dino Molinaro (Australia) contributed to the work. Released in Brazil on Wave Records, the songs reveal an efficient fusion between typical 80s guitar play, melodic electronic choruses and the charismatic vocals of Michael Aliani on top. I talked about the album with the singer.
How did you guys meet and what convinced you to set up The Colours Of Silence?
A Facebook friend Lory introduced us a couple years ago and instantly we began to work on music. It is quite strange doing something so personal and intimate with Helio, and we have never actually met. Helio had started The Colours of Silence some years earlier.
The debut album clearly sounds inspired by the darkest hours from the 80s dark/cold-wave movement. What fascinates you in this 80s music and how do you transpose the influences into your own band?
Helio is really inspired by cold-wave there is absolutely no question about that, but the music he produces also has emotion and lovely melodies, which makes it very easy for me to be inspired by. The 80's influence on me is quite innate, it's the period of my life when I first became open, curious and passionate about things, it's not really on a cognitive level, it's instinctive.
Internet is a great tool to make music when living in different countries, but I can imagine it also has its restrictions and frustrations. What have been your experiences and how did you work together? What has been the input of each other and who took the final decisions?
It's been wonderful to work with Helio. It's quite a privilege when a young talented artist lets you in and the whole process feels very right. We keep it very simply, Helio will send me a track, I'll do the vocals and some improvisations and Dino's bass, we send it back to Helio, and Helio will finish it off. Nothing has ever been discussed or planned, it's nice that way. Naturally it would be even better if Helio and I could work together in person, I would really love that, for the human interaction, but not possible unfortunately.
The album even became more international minded with features of Greek artist Kriistal Ann singing on one song and Dino Molinaro (Ikon, Chiron) playing bass on another track. How did these collaborative efforts see the daylight and what did both artists add to the featured songs?
I was introduced to Kriistal Ann when we were in Brazil to perform by Alex of Wave Record's and I fell in love with her music and vocals instantly. So cool, dark, original and avant-garde. When I started working with Helio we chatted about the possibility of some female vocals on a couple of tracks and naturally Kriistal Ann came up. She didn't hesitate, and I love the track, couldn't believe how great it turned out. The music, the contrasting vocals, yeah couldn't have turned out any better.
Dino got involved because he is a very talented creative bass player. Simple really, why wouldn't you involve him. All the tracks he played on were improvised on the spot. Quite impressive to watch Dino doing his thing, creating on instinct.
Michael, you've been active in the music scene for numerous years now so what does a new project like The Colours Of Silence mean to you? Did you maybe accomplish new things or challenges? And did you maybe discover new elements by yourself?
It's been pure joy. Helio's style of writing is just perfect for me and he is such a lovely person, let's not forget that. It really feels natural. This is the first time I have done a collaboration like this. Having been involved in music for many years, there are extreme ups and downs, The Colours Of Silence is so invigorating for my artistic soul.
How do you as artists and human beings experience the Corona pandemic? Is there an impact on your album and what are the further plans for The Colours Of Silence?
Isolation is good for art. Embrace it and use it. Naturally there will be a second The Colours Of Silence album. Helio has already sent me enough material for the next album, so when the time is right I will start working on it. We don't want to rush the second album.
Would love to do live performance with Helio one day. That would be cool.
Stef COLDHEART
25/06/2020
---