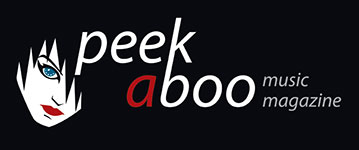 like this interview
---
DON GORDON (NUMB)
'In many ways the first Numb album was one of the 'easiest' to produce...'
09/07/2020, Danil VOLOHOV
---
By the time Don Gordon started Numb, the industrial musical scene has already established itself. Artists like Ministry and Revolting Cocks started experimenting with noisy sounds of distorted guitars, while Numb chose another path. And they're still doing it. The recent Numb's "Mortal Geometry" is a good proof of Don Gordon's ability to choose another path. "Mortal Geometry" is an incredible open-space journey through sound landscapes. And Don is not going to stop on one album in twenty years. It seems that he's now more productive than ever.
In the interview for Peek-A-Boo Magazine, Don Gordon told us about "Mortal Geometry' and 20 years pause, about songwriting and his musical roots, about production work and shared his plans on coming records and projects.
Firstly, let me ask you – how do you remember the very first years of your creativity ? What led to the formation of Numb ?
My start in electronic music was in an early 80's synth band that was quite successful in Canada. However, I found that my musical interests were darker and more aligned with the post-punk ethos of the early industrial/electronic scene. So Numb was a logical progression from these earlier projects.
Just like all other artists, you progressed a little bit with each next record. So speaking about your first self-titled album – was it a difficult experience for you ?
In many ways the first Numb album was one of the 'easiest' to produce. At the time we did not have access to a lot of equipment and this was before the advent of computers and DAWS for music production, so the focus was on capturing a raw emotive power in the music rather than on technical/production issues and complexity. A number of the songs were performed live to a stereo master in the studio in 1 or 2 takes while others incorporated a lot of improvisation. As a result, songs were often written and recorded and mixed quite quickly, resulting in an album that has a great deal of immediacy to it. On the production side we also were fortunate to be able to work with talented individuals like Dave 'Rave' Ogilvie and Anthony Valcic who helped us capture our ideas.
It seems that with each era of yours, the sound of Numb changed a little bit. In the 80's it was more classical, in the 90's it seems that you tried different stuff before you found your style – very intense and aggressive. What defined your creative direction?
The early creative development of Numb was centred around a desire to make emotionally intense electronic music that engaged with ideas and at the same time allowed us to incorporate a range of influences while working with new music technologies.
While often viewed as emotionally dark, Numb is not nihilistic. The intent has been to present 'dark moments of the soul' or 'problematic issues' for the listener engage with and respond to these, hopefully in a positive manner. While there is an aggressive quality to some of the Numb material, its use is to underscore associated concepts, not for its own sake. Aggression used without context tends to be one-dimensional and limited and its communicative value.
For many listeners the vocals are the doorway through which the music is engaged with and how they 'identify' with a project so a change in vocalist can potentially amplify the sense of disjunction from previous works. This has also contributed to a sense of the 'eras' that you mention.
In one of your interviews (probably, from 90's era) you stated that having a strong hand on the lyrics, it's still a hard question, about the direction you'd move to as a band. Among the factors that influenced you while creating "Mortal Geometry", what were the most important ones?
The title and artwork for Mortal Geometry reflect a convergence of different themes that are explored on the album. From a personal perspective, my time in Asia has had a massive influence on me so it was important that the music and the cover art capture an element of this experience. The visual core of the artwork is a series of images by Andrew Stiff who produces 'extrusion photographs' as a part of his PhD research. In particular he was looking at the application of Tschumi's architectural theories of space, event, and movement in the context of the (destructive) urbanisation in Ho Chi Minh, Vietnam. This approach to representation can be easily extended to include how digital technologies are mapping/recording our lives as data points within spatial geometries over time…in essence, surveillance to predict and control (ie. a quick survey of current news cycles reveals several examples of this). In parallel to this there is the impact of digital disruption on communications/media that corrupt and erode meaning by intent (editing/redaction/hacking), error (glitch), spectacle and apathy…and through this, a death of social rationality. So Mortal Geometry is a kind of metaphor for this convergence.
Comparing "Mortal Geometry" and "Language of Silence" I'd say that within the current stage of your career your sound became more experimental and not as aggressive as it was in the 90's. How much your life and the things that have happened to you for the last twenty years affected your views on the music itself ?
The thematic and compositional approach used for Language of Silence was intentionally narrow and made use of deconstruction and 'cut-up' techniques. This was especially evident in the approach to vocal processing used on the album. Overall, it was very obsessive, cyber-punk in nature and exuded a sense of adrenaline-fuelled paranoia.
Mortal Geometry had a different intent…to seduce rather than assault the listener. It takes a broader thematic approach (ie. less sci-fi, more an interrogation of 'now') which was supported by a more varied approach to composition. The challenge was to get the diversity of musical/textural elements to feel integrated and to present the lyrical content in a manner that would draw in the listener in rather than coming across as didactic….to engage and entertain rather than having the listener feel that they are being lectured to. I think that Mortal Geometry has been successful in this on both of these fronts.
While composing something, what do you think first and what helps you to unite your ideas into one form ?
There is no 'one-size-fits-all' answer to this but if I was pressed to define my writing process I would say that it generally starts with the emotive quality of a sound texture suggesting possibilities, and then this is built up through intent and creative 'accidents'.
Some of your well-known hits were written on the basis of drum-machine parts, some were united by a few samples, or just separate sounds. What helps you to sort out where the song is going and what elements and parts you should add to it ?
One of the fascinating things about electronic music is that the same musical element/event (ie. a melody, rhythm, etc), can communicate a very different response in the listener by a change in its timbral qualities. For me this means that the initial selection of sounds is crucial to determining how a song will develop.
Was it hard for you to leave what you've been doing when the project got on hiatus ? I guess it's the similar thing to what writers say: "It's a habit" – so was it hard for you to give it up ?
I had planned on a break from Numb after completing Language of Silence and the Halo_Gen project but it went on longer than originally planned as I got involved with a number of projects in SE Asia that I would never have been able to do at home. So in answer to your question, I didn't really 'give up the habit' but instead channelled my creative focus and energies into areas that included game design, art commissions, commercial music and sound design, university research/teaching, and entrepreneurial projects.
Afterwards you literally got back with "Mortal Geometry" – how did it feel ?
It was a bit like picking up on a lapsed conversation with an old friend you haven't seen in a long time…the introduction of some familiar ideas but then to building on these as the foundation for new explorations and reflect changes that have taken place.
What was the point of entry for the record itself ? When did you start your work on it ?
About 3 years ago, I started writing material as a personal response to social/political changes I was seeing, and Numb felt like the relevant instrument through which to comment on these. Massive changes have been happening over the last few years, many with a technological basis, and are being played out quietly in the background while we are distracted, arguing and "entertaining ourselves to death". Mortal Geometry is an attempt to engage with some of these issues - the corruption of language and meaning to ultimately redefine a new compliant 'reality' that aligns with the narrative of those wanting power and control, a society becoming increasing divided, contracting on itself and drifting apart, the focus on spectacle over the real, hauntology, and the noise/silence binary as metaphors for unspoken lies, homogeneity versus complexity, diversity and change.
One of the aspects of the record I'm curious to ask about is how you finished it – it's also an important point. Why did you decide to literally split "Hush" composition into two parts ?
Hush is one of the key tracks on the album and the 2 versions were designed to amplify different aspects of the themes embodied in the song. Rather than a dystopian cyberpunk or a technological utopian future suggested by some…the track suggests that these have been replaced by a 'future' that looks suspiciously like the past and which in turn looks like the present. A kind of 'forever now' loop. Mark Fisher and others have written about this sense of 'haunted by lost futures', the 'persistent recycling of the past' and an 'inability to escape old social forms'. The version of Hush that closes the album puts these ideas in the context of a 'soft apocalypse' rather than the big catastrophic upheavals that many sci-fi authors and films often present.
And the last one – is there anything you're working on right now ? Any plans ?
Currently working on a number of things. Just finished some remixes for other artists that will be released over the upcoming months. Have been writing material for a new Numb album and a side project that will be quite different than Numb. Also looking at re-issuing some out-of-print titles (Death on the Installment Plan, Fixate, Halo_Gen).
Mortal Geometry website
Numb on Bandcamp
Numb at Metropolis Records
Danil VOLOHOV
09/07/2020
---