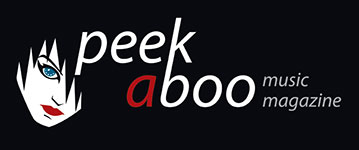 like this interview
---
MARK E MOON
We Know We're Not Re-Inventing The Wheel!
26/05/2020, Stef COLDHEART
---
For sure there must be a link between the album "Marquee Moon" from Television and the band Mark E Moon. Hailing from the Isle Of Man, Mark E. Moon is driven by Mark Sayle and Phil Reynolds. They define their music as post-punk. The least I can say is that their debut album "Refer" (Cold Transmission Music), released last year, clearly refers to some of the biggest idols from post-punk and dark/cold-wave music such as The Sisters Of Mercy, Joy Division, Bauhaus etc. But "Refer" also is one of the best albums I've heard in this genre during the past few years. Mark and Phil answered a few questions about it.
How did you guys meet and come to set up Mark E Moon? And can you tell us a bit more about your music background?
Mark: We met nearly thirty years ago in Bushy's (a popular and now sadly closed 'alternative' pub) in Douglas, the Isle Of Man's capital. We bonded over a shared love of the darker side of music. Joy Division, The Sisters Of Mercy, The Chameleons and Bauhaus were big influences on both of us growing up. As a matter of fact it was Phil who introduced me to The Chameleons if I recall correctly.
Mark E Moon was initially a side-project. My other band Slow Decay was recording an album (cf. "Pre-Dawn Light") and there were a couple of tracks I had written that didn't 'fit' with the album's aesthetic. I asked if I could use them for a side-project and the guys agreed that would be okay. Slow Decay were recording with Phil anyway so it was a natural progression to record the music for my side-project with him too. We soon realised that we worked well together, the songs were a joy to write and a lot of fun to record.
Musically, my background is very mixed. I've written in many different genres and played in lots of different bands, but all of them had a dark alternative undertone regardless of style.
Phil: Yep. That's pretty much it – as I recall anyway. We first actually recorded together about 25 years ago, in much the same way as we work now, really. Maybe those recordings will see the light of day sometime, if we get drunk enough. We only have cassette copies but some of it is definitely proto-MEM.
Last year you released your debut album "Refer", which I think has been an opportunity for music lovers to discover Mark E Moon. The first thing I noticed is the strong 80s influences related to cold/dark-wave music. Can you tell us a bit more about the album, the influences and what did you tried to accomplish?
Mark: I think our influences are quite clearly worn on our sleeves. The Sisters Of Mercy comparisons were always going to be there. I'm a baritone and most of the time I'm a bit of a crooner, and so is Andrew Eldritch. You can't really escape those comparisons if you write dark music. Those influences are the references the album title is about. It refers to different styles of music, different characters drawn from literature and refers to the way we approach our craft. With "Refer" we weren't really trying to accomplish anything other than having a good time writing music we love. We certainly didn't have an overarching theme in mind. Three of the songs ("Electronic", "Delta Of Venus" and "Amanda") make a loose trilogy, but other than that the songs are unrelated.
Phil: We're not daft – we know that when you're working in such a tightly-defined genre there'll always be comparisons. It's inevitable. The album's called "Refer" for a reason. We're just wearing who we are on our sleeves. We love The Sisters Of Mercy, Bauhaus, DAF, etc, so that's bound to come out in what we do. We know we're not re-inventing the wheel! I think we're just a bit more open about it than many. And they're some of my favourite bands, so if anybody compares us to them, then I take that as a compliment. For the newer stuff, I personally am trying to bring in more influences from bands like OMD, Simple Minds and Ultravox –that epic 80s synth wondefulness.
How did the writing and recording of the album happen? What were the main frustrations and sources of satisfaction?
Mark: The writing process on "Refer" was a very collaborative effort. Usually I'd have a bassline and maybe a riff or two and some lyrics which I'd take to Phil. We'd then flesh out the basic ideas, rewrite parts that didn't work and add synths, guitars, drums and vocals. The most important part was that it was fun. Just two mates messing about in a studio. We had no expectations of the music ever being picked up by a great record company like Cold Transmission let alone released or so well received. For me the only frustration is that I don't get to do it every day. Just getting to make music with my best mate is a great source of satisfaction.
Phil: It's actually quite hard to answer this because it just kind of happened. We weren't paying much attention as we didn't really know we were working on an album – we were just a couple of best mates having fun spending time together, laughing a lot and working on giving a home to some of Mark's fantastic songs. What's happened still surprises me when I think about it for too long. I think the main frustration for me is that we didn't get round to doing it sooner. We've always got on, always been pals and always known we could work together really well. Maybe we're just a bit thick…
The lyrical content clearly seems to be important so what did you want to express? And how do you transpose the lyrical themes into music? What's the possible link with the artwork of the album?
When writing lyrics I try to just let them flow. What comes out is what comes out. I find themes that seem to work with the music and run with that. Some are stories, some are based on my own life and troubles. Generally speaking though the music comes first, lyrics second.
The artwork on the album cover is a reference mark. It forms the 'Mark' in Mark E Moon.
You hail from the Isle Of Man so I can imagine living there must be not that easy especially for musicians dealing with underground music. How is it really going, and in which way will Brexit have an impact on British artists?
Phil: Mark's left this one for me to answer, the crafty sod. The island's quite a nice place and a very, very musical one, but it's right in the middle of the Irish sea, which absolutely destroys any chance of musicians and bands being able to establish any sort of career that doesn't involve playing "Wonderwall" in pubs to uninterested drunks every Friday night (and good on the guys who do – many of our pals over here do this). It's purgatory for anybody with any ambition to take their music further – it's really difficult to defeat the geography. Without the wonderful guys at Cold Transmission, we'd still just be writing and recording in my home studio to amuse ourselves on a Thursday night. The only reason we can continue to do Mark E Moon at all is because our wives are so supportive of us and because it's not our day job. I wish it was, obviously. It's somewhat telling that our first gig was in Belgium, and not over here.
As for Brexit, well, I personally think it's going to absolutely fuck smaller artists like us. It's likely that our potential main audience will be in Europe and the restrictions of post-Brexit travel –visas, carnets, etc. are going to make touring hugely difficult and unaffordable at our level. But the problems of a couple of middle-class, middle-aged Goths aren't the real issue here. The issue is what Brexit has done to the country –the rank underbelly of racism and xenophobia it's revealed. It's foul. I've been politically active most of my life, and it – for a while – looked like we were winning the battle for decency, against racism, homophobia, transphobia and xenophobia. It felt like we'd become part of this bigger world. And now the country I was born in has actively voted to reject all that and instead embrace ignorance and fear. (Note – I say 'Country I was born in...', but I was actually born in Liverpool, which I regard as a separate country and which voted heavily against Brexit and against the current twisted bunch of pathetic liars and idiots we have in power).
What does the future bring for Mark E Moon? Are you already working on new songs and how do you see the band evolving?
Mark: The future is at once exciting and yet uncertain. We are working on lots of new material right now and are looking forward to releasing it hopefully later this year. Unfortunately, the global pandemic has brought a crashing halt to recording at the moment. We're currently trying to find a way to work around those issues by both working from our own homes.
As to the evolution of the band we have recently recruited another member, the fabulous Kieran Ball, who's guitar you can hear on the track "Hollow Eyes" on "Refer". We seem to be moving in a slightly more electronic direction, but it's early days yet, the songs may end up with lots of guitars all over them, we'll have to see.
Phil: The next album's written and demoed. Well I say the next album... there are a lot of songs to choose from, so we've got several ideas on that front. We've been chatting about some of these to Andy & Suzy at Cold Transmission. I've bought a bundle of new synths, so they'll probably have some influence on the sound. It's fun going back to the old equipment again, as I got rid of most of my old analogue keyboards years ago. Seemed much easier to understand then, though.
Stef COLDHEART
26/05/2020
---