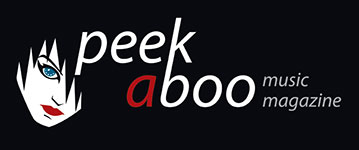 like this interview
---
SERAPHIM SYSTEM
A Glorious Return To Form
18/10/2020, Stef COLDHEART
---
In a rather short lapse of time John Stancil aka 'BL4KJ4K' has released an impressive number of productions. Every single production is driven by different influences; moving from Dark-Electro and Aggrotech to Industrial-Metal to Hip-Hop to hard Techno, SERAPHIM SYSTEM takes you each time again by surprise. The new album entitled "Phoenix" (released on Digital World Audio) has been introduced as 'back to basics', which I experienced as merciless Industrial-Techno music to provoke earthquakes at the dancefloor. I asked a few questions to this sonic terrorist.
You this year released your newest album "Phoenix", which I think took numerous fans by surprise for its hard industrial-techno style. What can you say about this work, its influences and eventually references when it comes to production?
"Phoenix" was a back to basics, return to roots kind of an album. I started making music similar to this style and then dabbled in Industrial-Metal for a while. I could tell some people were okay with it and it took a lot of people by surprise. "Phoenix" was, as the label called it, a glorious return to form. I wanted something with all the club Techno edge that really stomped on speakers. It all came super easy and naturally, like it had been waiting to be born.
The title of the album is pretty symbolic, but in, which way is it a metaphor for the sound of the album? What is it really about?
It's a bit on-the-nose, but the Phoenix in mythology arose from the ashes of its predecessor. This parallel to the album was a destruction of the way my music was headed and being born again in this new (but old) form. It's pretty much all out there from the title. No real ulterior meanings as far as that goes.
The double CD format of "Phoenix" features the three "Mutant MTHRFKR"-EPs, which were previously released as digital records. I experienced these songs as more elaborated than the "Phoenix"-tracks although in the same vein. How do you perceive the differences and links between both albums?
"Mutant" was definitely more Aggrotech geared. All the elements of traditional Aggrotech were there in each of the installments with some modern additions like the chaotic basslines. To me, "Mutant" was more of trying to make the heaviest sounding club bangers and nothing else. "Phoenix" took on more of a traditional album approach with the speeding up and slowing down and 'movements' based within each track.
I've always seen you as an artist who doesn't like to repeat himself; each new work sounds different and inspired by other influences. How do you explain this versatility or eclecticism?
Even as a kid I would take board games and modify the rules to allow new modes of play when my friends and I would play them. I've always tried to add something new or do something different to something existing to make it my own. Generally it might not go over well in some style of music because people like what they like and that's what they want to hear. It's been fun integrating new concepts into traditional styles of Industrial music and it's also been damning as well. Some people just really don't care for it.
I noticed you've already a new album in the pipeline, right? How will this album sound like? Can you already reveal the main ideas and sound approach?
Can't reveal the name because I know it will piss off the label, but in a few words: tribal, animalistic, jungle, primal. Predator hunting Arnold in the rainforest type shit. Massive, and again a new approach and spin on what I'm used to doing. It's finished, we just have to wait for the right time to drop it.
What has been the impact of the Covid-19 pandemic on your artistic activities –especially the release of the "Phoenix"-album and live performances? But still an opportunity to work on new songs, clips etc?
Fuck this virus. Seriously. It's ruining people whose livelihood is based on performing. Luckily all of my work just involves me and my computer. Remixes, collabs, everything. Everything is digital nowadays so there's no face to face communication with anyone in the scene (at least for me, I don't speak for everyone.) I'll always be working on something new. I produce Hip-Hop, Downtempo, Eurodance, I'm always keeping myself busy making some kind of noise.
Stef COLDHEART
18/10/2020
---