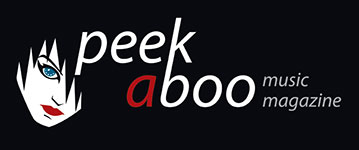 like this interview
---
WULF7
EBM-Indus Night Liège : The bands presented... WÜLF7!
20/10/2020, Peter DOLPHEN
---
Good day and nice to meet you. How are you doing?
Bwülf : Hello Peter ! Well let's say I'm ok. You know we are living a dark age..
Cyrb : Hi Peter, everything's ok. A strange year for everyone but maybe it's a renewal in our way of seeing things...
First of all: are you glad you can play again after this period without live-gigs?
Bwülf : I'm excited like a wolf ready to hunt with his pack !! This year was shit.. we had to cancel 5 gigs. As we are a kind of new band it was hard because it's like you are stopped in your progression. And we were supposed to play with good bands. So really frustrating. Let's hope 2021 will be better for us and for our friends !
Cyrb : Exactly... I totally agree with Bwülf on this.. This virus has totally undermined the projects of many of us... Delay in studio progressions,... cancellation or postponement of concerts.. This first event after a few months now will be very special. We look forward to it.
How did you fill your musical needs during the (limited) lockdown? Did you find inspiration in the situation?
Bwülf : I'm a music freak.. especially in these styles : EBM – ELECTRO INDUS – DARK ELECTRO – MINIMAL & SYNTH WAVE – PAGAN & DARK AMBIANT INDUSTRIAL … Listening to as much as I can.. New and old bands from the morning until I go to bed.. The inspiration comes from my dark mind. Easy when you look at the world.
Cyrb : I think there were two phases for me.
This period of uncertainty.. Projecting oneself into the future in such a situation is sometimes difficult.. We ask ourselves questions because we are a new formation.. Stupid questions.. :)... Aren't we going to forget about us.. Didn't we arrive too late.. So shame on me.. lol... the machines were totally stopped. Then.. rebirth.. A desire to move forward, a desire for improvement but also, surprisingly, a good vision of our identity. So there, we drink the knowledge of our musical pillars.. the very ones who allowed us to dream that one day we would be on stage, we analyze, we start and start again.. and.. we move forward
The gig in Liège will be special: only 40 attendants are allowed: how do you prepare for this?
Bwülf : Huh ?!.. Have to pee.. Cyrb can you answer to Peter please ? Thanks.. lol. Seriously i will give my best for these 40 Wülfs. It will be our first time to play in this "way" … so it can be funny :)
Cyrb : Yes :) very special.
I do not know how to draw this little nocturnal universe during this evening. I guess.. fabulous in a way because it will be very intimate.. Kind of like a one man show in a vintage cabaret.. I think it's going to be a great experience and as Bwülf says:
We will do everything to please the audience who will be in the room.
Do you adapt your playlist to this? Or still going all the way, full force ahead?
Bwülf : FULL FORCE AHEAD … and we will play 3 or 4 new songs. Think it's gonna be a good surprise ;)
Our first album is coming soon on a CD support. With some titles totally reworked and remastered by someone famous in Germany. Including also some very good remixes.. Surprise !!.. But hush ! It's a spoiler and you are the first one to know it ;) … Shit everyone knows now.. :-)

Cyrb : lol.. I had planned an acoustic set but my friend doesn't want it :).. Nooooo.. we will keep the same structure. I even think that if we have the possibility we will be able to even better associate the atmosphere of the room with the state of mind of our project.
You are playing along with Akalotz, Dreadfool and Deleritas, so it should be a stomping night full of EBM: do you prefer this kind of smaller festivals in one particular genre? Or more the bigger festivals with a large variety of bands?
Bwülf : I like both. It's nice to play smaller festivals.. more friendly more family you know.. Big ones is good for your image I suppose… And we love to play with a large variety of bands and styles !

Cyrb : yes exactly.. Both are necessary.. This kind of festival allows us to reveal our true face. It's much more intimate and it brings us closer to the public, to our friends. There is WÜLF7 and us. The biggest festivals allow us many other things.. To understand, to learn, allow us to gain confidence.. to make superb encounters with other groups that we have always listened to.. but here in general the public only sees WÜLF7, because it is difficult to discuss with all people.
Both are really essential.
If you could choose your own festival-lineup: which bands would you put on stage? And why?
Bwülf : ALL MY FAVORITES BANDS ! (Amnistia / Signal Aout 42 / Tyske Ludder / The Juggernauts / Sleepwalk / Atropine / F242 / A;GRUMH… ! / ZYNIK 14 / STATIQ BLOOM / Mildreda / FIRST AID 4 SOULS / E-Craft / Orange Sector / Euforic Existence / … / shit.. I have too many ! LOL. Why ? Because I m a " Dark Electro Industrial EBM Freak ".. got it ? lol

Cyrb : wow, huge question.. there are so many. I like so many different things in each formation that I listen to... I think I will do a three-month festival..lol :)
Which one song from another band do you think of: 'damn, I wish I wrote that one'?
Bwülf : The song of Enzo Kreft " It's Going On And On" fits perfect with the world situation right now.. and the Spirit of WÜLF7 but more in a dark & agressive way.. We are not a funny band. Very dark inside. We both hate humanity in every way.
Cyrb : At this time, I really admire the last track of 2nd Faces 'Long Live Humanity'.. I would really like to build such a single musically.
Any last words for our readers?
Bwülf : Try to survive. Keep fighting. Save Animals & Mother Earth ! See the true. Revolution and Civil disobediance must start ! Give us back our freedom !! And lots of love and beers (naturellement)
Cyrb : Let's not be afraid of words, let's not be afraid to displease, let's not be afraid to show ourselves and shout out to all audiences all the splendor of our stage and our complicity. Their society is not the one we want.. Let's not be afraid to show it.. and yes.. with love and beer if god wills it :)))).. Take care of yourself.
Thank you for this interview and see you in Liège!
Bwülf : Thank you Peter ! Thank you Peek A Boo Magasine ! Yes see you and let's have beers !
Cyrb : Thanks Peter! Thank You Peek A Boo!.. and see you soon in Liège 😊
Peter DOLPHEN
20/10/2020
---