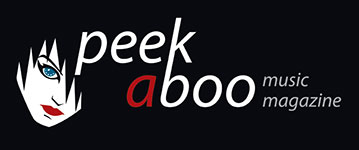 like this interview
---
DELERITAS
EBM-Indus Night Liège : The bands presented... Deleritas!
21/10/2020, Peter DOLPHEN
---
Good day and nice to meet you. How are you doing?
SAM: Good, thank you!
Onyx : fine, thank you very much.
First of all: are you glad you can play again after this period without live-gigs?
SAM: It's been a very long period of famine, it's a real relief to be back on stage. Personally, I even had as much stress as for a new album.
Onyx : I'm always very nervous before a concert, whatever the date, the place or the audience. It's always complicated to lay yourself bare and present what you're composing without a filter. It's even more stressful in these conditions, but it's also very exhilarating and an honour to be among the first gigs after the health crisis.
How did you fill your musical needs during the (limited) lockdown? Did you find inspiration in the situation?
SAM: I have to say the band has just had a special year. My brother was broken into in December 2019, we lost a lot of music files. In January, we went back to the "restoration" of our files, then the lockdown fell. I don't want to say it was almost a relief, but because of that, we had the opportunity to create new content in the process, like many artists of course.
Onyx : This period allowed me to experiment with a lot of new sounds, new ways of composing and thinking about our music. Thanks to this time, I was also able to listen to a lot more music, a lot of new things. I also had time to read a lot, to watch films which are always huge sources of inspiration for the sound worlds I want to create.
The gig in Liège will be special: only 40 attendants are allowed: how do you prepare for this?
SAM: there is no difference for us, a concert remains an incredible opportunity to present our universe. When we' ll fill stadiums, we will rethink our presentations. (joke)
In fact we are working on a somewhat special show, because it is not easy to watch a concert while sitting down. We must add a little spice.

Onyx : It is mainly a mental preparation. When we are live, a lot of the energy we share comes directly from the audience dancing and reacting to our music. Here, this energy couldn't come to us as it used to be but we have to perform the same way so that the audience leaves with the feeling that they have had a good time with us. In any case, this is a challenge that we are happy to take up.
Do you adapt your playlist to this? Or still going all the way, full force ahead?
SAM: Whether we play quieter songs or not, I always try to give my maximum on stage. I often come down exhausted. But in this kind of condition, it's even more important to show the public that we are not there just to show what we got, we are really there to share, to travel together. If we didn't put some of our own in it, it would be disappointing!

Onyx : In any case, our playlist has been rethought thanks to our new tracks composed during the lockdown. But, indeed, we're thinking about it differently, less quiet tracks so that the audience beats the rhythm rather than thinking about the discomfort of the situation.
You are playing along with Akalotz, Dreadfool and Wülf7, so it should be a stomping night full of EBM: do you prefer this kind of smaller festivals in one particular genre? Or more the bigger festivals with a large variety of bands?
SAM: to be honest, it doesn't matter to me. I like to play, go on stage, put on makeup, live an hour of delirium. The stress is always the same, the pleasure too. It is true that I like to find the EBM / INDUS family (Dreadfool, Wulf, Akalotz, Larva, Zynik14,...), we always have a good time together.
After that it is true that to make new friends, to have a different feedback on our service is also an immense pleasure!
Onyx : Since I was 16 years old, I've been attending alternative concerts, be it electro, metal, goth, industrial... I've always had musician friends or organisers who have always worked hard to bring their worlds to life in and around my city. As far as I'm concerned, it's as much a pleasure as a duty for me to be there and support them. Of course, playing in a bigger event would be a pleasure and a nice recognition of our work, but the small concerts, the underground scene in general, it's a bit like a family that I like to think I'm part of and that I couldn't do without.
If you could choose your own festival-lineup: which bands would you put on stage? And why?
SAM: It's hard to answer that... a festival over several days? I have a lot of favorites on the EBM / INDUS scene.
I think if I had to decide, I would choose some friends to open, a crazy headliner and a battle DJ at the end, over two days so as not to anger anyone.

Onyx : That's a trick question! Of course, I would like to put a maximum of friends, all styles included, which would probably make a strange festival, mixing metal, electro, new-wave, jazz, chiptune,... But, for the more famous bands, I would lean towards my first loves: Project Pitchfork, Suicide Commando and Hocico who were the bands that made me discover this whole scene. But choosing is very complicated, because, throughout these years, I've had a lot of favourites.
Which one song from another band do you think of: 'damn, I wish I wrote that one'?
SAM: There are a lot of pieces that I would have liked to compose. There is always time to remix them elsewhere! But tit for tat, I would say "MASSGRAVE" from Larva. When I meet Marco and Anoxia, I always ask them if this song is in their set. At the Liege new wave festival 2020, they told me backstage that this was not the case... then they played it as a encore, the rascals! It's one of the few songs that makes me headbang, because yes, I don't like dancing very much. But that I'm on the corner of the stage, arms crossed and head moving, I'm actually exulting!

Onyx : This question is a little easier than the previous one. I have had this reflection on all the works of Velvet Acid Christ. I find that his tracks are completely crazy, efficient, rich, disturbing but always brilliantly mastered. I have also had this reflection on a lot of tracks by C-Drone Defect, Wumpscut or This Morn Omina.
But, to choose a single track is sincerely impossible for me. I will try to think about it for the next interview :-D
Any last words for our readers?

Sam: We hope that we will have the opportunity to present our universe to them live if we haven't already done so. If they have any questions, please don't hesitate to contact us via Facebook. Failing to see us in concert, they can find a taste on Youtube, Facebook and Instagram.
Onyx : Thank you for allowing this scene to continue to live and express itself. Hoping to meet you at a concert: you'll find me near the bar ;-)
Thank you for this interview and see you in Liège!
Peter DOLPHEN
21/10/2020
---