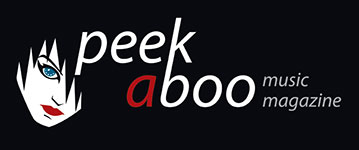 like this interview
---
BODY DIVIDE
I'm a masochist. I think a lot of people fear it...
27/05/2021, Jurgen BRAECKEVELT
---
Body Divide is an EBM-act from Los Angeles. They hit us hard with their first EP Pleasure From Pain. Enough reasons to get in touch with the duo, to have a chat and introduce them to you, our beloved followers...
Hi guys, can you please introduce the band Body Divide ?
There are two members in Body Divide. I'm Dave. I make all the noise with synths, samples, and drums. Chris shouts and makes noise with his voice. We are from Los Angeles.
When did you guys start up? What's the history of the band?
I was introduced to Chris by a friend at a party and after chatting, he invited me to play guitar in the punk band he was in. That didn't really work out. After hearing his voice, I really wanted to work with him. We formed an experimental noise act, Torture Gallery. Our first show was opening for Brighter Death Now and we had a great response. After releasing one EP, we decided to move into a classic Industrial EBM sound and changed our name to Body Divide.
Where did you get the name of the project? Meaning?
To be honest I forgot who came up with that name first. It seems like it fell on our laps at the same time. There sure are a lot of projects with "Body" in them aren't there? Me and Chris share a common interest in bondage and sadomasochism. I think these words felt right to convey the proper feeling of our hobbies.
Were you already making music before Body Divide had birth? And if so: which musical style?
Chris was singing in various LA bands, but they were nothing like the style we do together. I have a lot of different projects from darkwave to industrial techno, but this is my first time writing this sound as well. To be honest we know very little about each other but have an energy together that keeps growing so we will see where it takes us.
The sound of The EP Pleasure From Pain is cold and old school-sounding EBM. Why and how did you end up making this awesome sounding EBM?
We had some experience working together in Torture Gallery as I mentioned earlier but it had a more experimental vibe. One day I suggested we try something more for the clubs which didn't necessarily mean pop dance. I thought we could bring the same kind of energy for a different audience. I wrote all the music inspired by all my old EBM influences and just let Chris do his thing in the studio. Pleasure From Pain is the result.
Why do you love electronic sounds?
I think we love electronic sounds for similar reasons that most industrial artists are attracted to it. They are cold and alienating. There are also endless possibilities with how you can manipulate, create, and arrange them to come up with something new. It's also great to pair loud aggressive screaming with emotionless mechanical drums. It shows a dichotomy. Our sound is definitely not entirely unique but we have the energy to feel different from other artists.
Pain and suffering are very present on the first EP. Any particular reason for that?
I think Chris' words speak for themselves. I don't think my music conveys suffering, but it expresses pain. I'm a masochist. I think a lot of people fear it. When you can turn it around into something that gets you off that is like the ultimate way to control what you are afraid of. Also if a musician or artist isn't writing about what excites them then what is the point?
What is the message you want to spread with it?
There is no message. For some music and art projects I don't think there's anything wrong with not having a message. We just make and play music that excites us.
When I did listen to the EP, I could hear some great EBM. Which bands/acts are you influenced by?
We did a short tour with Dive here on the west coast. Dirk Ivens is a major influence and a really great guy. Chris and I also love punk. We have been performing a Klinik cover for our live shows. For me in particular, DAF and Click Click.
The EBM-scene is still alive in Europe. How about that in the USA?
Before the pandemic the old school sound was very popular in the US. There are lots of bands influenced by Nitzer Ebb, Cabaret Voltaire, and Ministry that have a considerable following. Los Angeles in particular has a strong scene.
What are the future plans of Body Divide? Any new material on the way, since the EP was released in February 2020? Plans on getting on the road after the Covid-19 disaster?
We have a release waiting to come out on a label in Mexico and are waiting to play some shows there once we can. We cannot wait. There is also a good amount of new material we are planning to share when it's ready to be tested out live. There were also some shows in the US that had to be delayed due to Covid19. Judging by the response from our earlier shows I think we'll be getting back to touring the US.
Any other news you want to share with the Peek-A-Boo audience?
We are just getting started.... so be prepared !
Jurgen BRAECKEVELT
27/05/2021
---