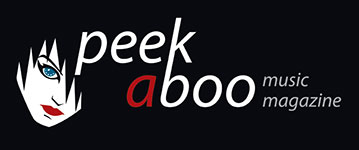 like this interview
---
CYBORG AMOK
An Interview With Post-Punk / Gothic Duo, CYBORG AMOK
07/09/2021, William ZIMMERMAN
---
Gothic/Post-Punk duo, CYBORG AMOK have recently unleashed their debut, self-titled LP. The album covers conflict, hope, loss, betrayal, estrangement and depression, looming in the darkness on the fringe of the gray.. According to their press release, CYBORG AMOK resides "somewhere between the brilliance of twilight and the apocalyptic darkness. Their gothic infused synth-rock sound delivers the listener to a panorama of synthetic waves, twisted organic tones and a slightly pop crust … the language angels speak in the darkness." We appreciate their time in this interview.
Hello and thanks for the interview. Could you start out by introducing yourselves and giving us a short background?
Cyborg Amok is myself (Greg Bullock) and Brydon Bullock. We began in early 2019 as a recording project primarily, with an eye on eventually performing our music live. With our initial recordings it was decided to arrange songs I had already completed as solo projects. We approached the songs as a "live" band as opposed to strictly being a studio project. In the beginning we had a guitar player working with us, but complications with COVID caused a split. Brydon and I continued on to record our music with studio musicians. We released our LP on June 12th this year.
Where did the name Cyborg Amok come from?
One evening while having dinner we were talking about the fact that I have had both knees replaced as well as a shoulder. Brydon commented, "you're a Cyborg". I had been trying to come up with a name for our project and "Cyborg" seemed perfect. I later came up with "Amok", as at the time we were in such unknown turbulent times. I put them together and "Cyborg Amok" was born.
Can you talk about your latest self-titled release? It's a combination of a couple of out of print Eps from what we understand.
The original incarnation of Cyborg Amok included Daniel Simoes as guitarist. We recorded four songs with Dan and released it as the "Order of DisOrder" EP. Then COVID hit. After Dan's departure Brydon and I continued recording music with studio guitarist JD McGibney (Angels In The Battlefield). We were looking for a more metal/industrial approach to guitar and JD nailed it. Brydon and I released it as the EP "TOO". In the end I decided that our music would be better presented as an LP of all 7 songs rather than the two EPs. As our own record label (GABWorx, llc.), we simply put the EPs out of circulation, then compiled "Cyborg Amok - Cyborg Amok" as an LP, and released it. I think it makes it much easier for fans to find our music now. They only have to search for one LP instead of two smaller EP releases.
How has the pandemic and lockdowns affected you personally and professionally?
Personally, for me it was a struggle keeping my family safe. I sort of became a jailer and was obsessive with being careful about exposure to COVID. For Brydon, it was extremely difficult. As he was still in school at the time, remote learning and not seeing his friends face to face was particularly troubling. In the end though, the lockdown was very productive for us musically. Since Brydon and I live under the same roof, we spent the time working in the studio. We completed "TOO" during that time. I released two solo projects of songs I had wanted to release for sometime. "The Language Angels Speak in The Darkness" are instrumental tracks and "Moontime Shadows" are songs we couldn't fit into the Cyborg Amok project at the time … although, the song "Sleep Tonight" from "Moontime Shadows" will most likely be a song in the Cyborg Amok live repertoire and probably on our next studio release.
What's next for Cyborg Amok? What do you project for the coming months of 2021 and 2022.
For the remainder of 2021, we have been rehearsing our live show. Currently working as a duo using backing tracks, until we find a permanent guitarist for the project. We played the Evil Expo in July and are looking to play more shows in the coming months. Our future plans include getting our "live band" put together and continuing to work on our show. It is also likely that in 2022 we will put out some new music … keeping us out of the studio is a near impossibility.
Are the themes or topics in your lyrics of any specific angle or do they revolve around any certain themes?
Typically the themes of my lyrics/poetry come from the struggles I see all around, both personally and globally. On this project my songs cover personal loss, struggles with depression, betrayal, and in the case of New(er) Dark Age, the question, "times have changed, or have they?". I don't think in terms of bright, happy, unicorns and rainbows, I'm just not wired that way. I tend to create my lyrics to bring the darkness to light.
You have a pretty interesting and unique fusion of sounds. Where do your influences come from?
Yes, I am quite diverse in my influences, as is Brydon, but we come from different places musically. For me, everything from 70s prog, post-punk, 80s synth-pop, and industrial, with strong influences from bands like Depeche Mode, NIN, Peter Murphy and Bowie. Brydon on the other hand listens to a lot of classic rock, 90s grunge, 10s alternative, and current artists like Post Malone and The Weeknd. Brydon is an educated musician having studied as a percussion and a vocal major in school, where I am totally self-taught. I think that brings two different approaches to the table when writing and arranging our music.
Are you involved in any other projects besides Cyborg Amok?
Yes, I am the keyboardist in The Antoine Poncelet Band … an all original post-punk, hard rock project. I continue to work on producing, writing and recording new music in my studio. Whether those songs become Cyborg Amok songs or become solo releases is TBD. Brydon has several side projects going on … an un-named grunge/punk band with a group of school mates. He is also working on a solo project in the studio when he has time. With a more contemporary approach to songwriting, creating his own beats and fronting the project vocally, he has an eye on releasing some solo music in the nearer future.
What would you like Cyborg Amok to be remembered for in the future?
Writing songs that make people think. Whether lyrically or musically, creating music that engage emotionally with our listeners.
For more information:
https://www.facebook.com/CyborgAmok
https://gabworxllc.bandcamp.com/releases
William ZIMMERMAN
07/09/2021
---