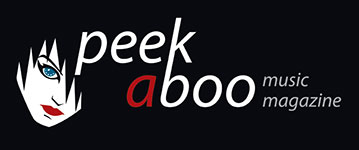 like this interview
---
UNITCODE:MACHINE
An Interview With unitcode:machine
29/09/2021, William ZIMMERMAN
---
Electro-industrial band, unitcode:machine has been creating quite a buzz hitting the top of both German DAC charts as well as various Bandcamp categories. They've just released their new album, Themes For A Collapsing Empire. We'd like to thank unitcode:machine mastermind, Eric Kristoffer for the interview.
Hello. Thanks for the interview with PeekABoo today, how did unitcode:machine start and how has the project evolved since the beginning?
It started from my love of industrial music when I was a teenager, my mother got me a Korg N5 synth and a Boss Dr. Sample and I started experimenting with sampling and stuff. As time progressed and I got better gear, and expanded my abilities as an artist, I feel that the project has matured into something that feels more real than what I dreamed of as a teenager.
The new album is 'Themes For A Collapsing Empire.' What's the "collapsing empire" that you refer to in the title of the new album?
In that sense, it's "the empire of self", and how everything that I had worked towards managed to fall apart over the pandemic.
Can you go into detail with a couple of the tracks on the new album that perhaps are most important to you?
I'd say that "Time Conquers Al"l and "Fight" are the most important songs to me. "Fight" as a statement that regardless of what happens I have to move forward. Time Conquers All being a self-realization that no one is an empire to themself and that they need help sometimes.
Can you identify 2-3 albums that were of most importance to you that got you into electro/industrial as an artist?
Mentallo & The Fixer's Where Angels Fear to Tread for it's pad work, Numb's Language of Silence for its glitchy beats, and :wumpscut:'s Embryodead for its excellent synth work.
What do you hope that, in the future, unitcode:machine is remembered for?
I'm not really sure. I would hope that the future looks at my project and thinks of it favorably. If I inspire one person to pick up an instrument, that is more important to me than anything else.
During the pandemic, it has seemed as though much of the goth/industrial/ebm communities have really embraced online/virtual channels like Twitch and the like. But what are the ways you've seen the scenes either come together or become fragmented? I've seen an outpouring of support for gofundme campaigns, and more functional facebook groups like "Sounds and Shadows" take the lead with more tenured artists coaching newer artists or helping other artists when they are looking for something. I haven't seen any fragmentation, but I have seen frustrations regarding people not being able to make ends meet with not being able to work or losing work.
What has been the most interesting fan reaction or the least expected location that one came from?
I'd say that the most interesting thing has been I've jumped on a few twitch streams and followed the DJs, and pretty much every time this exact thing happens

DJ: "Thanks for following unitcode"
DJ: "Wait 'THE unitcode'? (or) "unitcode as in unitcode:machine?"
me: unitcode:machine, that's me

I'm still shocked that people know who I am. I don't think I'm "famous" in any sense.
What are your next release plans or is it too soon to say? Do you think you'll embrace this trend of releasing singles which seems to be occurring frequently?
It's a little early to say what my next release plans are, as I have to work towards that, and I don't think I'm quite ready to get a new work together.

I think that the single release strategy works for more tenured/popular artists because their fan base is already familiar with them. There's already a relationship there and they can continue to do monthly single releases to maintain the relationship. I'm still working on building the relationships with fans, and I believe while building that relationship, the album/ep format is better suited for that.
Some bands like to release exclusive material in odd formats like a custom USB drive, for example. What sort of format would you like to use that is outside the norm and why?
I've toyed around with the idea of doing USBs that contain the entire u:m catalog, it seems like that MIGHT be something I do because people would be interested in getting a complete history of the project. I have another idea for something that might be fun, but I want to keep it hush hush right now.
Ok.. Thanks for your time today. These last words are yours.
Thanks for interviewing us! We can't wait to see what 2022 brings for the project and the world.
For more information on unitcode:machine:
https://www.facebook.com/unitc0de
https://unitcode.bandcamp.com/album/themes-for-a-collapsing-empire
William ZIMMERMAN
29/09/2021
---