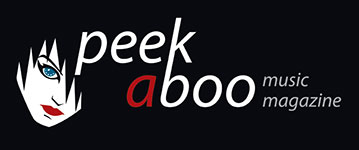 like this interview
---
HANTE
I broke away from the pressure you have as an artist to appeal to a certain type of audience, to create dance floor hits.
04/10/2021, Xavier KRUTH
---
Minimal wave, or synth wave if you prefer, is doing well. Think of Zanias, Selofan, Kaelan Mikla, Lebanon Hanover, NNHMN... And let's not forget the two projects by Hélène De Thoury, both of which are among the best in this genre: the duo Minuit Machine and her solo project Hante. The first group has released two EPs during the lockdown, the solo project has just released a new record: 'Morning Tsunami'. Hélène will also present that record live on October 2 in De Klinker in Aarschot, thanks to the organization Into The Dark. Reason enough to have a conversation with De Thoury.
Hi Hélène. We are very impressed with your new Hante record: 'Morning Tsunami'. You described this record as your 'most accomplished and inspired work to date'. In what sense is this work an evolution from your previous records?
Hallo! First of all thank you very much! Something happened that I can't explain when I was composing 'Morning Tsunami'. It was as if I was really one with the music, that it was an extension of me. I had never felt this way before. I think that with everything that has happened in the past year, some deeply hidden emotions have surfaced and triggered new feelings that I had to get out. There was also the desire not to make any concessions in terms of style, production, visuals. I broke away from the pressure you have as an artist to appeal to a certain type of audience, to create dance floor hits. I've also moved away from the classic stanza/chorus construction. Most songs are built up progressively and sometimes it takes a long time before they get going. I knew it could be a risk, that people would be less moved or would not find themselves in the songs. I tested new ways of working, using new plugins, new virtual synths. I renewed my range of sounds. In the end I was rewarded for taking this risk as the reception was extraordinary!

Can you tell us more about the title 'Morning Tsunami'?
I was looking for a very personal title to accompany the album. I quickly thought of 'Tsunami' because it is a word that I find both very beautiful and which frightens me. It's a recurring nightmare I have. I am on a beach or in a city and a huge wave is coming in the distance. And there is no way to escape it. I've associated the word 'morning' with it because I often have these kind of nightmares when I return to sleep in the morning. It is a very special moment, between two worlds. This was already a very important theme on my album 'Between Hope & Danger': the search for those moments when it is possible to escape reality, which unfortunately always comes back to us.

All lyrics on 'Morning Tsunami' are yours. Don't you feel the need to approach other people to write lyrics anymore, like you did on 'FIERCE' or with your other band Minuit Machine?
I would rather say the opposite, that sometimes I find it necessary to be able to write my own story, to express the emotions in words myself. And that's one of the reasons I created Hante. When I started composing 'FIERCE', it had been 2 years since Amandine and I stopped playing in Minuit Machine. I wanted to rediscover the creative inertia you have when you compose a song with several people. That's why I invited several artists to write and sing lyrics on the album. But now that we've restarted Minuit Machine, I'm happy to find this hidden, private garden of Hante and to be able to fully express myself through this project.

I really like the way you sing in both French and English. Was it something that came naturally or was it a preconceived idea? How do you determine whether a text will be in French or in English?
Strangely enough, the lyrics come to me more easily in English. I have the impression that you can convey a very strong idea with just a few words in English. While that's more complicated in French, I think. But it remains my native language and I feel the need to include it in my musical project because I want it to match me 100%. Sometimes, when I have a first impression of a text in French, I seize the opportunity and explore it to the end.

The album 'Morning Tsunami' was made in COVID times. Has the lockdown affected your work?
Of course! As I said, this period has stirred up a lot of emotions and that has inspired me enormously. The lockdown, the sense of helplessness, the sadness and fear that the world was plunged into… But it wasn't all negative, I have questioned myself thoroughly, like many people, and there is inevitably a before and an after in our personal developments. I also took a lot of time to be inspired, to listen to a lot of music and to discover projects that greatly influenced me in the making of the record, such as the album 'Unreleased Tracks' by Kas:st.

During the lockdown, you also released two EPs with Minuit Machine: 'Don't Run From The Fire' and 'Basic Needs'. I have the feeling that many artists did not dare to release records during the lockdown. Why did you decide to release these records anyway?
I would say there are two reasons for this. First of all, from a financial point of view, we just had to carry on. There was no question of letting the projects bleed to death. But besides that, I realized very quickly that people – contrary to what many artists thought – wanted to listen to new music and that they were willing to support artists even more than usual. It's obviously not that easy to promote an EP or an album without combining it with a tour. But whether it was for Minuit Machine or for Hante: we felt real enthusiasm with every release and that convinced us!
Minuit Machine, in which you are accompanied by singer Amandine Stioui, has also become a cult group. Isn't it a bit schizophrenic to be active in two groups at the same time?
It's a little complicated sometimes, yes. But it is more a matter of organization. A calendar organization, of course, but also in your head, so as not to get everything mixed up and, above all, not to be influenced too much by one or the other project. I think I have managed to distinguish the two worlds. And also to accept that they can take different paths. It's not always easy, but I'm working on it!

You also have your own label Synth Religion, which releases records by Hante and Minuit Machine, as well as other artists such as Fragrance, Marble Slave, The Colder Sea and Box and the Twin. I see that you actively participate in the records of these bands, you do the production or mastering, or you participate in the compositions. How do you select the groups you work with and what determines your level of involvement?
Most of the artists I've released on the label are friends or people I've met along the way and with whom I get along on a personal, even more than a professional level. The only exception is The Colder Sea, who emailed me and I fell in love with their music! Unfortunately, we never met. The problem I have now is that I don't have much time left to work for other artists. And the more my projects grow, the less I can invest in the label. So now, production-wise, I'm focusing on my two personal projects.

With all these activities, I believe you have to make a living from your music. Can you manage that? Also and especially in the difficult months we just went through?
I can get by, yes, but with difficulty I must say. I am extremely lucky to have a community of enthusiasts who support me and who continued to buy merchandising when the concerts were all cancelled. As a result, I could continue to work, I even had to continue to produce. I hope it gets better with the return of the concerts! Because it's a vicious circle that you need: the more concerts you play, the more people notice you, the more people listen to you, the more merch you sell, the more you can play etc.
Hante will play on October 2 in De Klinker in Aarschot, Belgium
Xavier KRUTH
04/10/2021
---
Le minimal wave, ou le minimal synth si vous préférez, fait fureur. Pensez à Zanias, Selofan, Kaelan Mikla, Lebanon Hanover, NNHMN... Et n'oublions pas les deux projets d'Hélène De Thoury, tous deux parmi les meilleurs du genre : le duo Minuit Machine et son projet solo Hante. Le premier groupe a sorti deux EPs pendant le confinement, le projet solo vient de sortir un nouveau disque : 'Morning Tsunami'. Raison suffisante pour avoir une conversation avec De Thoury.
Bonjour Hélène. Nous sommes fort impressionnés par ton nouveau disque de Hante : 'Morning Tsunami'. Tu annonces ce disque comme ton disque 'le plus accompli et inspiré à cette date'. En quel sens est-ce une évolution par rapport au reste de ton œuvre ?
Bonjour ! Tout d'abord merci beaucoup ! Il s'est passé quelque chose que je ne saurais expliquer lorsque j'ai composé « Morning Tsunami ». C'était comme si je ne faisais vraiment qu'un avec la musique, qu'elle était une extension de moi et je n'avais jamais ressenti ça à ce point. Je pense qu'avec tout ce qu'il s'est passé l'année dernière, cela a fait resurgir des émotions bien enfouies et créé des nouvelles sensations que j'ai eu besoin d'extérioriser. Il y avait aussi la volonté de ne faire aucun compromis quant au style, à la production, aux visuels. Je me suis détachée de la pression que l'on a en tant qu'artiste de plaire à un certain type de public, de créer des hits dancefloor. Je me suis aussi éloignée de la construction classique « couplets / refrains ». La plupart des tracks sont progressifs et mettent parfois du temps à démarrer. Je savais que cela pouvait être un risque et que les gens accrochent moins ou n'arrivent pas à rentrer dans les tracks. J'ai testé des nouvelles façons de travailler, en utilisant de nouveaux plugins, de nouveaux synthés virtuels. J'ai renouvelé ma gamme de sons. Au final j'ai été récompensée de cette prise de risque car l'accueil a été extraordinaire !
Tu peux nous donner un mot d'explication quant au titre 'Morning Tsunami' ?
Je cherchais un titre très personnel pour accompagner l'album. J'ai assez rapidement pensé au Tsunami car c'est un mot que je trouve à la fois très beau et qui me terrorise. C'est un cauchemar récurrent que je fais. Je suis sur une plage ou dans une ville et une immense vague arrive au loin et il n'y a aucune possibilité d'y échapper. J'y ai associé le mot « Morning » car je fais souvent ce genre de cauchemars quand je me rendors le matin. C'est un moment très particulier, entre deux mondes. C'était déjà un thème très important dans mon album « Between Hope & Danger » : la recherche de ces moments où il est possible de fuir la réalité, qui malheureusement finit toujours par nous rattraper.
Tous les textes sur 'Morning Tsunami' sont de ta main. Tu ne ressens plus le besoin de faire appel à d'autres personnes pour l'écriture des textes, comme tu l'avais fait sur 'Fierce' ou bien avec ton autre groupe Minuit Machine ?
Je dirais plutôt l'inverse, que le besoin est parfois d'écrire ma propre histoire, de sortir les émotions par les mots aussi. Et c'est une des raisons pour lesquelles j'ai créé Hante. Lorsque j'ai commencé à composer « FIERCE », cela faisait déjà 2 ans qu'Amandine et moi avions arrêté Minuit Machine. J'avais envie de retrouver cette inertie créative que l'on a lorsque l'on est plusieurs à composer une chanson. C'est pourquoi j'avais invité plusieurs artistes à chanter et écrire des paroles sur l'album. Mais maintenant que l'on a recommencé Minuit Machine, je suis contente de retrouver ce jardin secret qu'est Hante et pourvoir m'exprimer pleinement à travers le projet.
J'aime beaucoup le fait que tu chantes aussi bien en français qu'en anglais. Est-ce quelque chose qui est venu naturellement ou était-ce une idée préconçue ? Comment décides-tu si un texte sera en français ou en anglais ?
Les mots me viennent plus naturellement en anglais bizarrement. J'ai l'impression qu'avec peu de mots, on peut véhiculer une idée très forte. Là où en français, c'est plus compliqué je trouve. Mais cela reste ma langue natale et je ressens le besoin de l'inclure dans mon projet musical car je veux qu'il me ressemble à 100%. Parfois quand j'ai une première idée de paroles qui me vient en français, je saute sur l'occasion et je l'explore jusqu'au bout.
L'album 'Morning Tsunami' a été créé en période COVID. Le confinement a-t-il influencé ton travail ?
Bien sûr ! Comme je disais, cette période a fait ressortir beaucoup d'émotions et cela m'a beaucoup inspiré. L'enfermement, le sentiment d'impuissance, la tristesse et la peur dans lequel le monde a été plongé. Mais cela n'a pas été que négatif, j'ai eu une grosse remise en question comme beaucoup de gens et il y a eu forcément un avant et un après dans nos développements personnels. J'ai aussi beaucoup pris le temps d'être inspirée, d'écouter beaucoup de musique et de découvrir des projets qui m'ont énormément influencé dans la composition de l'album comme l'album « Unreleased Tracks » de Kas:st.
Pendant le confinement, tu as aussi sorti deux EPs – 'Don't Run From The Fire' et 'Basic Needs' – avec Minuit Machine. Je sens que beaucoup d'artistes n'osent pas sortir de disques pendant le confinement. Pourquoi as-tu décidé de tout de même sortir ces disques pendant cette période ?
Je dirais qu'il y a deux raisons à cela. Tout d'abord, financièrement parlant, il fallait continuer. Il n'était pas question de laisser mourir les projets. Mais en plus, je me suis rendue très rapidement compte, qu'au contraire les gens avaient besoin d'écouter de la nouvelle musique et qu'ils étaient prêts à soutenir les artistes encore plus qu'en temps normal. Alors bien sûr, ne pas pouvoir promouvoir un EP ou un album avec une tournée derrière, ça n'est pas aussi simple. Mais que ce soit pour Minuit Machine ou pour Hante, on a senti un vrai engouement à chaque sortie et ça nous a porté !
Minuit Machine, dans lequel tu es accompagnée de la chanteuse Amandine Stioui, est aussi devenu un groupe culte. N'est-ce pas un peu schizophrène d'avoir deux groupes actifs en même temps ?
C'est parfois un peu compliqué oui ! Mais c'est plus une question d'organisation. Evidemment une organisation de calendrier mais aussi dans la tête, pour ne pas tout confondre et surtout ne pas trop me laisser influencer par un projet ou par l'autre. Je pense être arrivée à bien différencier les univers. À accepter aussi qu'ils pouvaient prendre des chemins différents. C'est pas toujours facile mais j'y travaille !
Tu as aussi ton propre label Synth Religion, qui sort les disques de Hante et Minuit Machine, mais aussi d'autres artistes comme Fragrance, Marble Slave, The Colder Sea et Box and the Twin. Je vois que tu participes activement aux disques de ces groupes, en faisant la production ou le mastering ou bien même en tant que compositrice. Comment sélectionnes-tu les groupes avec qui tu travailles et qu'est-ce qui définit ton degré d'implication ?
La plupart des artistes que j'ai sorti sur le label sont des amis ou des gens que j'ai rencontré sur la route et avec qui j'ai accroché sur le plan personnel au delà du professionnel. La seule exception est « The Colder Sea » qui m'ont envoyé un email et j'ai eu un coup de coeur musical ! On n'a jamais eu l'occasion de se rencontrer, malheureusement. Le problème que j'ai actuellement est que je n'ai plus trop le temps de travailler pour d'autres artistes. Et plus mes projets grossissent et moins je peux m'investir dans le label. Donc pour le moment, en ce qui concerne la production, je me focalise sur mes deux projets personnels.
Avec toutes ces activités, je suppose que tu dois vivre de ta musique. Y arrives-tu, surtout avec les mois pénibles que nous venons de passer en confinement ?
J'y arrive oui mais péniblement je dois dire ! J'ai extrêmement de chance d'avoir une communauté de passionnés qui me soutiennent et qui ont pris le relais via les ventes de merch quand les concerts ont tous été annulés. C'est pour cela que je ne pouvais pas arrêter de produire. J'espère qu'avec le retour des concerts, cela va aller de mieux en mieux ! Car c'est un cercle vertueux qui est nécessaire : plus tu fais de concerts, plus on te voit, plus on t'écoute, plus on achète ton merch, plus on te fait jouer etc.
Samedi 2 octobre: Hante et We Are Ooh People, De Klinker, Aarschot, Belgique
Xavier KRUTH
04/10/2021
---
Nederlandse versie op Dark Entries
Xavier KRUTH
04/10/2021
---