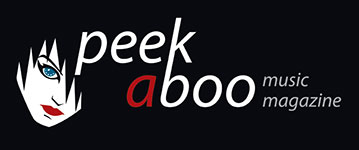 like this interview
---
GRAVE JONES
Bringing Rock Back To The Charts
25/11/2021, Chris WHEATLEY
photos: © Waleed Nehme
---
Former Slutterhouse frontman, Rabih Salloum, who records as Grave Jones, is not your typical rock musician. For a start, he's spent extensive time in the world of academia, working as a philosophy lecturer. He's also an author, model, nightclub-owner and, apparently, "only owns black clothes." Lebanese electro-pop duo Slutterhouse disbanded almost a decade ago. Recent release, "Smithereens," the lead single from forthcoming album, "Heartrage Hotel," marks Salloum's welcome return to the music world, on a self-stated mission to "bring rock back to the pop charts.
Peek-A-Boo Magazine were delighted to talk to him.
Can you tell me a bit about where you were born and grew up?
Rabih Salloum: I was born and raised in Junieh, a coastal city in Lebanon, 20 km north of Beirut. I spent my whole childhood there between music, literature, basketball, boxing and water polo. After graduating from high school, I moved to Paris, France, where I lived between 2002 and 2011. It was there that my former band Slutterhouse managed to make a little noise in the music industry. I came back to Lebanon and settled in Beirut in 2011. I've been living here since, albeit while still spending a lot of time in Paris every year, which I consider to be my second home.
How did you get into music – are your family musical?
RS: I got into music very intuitively as a toddler. I have photos of myself at not even one year old, carrying tennis rackets like one would carry a guitar, strumming imaginary strings. My second birthday was also spent strumming on a toy guitar I had asked my parents to buy me. My family mostly listened to Arabic music and their taste in western music was limited to disco – ABBA and the Bee Gees most notably. I went to my first live gig with my aunt at the age of 10: it was a Samantha Fox concert. I also have an uncle who used to play guitar and sing in a band, and he's the one who helped me out when I bought my first real guitar at age 13, though I quickly grew uninterested in his classical approach and eventually developed my skills as a self-taught player. So yes, music was pretty much a big part of my childhood, but no one had a bigger influence on me than an older cousin of mine. I remember hanging out in his room once while he was studying for his final exams – he was 17, almost 10 years older than me. Something was playing on the stereo and I remember being instantly captivated by a sound I had never heard before. When I asked him what it was, he wrote down "Guns N' Roses: Use Your Illusion" on a piece. I walked to a nearby store and bought the tapes. The rest was history.
What music did you grow up listening to?
RS: Following my love at first sight with Guns N' Roses, my cousin (Bassam, shout out to him!) continued my musical education by introducing me to bands like Metallica, Led Zeppelin, Black Sabbath, The Doors, Pink Floyd, Jimi Hendrix, Iron Maiden, Manowar, Sepultura and Cat Stevens. He introduced me to so many artists and sounds. I was intuitively drawn to some of them while remaining indifferent to others. As I grew into a teenager, my personal taste started to shape itself and I spent most of those years listening to Guns N' Roses, Slash's Snakepit, Aerosmith, Led Zeppelin, The Black Crowes, Nirvana, Hanoi Rocks, Motley Crue, Tom Petty and the Heartbreakers, The Rolling Stones, Black Sabbath, The New York Dolls and Alice Cooper, just to name a few.
What made you decide to make a go of music as a profession?
RS: I don't recall that there ever was a specific moment when I sat down and decided that okay, I'm going to become a musician now. It was sort of a self-evident truth all along, like I mentioned earlier. I don't think people get to choose anything, let alone their passions; rather, things and passions choose people. Even after I graduated from high school and went to Paris for college, a music career was always on the foreground of my mind. I was always playing around with bands, writing music, bettering myself as a player and songwriter, and waiting for that one chance to do something with it all. All my other decisions had to work their way around that. Even as I pursued academia and ended up teaching philosophy at university (which is something I still do part-time), that choice was motivated by the fact that it would leave me enough time to work on my music, whether I'm at a stage in my life where I'm making a living out of it or not. All in all, a career in music was never just a choice among other potential ones for me. It was the one self-evident around which everything else had to try and find its place.
You were away from the music world for a time – why did you take the break and what made you come back?
RS: I took a break from music in 2012 after my former band Slutterhouse broke up. The decision was driven by the huge disappointment and disillusionment I went through then and the inability to find the right motivation, musical allies and right sound to bounce back. With Slutterhouse I had grown too dependent on my former bandmate, who was the sonic architect of the band. And remember: we were an electronic pop act, I had completely abandoned the guitar, convincing myself that rock n' roll was over and irrelevant. I tried working with other electronic producers following the breakup but I was never happy with the outcome. I then decided to put an end to that pursuit and focused on another former love of mine: literature.
But like I said earlier, I don't think people really make choices in life. My comeback to music was not a deliberate, conscious choice. It was vital necessity without which I would've gone completely insane. On my birthday in 2017 I bought myself a new Les Paul (after having been without a guitar for 7 years) and reconnected with the instrument and with my rock sound of youth. I slowly started playing with other musicians, writing songs, trying various sounds and approaches until I finally found a comfortable sonic spot that really defines who I am as an artist. Today, Grave Jones is the perfect summary of my whole musical journey and the person I am today.
Can you tell me about your writing process?
RS: It almost always starts with a melody that randomly pops up in my head. I'm lucky enough to have my own studio where everything is set up the way I want it to be, so all I have to do is press a button and start recording. Generally, I identify the bpm of the melody I have in mind, throw in a drum loop and start building the song around it. I let the melody go where it wants to take me, I build chord progressions and harmonies around it, try various parts and see how they work together, always trying to maintain a catchy, pop structure. The first vocal take is always recorded with random words that don't mean anything. It's only after I find myself happy with the whole arrangement – when the song is nearly finished, technically – that I sit down and write lyrics. They always come last for me. As a lyricist I try my best to stay away from clichés. I've noticed that most song lyrics end up being recycled expressions and bits of other songs. How many times have you heard the sentence "walking around the street at night," "wash away the pain," and having "pain" rhyme with "rain," for instance? I try to stay away from that as much as possible, unless it's obviously made in an in jest or tongue in cheek way. My favourite lyrics are always deeply personal, but also abstract and open enough for other listeners to make out their own interpretations of them.
Who would you list as major influences?
RS: I don't really have any direct influences when I create. I don't sit down and decide, for example, that I'm going to now write a song influenced by The Smashing Pumpkins. But as a guitar player, I basically learned how to play by mimicking Slash, Joe Perry and Mick Mars note per note. As a singer, I grew up looking up to Axl Rose and Steven Tyler mostly but later when I found my voice I picked up a lot of tricks and inspiration from singers whom I felt sounded closer to me like Billy Corgan, Brian Molko, Dave Gahan and Ozzy Osbourne. Another singer I learned from a lot is Mike Patton. When it comes to synthesizers and electronic work in general, I am a big fan of Depeche Mode, Duran Duran, Daft Punk and Air. My sound is pretty much a combination of all these various universes. That and Tommy Lee's drumming!
What would you like to achieve with your music?
RS: It's an interesting question because my priority has dramatically shifted from the Slutterhouse days. As a 20-something year old then, my main goal was to create a new, exciting futuristic sound that sounded relevant as well as avant-garde for its time, while remaining very pop. Today with Grave Jones, my concerns are very different. I'm very conscious of producing a sound that is as honest as possible, that represents the person I am in the sincerest way because I'm concerned with it being a trace of myself left to roam independently in the world. I think a lot about this when I'm making music: is it something I would like to leave behind? Would a kid discovering my music years after my death be able to get to know me a little? Understand some of my fears and obsessions? Will they relate to some of my pain? Will it make them feel less alone, or isolated? I like the idea of leaving a piece of oneself behind. It's art's biggest gift to the world.
What are your plans for 2022?
RS: I'm currently releasing individual singles off the upcoming record Heartrage Hotel, which should be out by the end of January 2022. The plan after that is to hopefully go back on the road and start touring again. I love working in the studio, but ultimately, one of the main reasons I went back to music and to rock n' roll specifically was because I missed playing live. There's nothing like a live rock concert and I'm looking forward to being on stage again very soon.
Chris WHEATLEY
25/11/2021
---