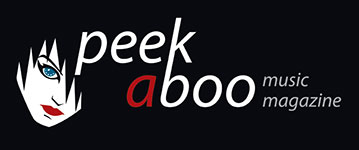 like this interview
---
SOPHIA LUCIA
Blurring Boundaries
17/12/2021, Chris WHEATLEY
photos: © © (1) Sabine Dundure, (2) Mietustouch, (3) Stéphane Hervé
---
Wholly original, idiosyncratic musicians are a rare breed, but Chicago-born, Paris-based Sophia Lucia certainly fits into that category. Sophia began writing and playing aged just eight, and in later years took an admirably courageous leap into the unknown, moving to France to pursue her creative endeavours. Now, her Freak Show Cabaret performances are the talk of the Paris underground.
On her self-titled debut album, released Dec 16th, 2021, Sophie moves with mesmerizing ease from ear-catching folk-rock to off-kilter hooks, offering up a kind of scatter-shot lyrical invention which few could equal. "It is conversational, theatrical, confessional and surrealistic ," says Sophia herself, "I like to tell stories, as well as jump around from anecdote to anecdote, dove-tailing images that are my truths, the truths of others, and fiction."
Spoken Word Paris called Sophia Lucia: "sometimes a melting pot, sometimes a pressure cooker but always hot and very, very original."
Peek-a-boo were delighted to sit down and talk with the artist.
Can you tell me a bit about where you were born and grew up?
Sophia Lucia: I was born in Chicago, IL, and I grew up partially in West Rogers Park, and partially in Edgebrook, which is a quirky little corner of Chicago that feels more like a small town in Wisconsin than a neighbourhood in a big city.
What sort of music and art were you exposed to? Is your family musical?
SL: My family is not musical, but they are artists. They ran a theatre company for most of my life, and I grew up in it. My dad is mainly a director and my mom is mainly an actor. My parents do love music though, and I grew up listening to a lot of 60s/70s/80s rock & roll, folk, blues, funk, soul, some jazz… We have a jukebox in our basement and my parents love to throw parties. We've spent many an evening downstairs dancing to the jukebox late into the night.
When, and why, did you start performing, playing and singing?
SL: My first performance was at eight years old, reciting poetry that I had written. It was for a benefit at my parents' theatre. Then I acted in my first play when I was fifteen, I played Anya in Chekov's The Cherry Orchard, also at my parents' theatre. My dad directed it and my mom played my mom in the play. Being directed by my dad and on stage with my mom happened a few times and was always a special experience. I continued on to do live theatre for most of my adolescence and early adult years. I wrote a few songs on the guitar when I was around twelve years old, and then stopped for many years. Out of the blue, about four years ago, I went to an open mic with some friends, and playing and singing on stage was such a pleasure that I had to continue. I was tired of playing covers and wanted to express my own feelings with the music, so I began writing my own songs and trying to book shows shortly after that experience.
Moving to Paris was a brave step – how was that experience for you?
SL: I think it's one of the best things I've done in my life. Starting from zero in a new country is so liberating. It's like beaming down from another planet. I could be anyone I wanted to be and no one had any pre-emptive ideas or expectations. And though I could be anyone that I wanted to be, I think it just brought me closer to finding and being my true self.
How did the Freak Show Cabaret! come about?
SL: It came about as a place for me to put everything. I didn't want to just play concerts or be a stage actress, I wanted to be able to actualize whatever bits and bobs that came into my head. So I came up with the name 'Freak Show Cabaret!' to entitle my one-woman-variety show. It's a show where anything goes, and where I can perform things that otherwise have nowhere else to go.
You sometimes adopt character alter-egos when you perform – does this allow you greater freedom of expression?
SL: I think so. I like to make things up, so some of the stuff with my characters are total works of fiction. And sometimes it's easier for me to express my own feelings and ideas through an alter ego. They are all their own people, and also part of me at the same time.
Your music sounds unique – who would you describe as major influences?
SL: The quotidian is my number one inspiration. The in-between moments and 'banal' details of daily life often wax poetic for me. Otherwise, some big inspirations artistically would be Talking Heads, Regina Spektor, Joni Mitchell, David Bowie, Ella Fitzgerald, Ani DiFranco, Bob Dylan, Jack Kerouac, Haruki Murakami, Gene Wilder… the list could go on and on.
That uniqueness can be a double-edged sword – it makes you stand out, but adds additional challenges in terms of the music industry. I'd love to hear your thoughts on this?
SL: It's something I can't think too much about, to be honest. I make what comes out of me and that's all I can do. If I were to change the art that I make so as to be more palpable to the industry, I wouldn't be having fun any more. If I'm not having fun, then there's no point in trying to be an artist. There are far better paid not-fun jobs out there that I could do instead. I do want to make my living as an artist. If it turns out that enough people like my stuff, then I don't think it should be a problem that I'm making something different. The mould has to be broken sometimes.
You're clearly drawn to elements of surrealism and comedy, where do you think that comes from, and what is it that attracts you?
SL: The surrealism comes from me not putting boundaries on what I take from my mind and put onto the paper. Sometimes images come to me that don't feel related to anything in particular, but they are vivid, and I have fun trying to find words to describe the scenarios and paintings that I see in my head. In my writing process, I often find humour as the best way to get my point across, even when the feeling I am sharing is no laughing matter. Not as a rule, but often, using irony and humour can help me express my darkness better than a lament or a solemn poem could.

What would you like to achieve, personally and professionally, with your music?
SL: Personally I want to keep using music (and other forms of writing and performing) to heal, to make sense of the world, and to connect with others. There are songs and albums that have helped me out of dark moments in my life, or were a wonderful soundtrack to accompany a beautiful time. If my music can touch people in this way, and help them through pain or be a soundtrack for their pleasure, that would be very moving to me. Professionally, I want to live off of my art. I can't imagine living without creating, so if all I need to focus on is my craft, I will lead a very fulfilling life.
What are your plans for 2022?
SL: I want to play with a band, and I want to record more music. This album I am releasing has 10 songs on it and I have 40 songs written in total, and counting! I want to lay more of them down and experiment with other musicians, on stage and in the recording studio.
Chris WHEATLEY
17/12/2021
---