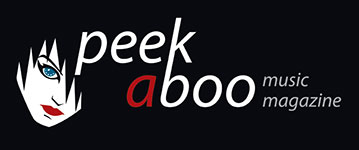 like this interview
---
DEAN GARCIA - SPC ECO + CURVE
"..I love recording, it's one of the only things that is completely absorbing for me.."
08/03/2019, Kevin BURKE
---

When it comes to SPC ECO, it is a family affair of brilliance, sounds interwoven through blood and not just compatibility.
Hot on the heels of 2018's Calm long-player, the father and daughter duo of former Curve multi-instrumentalist Dean Garcia and daughter Rose Berlin return with a new digital only release-Fifteen.
Fifteen-for fifteen tracks that become a digital-playground for Garcia to paint a collages compounded with layers of sound. All the while this is galvanized by the dreamy vocals of Berlin, it becomes quickly a release of perfect mastery. A collection of music which is balanced in an ethereal world of its own creation.

In between riding on the crest of this album Dean Garcia took time out from his hectic schedule to speak to us here at Peek-A-Boo magazine.




Congratulations on the release of Fifteen, it is an album of great depth, will the album strictly be a digital-only release or will we get a hard-copy for the Vinyl nerds?

Dean Garcia -"Thank you. Digital only for the time being, we're looking into the possibility of a small number vinyl press but are unsure atm. For this release it's the first time we've gone for an all out digital release which is something we've shied away from in the past, we have a new publisher now (Dandy Kid) who we work very closely with and have 100%control over so we thought it was a good idea not to restrict the release seeing as it's more than likely going to be digital only".

Do you thing Fifteen is an album which should be primarily released and enjoyed in Digital to get best impact of your work?

"Format is a preference, it would be better for all to have a choice of format as some prefer vinyl etc, but the main thing is that people listen to it and the easiest way to make that happen straight away is via digital. I have no preference really, It's all made using digital recorders but with an analog approach ie try to avoid too much hard editing, allow things to flow rather than repeat. I'm used to hearing digital now, it's just the way it is. I'd like to say I'd prefer to record on an old Atari 2" recorder but I'm pretty sure I'd miss the immediacy and scope of digital recording. People are used to hearing things digitally nowadays, myself included. Still can't beat the sound of vinyl via a good analog system tho, something about the warmth and overall glow"..


Similarities will always be made between SPC ECO and your work with Curve, do you think it is fair that SPC ECO is seen an extension of your previous band?

"There are a lot of similar factors the main one being we are a duo, certain elements will always be there as I wrote, performed, recorded and captured all of the music with Curve from the ground up, much in the same way as i do with S E, when you have predominantly one musician covering all the elements in the writing process then there will always be similarities. It is an extenuation in some ways but it is also very far removed from it in others, like attitudes towards finishing records or the eclectic genre bending nature of it all. Rose and I connect in a very different way, also Rose has a very broad approach to her role and type of vocal delivery, she is best described as the perfect accompaniment to my or any music, Rose to me is the best singer in the world, which is why I still make music, not sure I would still be doing this if she wasn't there, Rose is inspiring to write for, which is not to say that Toni wasn't she was, but Rose is on a whole different level as a vocalist and talent, her reach is immense both melodically and in vocal ability. S E is a very different animal to Curve, but linked in a mammal like way."


In 2008 SPC ECO became a reality, when did yourself and Rose decide 'yes we should try this!' and the outfit came together?

"Rose and I have been making music in some form or another since her very first words, I've always encouraged her to sing whatever it was from day one. The first song we ever recorded was on the fly one take of me playing guitar and her improvising, she was 5/6, I think that was probably the first time we both realised it was something we'd always do no matter what. The song is called Bad Dad. It appears on the HeaDCase Mushiness self released CD I made around 20+ years ago. Probably the best track on there. It was never a conscious decision to form S E n all, it's was more a case of never discussing but was just something we'd always do."

When it comes to recording, are the themes built within the sound and the lyrics added later?

"Mostly I have a musical idea of some sort on the go, Rose will occasionally listen first but more often than not I will get her to sing as she listens for the first time, you can't do that with a lot of people but because she is so instinctive melodically the element of surprise and in the moment feels work really well for us. Rose will make a pass or two of voice and I will go in and comp it into an arrangement of sorts and we'll either leave it alone or embellish - develop it accordingly. Most of the vocals you hear on this album were recorded in 3 hours in the exact way I've described above. There's a lot to be said for first take initial response recording, certainly not for everyone but it works for us. Neither of us likes to over think or procrastinate over anything for longer than time it takes to do it, is it done? Yes it is, do we love it? Yes we do, that's it… Done."

What do you or even Rose use to write the music on? Do the tracks start life on a piano or are they simply ideas which are created in the studio?

"Various stand alone apps, like Ableton / Reason for drums n synths and Pro Tools to capture it all. The recorder is like another instrument, it's the other member of the band. It adds and more importantly deletes input. We shape it, it stores and collects/recalls it for us. It helps us edit and arrange things. We use a V8 old version of ProTools, probably should get a new version but I dig old school ways, Unless it breaks it's fine. I love recording, it's one of the only things that is completely absorbing for me, it always has been, always will I think. It's a very dear friend of mine."

Is there ever artistic tension in the studio between yourself and Rose when it comes to how a song should be delivered?

"Oddly none at all, there might be something going on outside of the creative recording realm that we'll get agitated by, like personal situs or people taking the piss or whatever, we occasionally do have a shout n what have you but it's very short lived, points are made and we're back to even ground very quickly, it has been known for me to ask Rose to sing directly after or even during an argument about certain people etc one of them being Under My Skin, on the Dark Matter album which was a stand out creative moment for us both but generally speaking we never argue or flare up about the music or process. We can both get frustrated if it's not going well or we feel it's all a bit shit but that soon turns into humour and more often than not we'll either bulk delete (very important) or suddenly make something new completely out of the blue that settles the situ in a flash."

Brian Eno often uses his Oblique Strategy cards to come up with new ideas in the studio, is there a formula you use when trying to find an answer to how something should sound?

"Not really, it either sounds good to us or it doesn't, it's (the music) either with you or it isn't, no need to force the issue, it'll happen when it wants to. When it involves other people the trick or key to it all is being on the same page when it comes to the creative process or recording, bad chemistry is a magnified pain in the studio which is why I tend to work completely on my own, I'm not one to entertain or accept someone else's view or take on something if I think it's wrong, or don't connect with it, if it feels false or compromised in any way I simply can't be fucked with it. I'd rather (take great pleasure in fact) delete it all and do something else rather than deal with other peoples 'visions'. Rose and I share the exact same philosophies when it comes to writing songs, is it shit? Yes delete it. Is it great Yes its awesome. Done. It's that simple."

There is a distinct passionate beauty within the Fifteen tracks, would you consider the album your most autobiographical work to date?

"It's a very timely feeling record, made at a time when the family was to go separate ways as in where we all lived, we have always lived together but this record was recorded during the time of the move so it has a lot of mixed emotions, some intended others not and subliminal, I think you can feel that within the work, it's coming from somewhere else driven by uncomfortable unsure new beginnings. As it turns out everyone is thriving and settling into the new things, it's made the family stronger and given way to independence and growth, it also means Mum n Dad have a lot less washing to sort. :)"

What music or artists do you listen to currently for pleasure or even to draw inspiration from?

"I rarely listen to new artists or new music nowadays, the last song that affected me was Nightcall from the Drive soundtrack track other than that I just don't listen to music or have interest in it as I once did, I sometimes dig new releases from artists I like but I'm not actively seeking new things, I have plenty to entertain me from the music of the past. Rose n Harry play me the odd thing that I sometimes like, mostly it's shit, they enjoy taunting me with it, but they do play me the odd awesome track that I have no idea who it is but they remember and know what I mean if I ask for that track I liked. I listen or discover new music via film, like the music in The Favourite for example. It's an age thing, I'm connected to music of my gen, new music is for new gen exactly as it should be."

I get the sense that although this album is only a fresh release that you are already planning the follow-up, do you feel its best to keep momentum going between albums and never take too long a break?

"We always have things on the go, as said it's something we'll always do, we have no choice in it really, it's a calling for us both, we just go with whatever we want to do or feel like making or exploring at any given time. Rose wants to make some music of her own as well, she says she wants to convince herself she can still make music after i die. I've said it's important to explore everything always but there will always be a bunch of half baked ideas n sketches on the computer that she can dig into if the need calls. I just have to make sure that what I leave behind is worth her time and talent. Gone a bit dark suddenly lol. There you have it, S E in motion."

Thank you Dean for taking time out to give our readers an insight into SPC ECO and indeed Fifteen, we look forward with anticipation for the next offering and wish you all the success you and Rose rightly deserve.

Very nice of you to say… The pleasure is all ours. Cheers n all Dean X
Kevin BURKE
08/03/2019
---