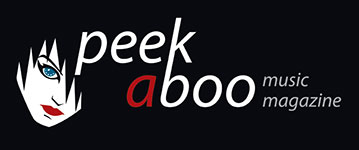 like this interview
---
0KONTROL
We Apply The Old Soviet Tradition Where Lyrics Are Taking More Importance, Than The Music
01/07/2019, Stef COLDHEART
---
0Kontrol is a new Russian formation set up in 2018 by 'Vladimir 4.44' (involved with the post-punk band The Quinsy) and 'Masha Kasha' (active as a synth-pop journalist). The duo were joined by third member Konstantin Stanis1avsky. The particularity is that Masha is living in Brussels (Belgium) and Vladimir in St. Petersburg (Russia) so it all ended as an 'internet' music project. This year they released their debut album "3rdeye2ndhand" on ScentAir Records. This opus is hard to define and rather sounds as the offspring between electro-pop, wave-pop, indie-pop and EBM. I asked Masha a few questions about the band and the album.
0Kontrol is a Russian project set up by two members, one living in St. Petersburg (Russia) and the other one in Brussels (Belgium). How did your band see daylight and what incited you into working together?
Since I had some friends from the music scene and studied visual arts I had an idea to spread some of my artwork throughout the album covers. I also made a cover for an album for The Quinsy. Although playing post-punk Vladimir and I found out we liked similar EBM artists, so he asked if I could do some tryout on his old electro track written for another project. It has been a strange experience because I have never seen myself as a music actor, merely an observer (reviewer, photographer etc).
I think I have understood you're mainly working via the internet. So how did the writing of the album happen and especially with production of the vocals?
It is the usual ping pong method. First come the lyrics. Then I send them over and get some bassline with drums and try to record the demo vocals the way I see it. For some recordings I used a simple microphone of an iMac, which is actually sometimes better sounding than some analogue microphones. Sending over, getting back… the process is launched. Sometimes I do some midi add ons but I actually try to minimize the intervention into the musical process because when I write the lyrics I know exactly which tunes I want to use… I try to fit in choir alike vocal pieces. In the middle we agree if a guitar is necessary and eventually add it to the track. When the lyrics are in Russian, Vladimir starts the process. For the album I went to St. Petersburg to record the vocals.
The title of the album "3rdeye2ndhand" has something intriguing; is there a link with the 'third eye' chakra? What is it all about and in what way does it reflect the lyrical themes of the album?
We've been writing most of the songs much faster than we could correctly produce them so that's why we called the album second hand. It has been the new versions of the songs issued earlier as a series of singles. The lyrical theme of the album is determination and passivity. We are observers of our own life with our third eye. We see everything, understand metaphysical background, but can't change anything because of our own nothingness. We even wanted to include the quote from the gravestone of Bukowski 'Don't try'. In the end we decided on a quote from Sartre 'Hell are the others', which we used in the song called "Limbo".
By the way our lyrics are much more closer to hip-hop than classic rock or synth-pop. In fact, we apply the old Soviet tradition where lyrics take more importance, than the music. It is rooted in the censorship in the USSR, when you could not speak about the real problems directly but had to veil them in a complicated manner, a kind of sci/fi genre, which reflects the existing social problems by setting them in a different space and time. Our lyrics are a set in a dark nirvana - unnice, spaceless, timeless and impersonal, the '3rdeye' lyrics.
Sound-wise I experienced your music as centered around electro-pop but mixed with multiple other influences. Tell us a bit more about the 'sound-identity' and potential sources of inspiration?
Do you know how the surrealists create their pictures? They pack the elements, that do not necessarily belong together (ex. apple, hat, sky, eggs) in the same image - such that they are a bit mismatched but still organic and homogeneous. That is also the way we create our covers. We actually do the same with the music - we use the influences from post-punk, abstract hip-hop, future-pop, synth-pop, punk and EBM. 0Kontrol has no limits on style (the big decision on crushing the boundaries has been accepting the guitar in an electro project.) As a joke we call the sound 'atomwave', derived from the aesthetics of atom-punk. Mysterious, out-of-this-world, funky, kitsh, sometimes menacing, dark and creepy but always retrofuturistic. We are driven by EBM, referring to Front 242 or FLA with the addition of guitar play and male vocals reminiscent of The Cure or FLA. The female vocal passages are purely taken from classic pop rock artists, such as Guns n Roses, Cindy Lauper or even Scorpions but sometimes you will also hear some ethno-oriented sounds, ex. Qntal or Delerium.
Masha, you're active as a music journalist so in what way does this experience help you in getting involved with a band and how would you describe the album "3rdeye2ndhand" as a "journalist"?
I think I would have never got to know my band mates if I would not have worked in the magazine. Also reviewing some items and concerts has helped to establish the own identity, to have an overview on what others in the modern world are doing and where you stand yourself. I see "3rdeye2ndhand" in a pretty critical way. Of course the ideas of the songs are struggled out but we need to get better in production and quality. For this we will need to abandon whole punkish attitude in the future.
0Kontrol is still a live band. What have been your experiences so far and how do you transpose the songs to the stage?
Talking about that - you should have seen our first rehearsal (lol). We stood there and did not actually know what to do (except for singing, which was pretty horrible and karaoke-like). We have directly abandoned doing the 'fake' synths and decided to add the guitar to the performance instead. It has actually helped us to integrate the guitar in the second version of our singles afterwards (like 'hmm… sounds not bad!') My favourite gothic bands taught me, that some cabaret-like performance can never spoil the concert. We sometimes have a live drummer and produce a lot of music videos, that contributes to the visual key of particular songs. Unfortunately we cannot do the normal rehearsals since we live in different countries but we hope to find a solution for the future.
Stef COLDHEART
01/07/2019
---