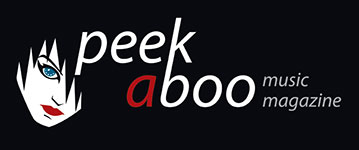 like this interview
---
FERALIA PLANITIA & DAS AUGE
'Thanks to our overlapping tastes in music, we became good friends; music was our cement, sort of speak…'
12/07/2022, Jan DENOLET
---
If the name Feralia Planitia, solo project of Simona Dellamorte, doesn't ring a bell, I would like to refer you to the review of their debut EP (released in 2021 by Desert Island Music). Anyway, after this double interview with Das Auge, Hans Plasma's solo project, she will no longer be a stranger to you. Together with the Amsterdam band Red Shades, they played recently the Haarlem venue the Patronaat, under The Irrational Library moniker.
We don't need more to interview both Simona and Hans/Federico about their musical projects. All the more so since a first online research turned out to be quite interesting one …!!
Hello Simona (Feralia Planitia) and Hans (Das Auge)… Can you give our readers a little introduction to your respective projects?
Feralia Planitia / Simona Dellamorte : Feralia Planitia is my solo project, electronic music inspired by Sci-fi and Cyberpunk atmosphere. It's also my first musical project, so it's all a bit new to me. I have a still fresh eponymous debut EP out through Desert Island Music, since October 2021…
Das Auge / Hans Plasma : Das Auge was born in 2016 from the band Letatlin. My solo project is in fact an experimental electronic project, based on a combination of pop, electronic elements and an amalgam of sounds. I search the Postpunk and Industrial Underground, pick out what I can use, update, merge, …, place aesthetic references and add emotional collages to it. Under the pseudonym Hans Plasma I am responsible for all the lyrics, most of the arrangements and the performances…
I read that both of you are of Italian origin. In addition, I suspect that at some point you both started listening to Goth and related music, which resulted in what you are doing now… Where are your points of contact…?
D.A. : I am indeed Italian of origin, born in Rome, but have been living in Amsterdam for about 20 years now. Goth as a musical description has always been something pretentious to me, but oh well: I listened (and still do) to Gothic music. Letatlin was usually described as a Goth band (although in Italy we tend to speak of Darkwave) and for that reason we were also mentioned in the book 'Music To Die For' by Mick Mercer (2009, Cherry Red Books… review can be found on the DarkEntries site). Lately the reviews of our albums mention the label Goth less and we are indeed more than only that… Regarding Simona and my friendship: I guess we went out to the same clubs in Italy at the end of the 90s, although we were from 2 different cities. We eventually got to know each other better at some Goth parties in Amsterdam, where I also served as a DJ. Thanks to our overlapping tastes in music, we became good friends; music was kind of our cement… Simona is a very open-minded person who is always curious about new sounds…
F.P. : We are indeed both from Italy but from other regions within it. As for the music : New Wave (or Post Punk) Cold-wave, Industrial and experimental electronic music have been part of my musical diet all my life…
Are there specific experiences (concerning people, music, events) from your time in Italy that shaped you and that you might have missed if you weren't there…?
F.P. : Certain clubs, squat parties and concerts within the alternative music scene… Also techno and EBM like this were often played in the more mainstream clubs in 90s Italy. There were some very good DJs and electronic artists that I still like to go to listen and who inspired me while shaping my own music…
D.A. : My first years as a musician were with Letatlin, in Rome… During that first Letatlin incarnation I had a game changing experience regarding how I wanted to make music/songs. A creative breakthrough so to speak… without certain people and also a competition (in Rome) I would definitely not be the same person in terms of inspiration, musical direction, … let alone still making the music I love…
Simona, since your first release as Feralia Planitia is still fresh : can you tell us a bit more about your album…?
F.P. : Although the EP has 'only' 5 songs, there is a lot of difference between the tracks. I was able to process the input of various genres that I like : EBM, Industrial, Electro, Acid,... I would like to describe it as a mainly instrumental journey through a futuristic soundscape from a dystopian universe. The only 'vocals' are samples that have gone through a vocoder filter to give them a mechanical, robotic sound… The atmosphere refers to 80s Cold Sci-fi and Cyberpunk as well as to the warmer psychedelic Scifi works from the 60s and 70s...
And how did the ride go in the meantime regarding reviews, concerts and reactions from the public…?
F.P. : So far there has been mostly good feedback for the album. It's nice to see that people as diverse as fans of EBM, Industrial, Ambient and even fans of more mainstream electronic music find something in it that speaks to them. Feralia Planitia also gets a nice amount of airplay on great shows like WAVES, DVS NME, Galactic Travels, Matinee 80's and several others. In 2021 the Feralia Planitia album even reached the Top 20 of the Best of International Electronic Music Albums at the Schallwelle Awards…!
Hans, thanks to Letatlin you have been involved with music for a long time. Can you tell us a bit more about Letatlin and how it evolved into your solo project das Auge…?
D.A. : We have been around for about 25 years with Letatlin. Our new album, "Seaside", is a fairly compact set of songs. Before the release we found a new label to promote us. That part has only recently been completed and we hope to be actively involved in introducing the album to the public in the coming months, especially after this rather static period in terms of concerts. We (Marc Mal de Vivre + Hans Plasma) have both been involved in Letatlin from the start, so without a hiatus or break-up… Letatlin has a very unique sound and we feel each other very well. This results in what you could call a blend of Post Punk and Experimental… What to say about Das Auge…? Das Auge is in any case less structured in composition than Letatlin… Das Auge is Letatlin with a high fever…!!
You have already released several albums with Das Auge… What evolution do you see in it…?
D.A. : The first album is not homogeneous : in my opinion there is a clear distinction between a sick-pop and the pop-sick part…! The 2nd album, Sangre Rosa, has less of that duality. At the moment I am gradually coming to the finished masters of the songs for my next full length album. I'm curious what my sound engineer in Italy will do with it. He is quite headstrong, in the sense that he almost always decides what emotional mood the album should have. A number of new friends are working on the album, which means that, for example, a saxophone comes into play…
Are there any artists (not necessarily musicians) you would consider as kind of like minded souls…? Artists you would like to get on our readers' radar…?
D.A. : The Residents and Einstürzende Neubauten, both for creativity… Early Nick Cave, Tom Waits and Virgin Prunes for intensity… Coil and Tuxedomoon in terms of experimental inventiveness… so much to mention… How can I for instance forget to mention eg The Cramps, Suicide and Clock DVA? As far as relatively-newer bands are concerned I am thinking of Thee Oh Sees, La Femme and Sleaford Mods. There are also visual artists who have definitely influenced my soundscapes; like Francis Bacon, Maurizio Cattelan and Ryoji Ikeda… as a movie buff I can go on and on about certain classics, so I limit myself to more recent gems like Under The Skin, Babadook, Holy Motors and Neon Demon. The last season of Twin Peaks was also great!
F.P. : From within our own style no names come to mind at the moment but there are other bands that I like to listen to and that I find inspiring for their dark, synthetic and distinctly own atmosphere of their music. Such as Frozen Autumn, Sun's Spectrum, Schönwald / Shad Shadows, Kirlian Camera...
And if you could manage a festival yourself: which artists would you like to share the stage with…?
D.A. : …with Simona / Feralia Planitia of course…!!
F.P. : …and also other electronic acts that I often listen to and which it is not easy to put a label on : Clock DVA, Cabaret Voltaire, Zarkoff, Lassigue Bendthaus… Front 242 too…
Simona, Joshua Baumgarten of The Irrational Library first planned to put you on the same bill with two metal bands… When you asked, it eventually became Das Auge… How obvious was your personal choice for Das Auge…?
F.P. : That of those metal bands is right… it was an original idea of ​​Joshua to create a contrast on the bill in that way. Instead, I proposed Hans' project, because in my opinion it would be a compromise between a balanced whole with sufficient contrast. My music is completely instrumental, hypnotic and more inward looking… Das Auge has vocals and guitars as well as electronics. It is also always nice to see how Hans can make a real show of it with Das Auge…
Do you have things you are looking forward in the near future?
D.A. : These days I still have my hands full with the new album and once I have the final masters in my hands I can look for a suitable label to promote this… (n.v.d.a. : labels that read this and feel attracted to this contact record at das.plasma.auge@gmail.com )
F.P. : I have several more concerts in the pipeline but first I want to take a closer look at my current show and see how I can give my new material / toys a place in the setting. In September of this year there will be a first full length album. And to develop my Feralia Planitia universe, I will also work with video editing and visual arts…!!
You both don't sit still… Thanks again for this interview!
Jan DENOLET
12/07/2022
---
U kan dit interview in het Nederlands HIER lezen bij onze collegas van Dark Entries Magazine!
Jan DENOLET
12/07/2022
---