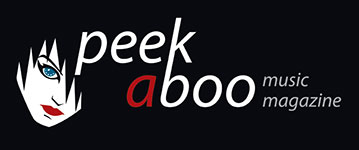 like this interview
---
MOTOR!K
I have to admit that I often still find it strange and difficult to grasp: people going crazy on three weirdos playing some repetitive music
05/08/2022, Hamis HIREK
photos: © Bert Diels (1+2) / Luc Luyten (3-5)
---
MOTOR!K is a trio of which every member has already build up some experience through the years, but can you please introduce yourself to our readers?
Joeri Dobbeleir : I am the main composer of the band. All tracks are created in my home studio. On Stage, I play guitar and operate the sampler.
Dirk Ivens : I play guitar and effects, people might also know me from other projects such as Dive, ABsolute Body Control, The Klinik and Sonar.
Dries D'Hollander: I play drums and I also trigger drum samples and sound effects via an electronic drum pad. As a drummer I used to be Joeri's musical partner in crime for Suburb Songs.
How did you actually meet each other? If I'm not mistaken you don't immediately come from the same "music scene" do you? So how did this project come about?
Joeri : I've known Dirk for a while, in 2017 he released the debut album of my other project "The Whereabouts of J. Albert" together with Rainer Di Meo from No Emb Blanc Records. It's true that it's a different genre then what I do with the Whereabouts, but what we still have the dark and menacing atmosphere in common. While meeting we noticed that we both had a predilection for Krautrock and the Berlin School and so we started jamming with a drum computer. We soon noticed that the whole thing was getting a bit too static and that's how Dries came in, who I also knew from Suburb Songs, say the predecessor of The Whereabouts of J. Albert.
Dries: I wasn't really familiar with the genre, but after some exploration I soon realized that drum-wise it fitted my like a glove. Joeri had sensed this very well.
You have just released your third album with baring it's sequential number title, as the previous two albums, in this case 3. Why this choice not to give your albums a "full" title?
Joeri : We want to let the music take precedence, and album titles only distract from the essence. And we just thought that was cool, nobody does that anymore.
Unlike the albums, your songs each have their own titles… Usually song titles have something to do with the content and the lyrics but in your case it's just instrumental songs. So how are those titles chosen/given with you?
Joeri : I immediately choose the titles when I create a track in my home studio. Usually I choose it based on what I'm reading at that given time, eg. "Socrates" from the last album is named that way because I was reading a book about the ancient philosophers. "Stunden" is named that way because my girlfriend is German, so that inspiration came from there.
How do your songs usually come about? I know you get together regularly to rehearse, do songs arise during these rehearsals / jam sessions or is it rather in the studio?
Joeri : All tracks are created in the studio, but Dirk and Dries do put their own accents on rehearsals. But MOTOR!K 2's "Headlights" for instance originated from a jam session, and I started working further on it in the studio.
One of the remarkable MOTOR!K sound specifics is the use of a limited drum kit and only sporadically a kick drum can be heard… Why the choice to let the floor tom take over from the traditional kick drum (sound)?
Joeri : Because that creates a more rolling groove, which has kind of become our trademark.
Dries: It creates a different effect. More enchanting and exhilarating. It even has something "tribal"-like and, in combination with the bass sequence, it improves the danceability of our music.
How important is the electronics, especially the sequencer loops, in your music to you?
Joeri : Very important! It is the core of our music. And we don't need to take a bass player with us.
Dirk : It's that incessant drive that takes you along. No escape! :-)
Dries: The repetitive character of the electronics enhances the trance effect of the music, it drags you into a trip. Like it or not :-)
Shortly after your foundation and your first album, you seemed to have embarked on a blitz conquest of the Belgian music landscape. Unfortunately, the release of your second album fell in the middle of the Corona pandemic and your advance was somewhat stifled. How did it feel for you to release a record that could hardly be celebrated and promoted because of those unfortunate circumstances?
Joeri : Fortunately, that record still sold well online, and the accompanying video clips also did well, so all in all it wasn't too bad. We also play some tracks from that record live, so people keep discovering them.
Dirk : I think that has been the case for many groups, we can only hope for better times.
How have you each experienced and survived the past pandemic?
Joeri : By making the 3rd album and especially looking forwards.
Dirk : Indeed, we kept rehearsing when it was allowed and stayed in touch.
Dries: I still worked full-time in addition to music during the pandemic, but the cancellation of concerts struck me anyway. Fortunately, we live within walking distance of each other and we regularly met at my house to let out our frustrations on each other, and to forge our future plans over a glass of beer.
This year you played, among others, the famous Roadburn festival in Tilburg, where you blew the roof off and set the entire hall in motion… Even though a part of the audience was probably still unfamiliar with your oeuvre... That must have been a great feeling! What goes trough your mind at such moments?
Joeri: That's what you do it for, isn't it? That show in particular was indescribable. Last year we also played Desertfest in Trix, after the lockdown, and that was also so great. Recently played in 4AD in Diksmuide, which was a bit smaller show, but we enjoy that very much too.
Dirk : For me it's also a totally different experience to be part of a band aswel as performing for a whole in a different audience than I am used to. And it tastes like more!
Dries: I have to admit that I often still find it strange and difficult to grasp: people going crazy on three weirdos playing some repetitive music :-) But it does confirm that we do create something special live, and that's good for morale.
The third MOTOR!K album is out now! The club and festival circuit seems to be slowly recovering… What can we expect from you this summer and autumn?
Joeri : At the end of August we start a small concert tour through Belgium and the Netherlands. You can check all data on our social media.
Also a limited 33rpm 7" EP will be released in September, and we are, as we speak, recording the 4th album. So plenty of prospects!
We wish you the best of luck and thank you for this interview!

Catch MOTOR!K live:
26.08 DB's Utrecht (NL) w/Sei Still (Mex)
28.08 Effenaar Eindhoven (NL) w/Minami Deutsch(JP)
03.09 Bar Bricolage Ghent (B) w/a.o. Radar Men From The Moon(NL)
09.09. Trix Antwerp (B)
10.09 Magasin 4 Brussels (B) w/10000 Russos (P)
12.11 Oefenbunker Landgraaf (NL)
04.05.2023 Out Of Line Weekender Berlin (D)
Hamis HIREK
05/08/2022
---
MOTOR!K is een trio waarvan ieder lid al wel wat watertjes doorzwommen heeft, maar kunnen jullie jezelf nog eens voorstellen aan onze lezers?
Joeri : Ik ben de componist van de band. Alle tracks ontstaan in mijn homestudio. Live speel ik gitaar en bedien ik de sampler.
Dirk : Ik speel gitaar en effecten, mensen kennen mij ook van andere projecten zoals o.a. Dive, ABC, The Klinik en Sonar.
Dries: Ik speel drums en via een elektronische drumpad stuur ik daarbij ook digitale drumsamples aan. Vroeger was ik als drummer ook al Joeri's muzikale compagnon de route bij Suburb Songs.

Hoe zijn jullie elkaar eigenlijk tegengekomen? Als ik me niet vergis komen jullie niet meteen uit dezelfde "muziekscene" he? Hoe is dit project tot stand gekomen?
Joeri : Ik ken Dirk al een tijdje, hij heeft in 2017 de debuutplaat van mijn andere band "The Whereabouts of J. Albert" uitgebracht samen met Rainer Di Meo van No Emb Blanc Records. Het klopt dat het een ander genre is met Whereabouts, maar wat we gemeen hebben is dat het donker en dreigend is. Door dikwijls te vergaderen merkten we dat we allebei een voorliefde voor Krautrock en de Berlin School hadden en zo zijn we initieel met 2 beginnen jammen met een drumcomputer. Al snel merkten we dat het geheel wat te statisch werd en zo is Dries erbij gekomen, die ik ook al kende van bij Suburb Songs, zeg maar de voorloper van The Whereabouts of J. Albert.
Dries: ik was niet echt vertrouwd met het genre, maar na enige verdieping had ik al snel door dat dit drumsgewijs mij volledig op het lijf geschreven was. Dat had Joeri goed aangevoeld😉

Jullie hebben net jullie derde album uit met net als de vorige twee albums als titel hun volgnummer, namelijk in dit geval 3. Waarom de keuze om jullie albums geen "volwaardige" titel mee te geven?
Joeri : We willen de muziek laten primeren, en albumtitels leiden toch alleen maar de aandacht af van de essentie. En we vonden dat gewoon stoer, niemand doet dat nog.

In tegenstelling tot de albums, hebben jullie songs wel elk hun eigen titel … Meestal hebben songtitels iets te maken met de inhoud en de tekst maar in jullie geval zijn het enkel instrumentale nummers. Dus hoe worden bij jullie die titels gekozen/gegeven?
Joeri : Ik kies de titels al meteen bij het aanmaken van een track in mijn homestudio. Meestal kies ik een titel die gebaseerd is op wat ik op dat moment aan het lezen ben, bvb. "Socrates" van het laatste album heet zo omdat ik toen net een boek las over de oude filosofen. "Stunden" heet dan weer zo omdat mijn vriendin Duitse is, dus die inspiratie komt dan weer van daar.

Hoe komen jullie nummers meestal tot stand? Ik weet dat jullie regelmatig samenkomen om te repeteren, ontstaan er ook nummers tijdens deze repetities / jamsessies of is het eerder in de studio?
Joeri : Alle tracks ontstaan in de studio, maar op de repetitie leggen Dirk en Dries wel hun eigen accenten. "Headlights" van MOTOR!K 2 is dan weer ontstaan uit een jamsessie, en daar ben ik in de studio mee aan de slag gegaan.

Opmerkelijk is dat jullie (live) meestal met een beperkte drumkit spelen en er slechts sporadisch een kickdrum te horen is… Vanwaar die keuze om de floortom het te laten overnemen van de traditionele kick drum (sound)?
Joeri : Omdat dat een meer rollende groove creëert, wat dus ook een beetje ons handelsmerk geworden is.
Dries: Het creëert inderdaad een ander effect. Meer bezwerend en opzwepend. Het heeft daardoor zelfs iets "tribal"-achtig en komt in combinatie met de bass-sequence de dansbaarheid van onze muziek ten goede.

Hoe belangrijk is voor jullie de elektronica, met name de sequencer loops, in jullie muziek?
Joeri : Heel belangrijk. Het is de core van onze muziek. Én we moeten geen bassist nemen.
Dirk : Het is die onophoudelijke drive die je meeneemt. No escape :-)
Dries: Het repetitieve karakter van de elektronica versterkt het trance effect van de muziek, het sleurt je mee in een trip. Willen of niet :-)

Jullie leken kort na jullie oprichting en eerste album aan een blitz verovering van het Belgische muzieklandschap begonnen te zijn. Helaas viel de release van jullie tweede album midden in de coronapandemie en werd jullie opmars wat gestuikt. Hoe voelde dat voor jullie om een plaat uit te hebben die haast niet gevierd en gepromoot kon worden door die ongelukkige omstandigheden?
Joeri : Die plaat werd gelukkig nog goed online verkocht, en de bijbehorende videoclips deden het ook goed, dus al bij al viel dat nog mee. We spelen ook nog 3 tracks van die plaat live, dus mensen blijven ze ontdekken.
Dirk : Ik denk dat dat voor vele groepen zo geweest is, we kunnen alleen maar hopen op betere tijden.

Hoe hebben jullie elk de voorbije pandemie zoal beleefd en overleefd?
Joeri : Door de 3e plaat te maken en vooral vooruit te kijken.
Dirk : Inderdaad, blijven doordoen op momenten dat het mocht en verder contact houden.
Dries: Ik werk naast de muziek nog voltijds, maar het wegvallen van concerten viel me toch zwaar. Gelukkig wonen we op wandelafstand van elkaar en spraken we geregeld af bij mij thuis om onze frustraties op elkaar los te laten, en onze toekomstplannen te smeden bij pot en pint.

Jullie stonden dit jaar onder andere op het befaamde Roadburn festival in Tilburg, waar jullie de pannen van het dak speelden en de hele zaal in beweging zetten hoewel een deel van het publiek waarschijnlijk nog onbekend was met jullie oeuvre … Dat moet toch een geweldig gevoel zijn, niet? Wat ging er toen door jullie heen?
Joeri : Daar doe je het toch voor? Vooral die show was onbeschrijflijk. Vorig jaar speelden we nog op Desertfest in Trix, na de lockdown, en dat was ook de max. We speelden onlangs in 4AD in Diksmuide, dat is dan weer een kleinere show maar daar genieten we ook van.
Dirk : Voor mij ook een totaal andere ervaring om in het geheel van de band op te gaan in een ander circuit dan dat ik gewoon ben. En het smaakt naar meer.
Dries: Ik moet toegeven dat ik het dikwijls nog bevreemdend en moeilijk te vatten vind: mensen die uit hun dak gaan op drie pipo's die wat repetitieve muziek staan te maken :-) Maar het bevestigt wel dat we live wel iets teweegbrengen, en da's goed voor het moreel.
Het derde MOTOR!K-album is nu uit! Het club- en festivalcircuit schijnt zich langzaam weer te herstellen … Wat mogen we deze zomer en najaar nog van jullie verwachten?
Joeri : Eind augustus beginnen we aan een klein concerttourtje door België en Nederland. Alle data kan je checken op onze sociale media.
In september komt er nog een limited 33rpm 7"EP uit, én we zijn, as we speak, de 4e plaat aan het opnemen. Vooruitzichten genoeg dus!
Wij wensen jullie nog veel succes en bedankt voor dit interview!
U kan MOTOR!K live aan het werk zien op:
26.08 DB's Utrecht (NL) w/Sei Still (Mex)
28.08 Effenaar Eindhoven (NL) w/Minami Deutsch(JP)
03.09 Bar Bricolage Ghent (B) w/a.o. Radar Men From The Moon(NL)
09.09. Trix Antwerp (B)
10.09 Magasin 4 Brussels (B) w/10000 Russos (P)
12.11 Oefenbunker Landgraaf (NL)
04.05.2023 Out Of Line Weekender Berlin (D)
Hamis HIREK
05/08/2022
---