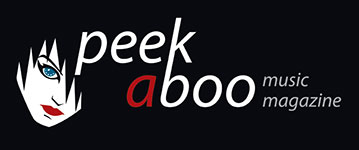 like this interview
---
JOSIE PACE
Interview with Josie Pace
08/09/2022, William ZIMMERMAN
---
Josie Pace is a Detroit, Michigan based artist who blends electronic music elements along with rock synthpop and goth/industrial. 'IV0X10V5' is the latest album released this year on Negative Gain Productions. Josie is also preparing to embark on a North American tour in support of Aesthetic Perfection beginning in October. We appreciate her taking time out to talk about the album, performing and music in general.
When and how did you first get into music?
I was into music from a very young age. I grew up in a musical family, so music is "in my blood" so to speak. I always knew I wanted to have a career in the music industry. My parents supported my decisions very early on and pushed me to really polish and work on my talents. I grew up writing my own songs even before I was in guitar lessons.
What was your first instrument?
My first instrument was the guitar. It is still how I write all of mysongs before transposing them into industrial/ electronic songs. I started guitar lessons when I was about 10 years old when I was given my first guitar for Christmas. I took guitar lessons for about 7 years and it has helped me become a better songwriter as well.
What was your first onstage experience? How did you cope with performance anxiety?
I have been taking the stage by storm since I was young but my first onstage experience with the music I create now was at Small's in Detroit. I remember wearing the most uncomfortable shoes ever and I remember my hands and knees shaking before going on. Out of excitement sure but also out of nervousness. Of course, I still get nervous. But I wasn't as seasoned then. I remember just trying to do whatever came natural for me. I also remember reaching for the mic stand and missing it completely but I try to forget about that! I've learned a lot in the years after that performance. Being nervous is normal and important! I use that energy to hype myself up and to put on a kick ass show. I am myself on stage, even if I feel like I might look weird or awkward, I am who I am and I own every bit of it.
How did living in Detroit influence your music Style?
I think living here and growing up in a working class family definitely influenced my writing style. I grew up listening to a lot of classic rock and a lot of music with a more poetic approach. I learned to write songs that weren't "on the nose" or too specific. Keeping a poetic style while writing helps to let the listener come to their own conclusions and attach themselves to the song in a way that is personal for them without losing the attachment to myself. I think the Midwest in general has a dirty edge to a lot of the music it produces out of just the way that we work. I feel like people in the Midwest know how to get down to the nitty gritty and aren't afraid to get their hands dirty and it comes through in the music and production.
IV0X10V5 was released in February 2022, can you give us an idea of the creative process in writing it? How did the pandemic affect this process?
After releasing singles every few months we decided to release a full length album. Although we had remixed and mastered some of the previously released singles for the album I wrote 6 brand new songs for the album. I'm not the most prolific writer, I have bouts of inspiration and I create maybe 2-3 songs in a small time frame and usually only one of the songs I bring forward makes it past the demo stage. But throughout the pandemic I had a lot of time to work on writing for the album which was much needed. And at the same time we had filmed 6 new music videos that coincide with the release of the album as well. Even though we were pretty on schedule for the release, the pandemic made it very hard to press vinyl and get CDs made. It also made us a bit uneasy to have the album release show at Bar Sinister in LA when we weren't sure how many people would actually show up. Fortunately we had a packed house and a kick ass show! It was a relief for a few days after releasing "IV0X10V5", knowing all of our hard work came to fruition. But I had to get back to working quickly after to push the album, book shows and tours and start work on my next endeavor.
How would you describe the music you create?
This question is always hard for me but I feel like my music is relatable but very new. Most everything I write about, others are going through or have gone through in their lifetime as well. My music is familiar but new and aggressive and strong. I think my music is a friend to people who don't have anyone else to lean on.
You and Ken Roberts work together. Can you give us some insight about how you two first met? How do you guys inspire one another?
Ken had seen a video I recorded of my cover of "Mad World" by Tears for Fears, he sent me a message on Facebook explaining that he was a music producer and would like to meet with me and possibly work on music together. Unfortunately at the time I was getting a lot of scammers and creeps sending similar messages but they weren't actually producers. I chalked his messages up to be scams for a few months as well until I was doing a photoshoot with a friend of mine, Scott Sprague. And coincidentally Ken has been friends with Scott for years! When he saw I was shooting with Scott, he called and asked Scott to assure me that he wasn't some creepy fake producer.
Once I visited the studio and met with Ken we took some time to go through some songs that I had and to try to find a sound that really fit our collaboration. "Torn" was the song where we found our sound. Everything really took a mind of it's own from there. We kept crafting and working on our sound while releasing singles every few months to stir up the scene here in Michigan. Ken puts more faith in myself than I do sometimes. I try to stay as level-headed and grounded as possible when it comes to what I do. The sounds and synth musicality that Ken brings to the table inspires me to push my writing into different directions and I think it is the same for him as well. I bring a lot of songs in odd time signatures to the table and he finds a way of creating a kick ass electronic song out of a melancholy 6/8 song.
What is your favourite song off the new album and why?
It's so hard for me to pick favourites, the songs are like my babies. I put a lot of myself into all of them. But I think the song that still pulls my heart strings is "Vicious". I wrote "Vicious" after the sudden death of a very close friend of mine. She died in a car accident one night while I was at a music video shoot. I found out the next day that she had passed. I was wrecked to say the very least. She was one of my best friends and writing this song took everything in me to finish. All of my sleepless nights of clenching my hand over my mouth and sobbing into my pillow until I finally fell asleep. All of my confusion and hollowness and anger about how she was taken too young and too violently and how no amount of flowers or beautiful caskets or "she looks so peaceful" made me understand why she was not here anymore. Throughout the song I constantly ask, "Are we not complete without this viciousness?". Asking if life is only worth living because all of the terrible lows make the happiest moments happier. I still have a hard time performing that song live and I try to dedicate it to her at every show.
You and Sammi Doll have collaborated on two different tracks. Do you see any more collaborations happening?
I am always open to more collaborations! I loved working with Sammi on "Perfect Replacement" and on the cover of "Pure Morning" by Placebo. Collaborating with new people is always fun and always brings out interesting ideas no matter what song we are working on. It's nice having fresh eyes (or ears) and ideas on new songs.
If you could do a collaboration with any of your musical influences who would it be and why?
I have always wanted to record a song with Solomon Olds, the previous lead singer of a band called Family Force 5. He has such a unique voice and I have listened to his music since I was very young. Kind of like a childhood hero for me. But I think we could create something really different, and I've yet to collaborate with a male vocalist as well.
William ZIMMERMAN
08/09/2022
---