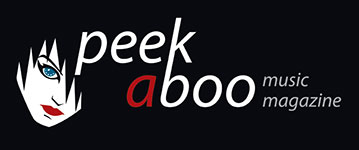 like this interview
---
LIA HIDE
Lia Hide & The Plato-Inspired New Album - An Interview
14/09/2022, William ZIMMERMAN
---
Lia Hide is a classically trained dark pop artist from Greece. She's just released her highly-anticipated concept album, 'The Missing Fourth Guest'; a very well thought out album whose story is based upon Plato's Timeaus Sonata. We're very grateful to Lia for her time for this interview.
Can you please describe your music to someone that has never heard of Lia Hide?
Our music is a bit demanding. If you've heard Kate Bush (not only the Stranger Things hit), Tori Amos, Depeche Mode and some Ennio Morricone and Son Lux you'll feel at home. People say we bear resemblance to Nick Cave and the Bad Seeds, although I feel most at home with a Radiohead list of similarities. Its context is a bit...intellectual and you'll find yourself troubled with your ghosts if you sink into the lyrics.
How did you get into the music ?
Music was always around in my home, as I was growing up. I decided to be a musician, as a profession, since everything else severely depressed me (and I did try, trust me). I got into making my own songs way early, I think I wrote my first song when I was 14 years old but I got into the album making and 'Lia Hide' identity process way later, I think it was the humbleness that my classical music training brought into my psyche, that kept me away from being audacious and bold about making MY album, and MY music. Back in the day, making an entire album seemed like a huge responsibility to me and I spent 3 years in the making of my very first solo album.
Who were some of your earliest musical inspirations and influences?
It was Manos Hadjidakis, the Beatles and Simon and Garfunkel when I was a kid, and later on, it was Lisa Stansfield, Belinda Carlisle, Janet Jackson and even Bon Jovi. Soon after I suffered a Metallica and Dead Can Dance phase, that was followed by a Depeche Mode, Smashing Pumpkings and Moby/Massive Attack period, while my 20s were filled with Alice in Chains, Pearl Jam, Soundgarden and Faith no More.
You are a music educator, what is your favourite part of teaching music?
Music teaching is very, very tiring and comes with a huge responsibility. It also wears my voice and stamina greatly but make no mistake, music teaching is the elixir of life, the fountain of youth! My favourite and most demanding aspect is my students' personalities and how we bond our lives, and blend our paths, finding new identities and creating new wonders!
What was your first music teacher like?
Horrible. I am a "me too".. victim. He was a very respected teacher and bassoon player (yes, I was sent off to a very famous Conservatory to learn the bassoon, when I was 12 years old. He took advantage of my shyness and made all sorts of (sadly, successfull) attempts to exploit my naive and young head and sadly, parts of my body. And like all victims, I too was very ashamed to speak out and share this with my family, until it was too late, and I am very thankful that when I did, they stood by my side. Sadly, we did not seek legal justification, that was something you just wouldn't do, way back then. I sometimes wonder if the darkness that dwells in me was planted in my head and soul, then.
Would you agree that it is very important to learn, study, and listen to old music and music history? If so, why?
Of course! As an Musicologist and MMus in Songwriting graduate, I simply don't understand how one can go venturing into art without knowing the origins and roots of what was there before him/her. I only wish people would be more interested in history and art of the past, even the recent past. The level of quality would be much greater and surprising. I feel like we are living a second Middle Ages, both in Arts as in Social and Political issues, and I know that if only people were educated and knew their history, things would have taken a far better turn for us all.
Can you please give us a little history behind your band? How has it evolved over time?
My band was built around 2012 as I was recording my first album. George (drums) and I were in the same band since senior high and we've always played together. Later, we were introduced to Dennis (guitar) and we played our very first Lia Hide album presentation, all together. Aki'Base (bass) joined us for our second album. Stelios (trumpet) is the latest addition, he joined in just in this latest album.
Your fourth album The Fourth Guest is based on Timaeus by Plato. How do the dialogues relate to the album?
In the Timeaus Sonata (Proposal-Cloud-Dinner) we built an evening dinner, you are all invited to sit down with us as we are discussing over the creation of the Universe, the citizens' role in an ideal society, art and music's part in the modern world, and the lost (utopian) city of Atlantis. But the opening line of 'Timeaus' was what mostly inspired us to lock Plato's writings to our work, as it was our Fourth album (hence, the Missing FOURTH Guest). Also, there was this doctorate thesis that I read, that claimed that the Missing Fourth Guest (in Plato's Timeaus) was actually a mathematical standard, that if it was conceived otherwise, and not as it was originally translated by the Renaissance scholars, then Western Music in its entiety would have sounded completely different, altogether.
What were some of the challenges you encountered while trying to get the newest album done during Covid19?
Now that these times are gone, and life seems to be normal, I actually kind of miss those quarantine days. I feel very much at a loss these days, like I often say, I am deep into a Stockholm Syndrome case, and I just can't seem to enjoy this new kind of normality. So, these days are actually more challenging than the Covid lockdown ones. At least when we were in lockdown, everyone was. Now that we do get the chance to live normally, I feel like I just don't know what to do with myself. Everything seems different.
Concert booking is different. Radio and PR and all these contacts, they seem to be working at different paces and I simply can't grasp what it is they are looking for. Covid quarantine was frightening but it was very creative for me, and I got to work hard and know what to expect of what I investing in. I was working closely with my boys and we were enjoying our music, building upon it, and dreaming and creating videos and storyboards and new sounds and new forms. Nowdays everything seems unpredictable and strange to me.
What is your favourite song to play? Why?
It's those "post", "progressive" songs that we play that I enjoy the most: "DAD" from my first album, "Johnny and I" from my third album, and "Wynnona" from our latest album, mostly because the boys are so amazing on these, and they flourish the songs when we play them live, and create a unique journey, every single time. I feel like I travel outside my body and float on top of us all, and watch us play, like a spectral spectator.
What can we expect from Lia Hide in the future?
I am looking forward to sitting down and writing some new songs, although the boys are more drawn to booking a tour and travelling and performing, so I'd expect we will do both of these!
What is the most embarrassing song or guilty pleasure bands do you absolutely adore?
Ι was a huge Guns 'n' Roses and Doors fan when I was in my teens, absolutely adored them, know all of their songs by heart, every single note that's on these albums. Now, my pop pleasures are Beyonce and Bruno Mars, especially his latest collaboration, Silk Sonic, album.
William ZIMMERMAN
14/09/2022
---