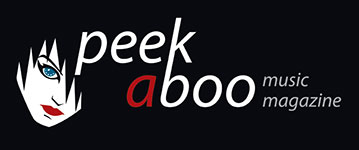 like this interview
---
JAPAN
Anthony Reynolds, Author Of Cries And Whispers- "A beautiful, rare bird trapped in amber."
27/03/2019, Kevin BURKE
photos: © Cathy Boyce
---
We all have favorite bands, for Anthony Reynolds he has turned his love of the new-wave boundary-pushing Japan into a written project. His latest adventure is Cries And Whispers (1983-1991), the long-awaited follow-up to 2015's highly acclaimed A Foreign Place(The Biography 1974-1984).


Both books do for Japan fans what Hammer Of The Gods did for Led Zeppelin fans, they give an in-depth view into the world of a Band both at their height of their powers and right through their demise and beyond. Using facts, stories, interviews and never before seen pictures, Reynolds delicately pieces together a portrait of this revolutionary outfit.


Author Anthony Reynolds took some time out from his hectic schedule to give Peek A Boo readers an insight into the process of compiling the book, the band and what he sees as the legacy of Japan.
Congratulations Anthony on Cries And Whispers, it is a very worthwhile and absorbing read, how long did it take you to compile what went into the book?

Anthony-"Thank you. It took about a year to finish and then there were some delays publishing wise.
I research and write as I go along ; I don't research and then write. Neither do I write in chronological order.
I set up a basic narrative framework and then fill in the blanks as relevant information comes in.
In addition I do the vast majority of the photo research. This rather disjointed approach suits my somewhat fragmented state of mind plus it keeps things fresh for me - working on photos one day, interviewing a trumpet player the next day, perusing old clippings the next. Everything is then processed in the editing and proofing stage.
The advantage of only writing about subjects you love is that it all feels like fun. Mostly. That's the difference between a job and work, I guess."
Was there a struggle deciding what to leave in and what you had to leave out?

"I don't like to stray into the private lives of my subjects too much. Obviously you have to to a degree insomuch as that is feeding into their work but ultimately my books are about work rather than people. I've had this criteria since day one, from my first book (which was on The Walker brothers). I know some people want the gossip and 'scandal' but while I enjoyed Albert Goldman's books as a young man, I don't want to emulate that approach. I'm writing from the standpoint that I love the work and I want to encourage interest in it, I want people to go back and listen to it with new insights.
So, no struggle involved really. There are lines I won't cross. So if someone volunteers information to me about the colour underpants someone wears I may be amused by it but it's not relevant to what I'm writing about so it gets left out."
When it comes to Japan, does it get difficult to separate Anthony Reynolds the fan and the author?

"I try to limit my own voice in the books as much as possible. I'm there to relate facts ; sometimes contradictory but facts as the interviewees remember them nevertheless. From this the reader can make up their own minds. Obviously I'm enthusiastic about the subject or I wouldn't be writing it but I don't think anyone in particular wants to know what I think.
It's a buzz for me to find out new facts about the songs etc and so being a fan just feeds my motivation to get up and write the book."

Is there a section in the book which you found the most rewarding to do? One where you felt wasn't explored before in any book or article about Japan?

"I don't think Japan or the work of their members has ever been satisfactorily written about. Not with any true research or meaning. So while not wanting to sound immodest I feel it was rewarding to write about everything to a degree. In AFP I got more one on one contributions from people, so I think the chapter written on Tin Drum that appears in that book is definitive. That stands out for me."

Did you already have this follow up in mind when you were working on A Foreign Place?

'I think so. The 'Japan' story really only ended with Rain Tree Crow so I see that as the end of that particular band. And with Mick Karn being no longer with us that album has to be the definitive end. I think I wanted to cover the whole story from day one, yeah.'

Have you received any feedback from any of the members of Japan on Cries And Whispers?

"Yeah. I heard positive things from Steve and Richard. Rob hasn't read it yet."

Did you spend any time with Japan, notably David Sylvian, when you were researching either book?

"Not David, no... I did interview him years ago via email. (The interview is on my site in 'writings').
But he didn't respond to any requests for interviews for these books. I wasn't surprised. I only asked out of courtesy.
I spent some really fun times with Richard during the first book and had extensive emails with Steve and skypes with Rob.
They helped to a much lesser degree on the second but somehow I don't think there's much difference in the quality of the books."

It is great to see Rain Tree Crow get a mention and remind people of the greatness, of both the band and album, were pieces like that critical to Cries And Whispers? Those widely underrated and possibly unknown albums for new fans to pick up on?

"I approached every single release, be it a single or an album by whomever with the same amount of diligence, respect and attention. Obviously one isn't going to get the same results for all but that was my starting point. Of course to me, RTC isn't an obscure album, I've lived with it since it came out and I'm sometimes surprised to hear that it is 'obscure' for other fans. But yes, it was critical for me to put in as much effort to 'Dali's Car' as it was to 'Brilliant Trees'."
Will this be the end of your written projects surrounding Japan or do you have other directions you want to overview the band with?

"I won't write another book on Japan I don't think although it would be good to do an illustrated discography. I've been asked to contribute to photo books and the like but they never came off. But I wouldn't write a book from 91 onward, no.
The trail becomes far too scattered and piecemeal from then on. I wouldn't be writing about a group or band sensibility but of various artists who once upon a time happened to be in a group together. Not the same thing. Japan arguably ended with Rain Tree crow and definitively with the death of Mick Karn."
Influence aside, what do you feel personally the legacy of Japan will be?

"A beautiful, rare bird trapped in amber."
Thank you again Anthony for all, I wish you all the success with this and future projects.

"Thank you, Kevin."


Cries And Whispers (1983-1991) is available now to order via Burning Shed -
https://burningshed.com/anthony-reynolds_cries-and-whispers_hardback
Kevin BURKE
27/03/2019
---