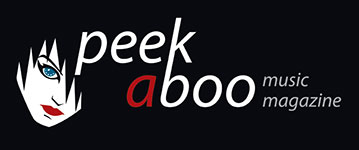 like this interview
---
STEPHEN PERKINS(JANE'S ADDICTION, PORNO FOR PYROS, SUMMER MOON)
'Today, we can play with tomorrow!'
26/03/2019, Danil VOLOHOV
---
Despite the major influence of John Bonham I can't call Stephen Perkins his follower. At the beginning of his career Stephen got his major influence from Bonham. After the earth-shattering career with Jane's Addiction Stephen got the chance to show his technique. Combining different elements he created the standard that was lately used by billions of alternative rock drummers. Nowadays, Stephen continues his career. And thus amazing his fans further. In 2017 he released "With You Tonight" - the first full-length album of Summer Moon project. The lineup including Nikolai Fraiture (The Strokes), Camila Grey and Noah Harmon got a wonderful chemistry provoking the manic wish to listen to "With You Tonight" again and again.

In the interview for "Peek-A-Boo" magazine, Stephen Perkins told about his rock'n'roll philosophy and John Bonham, about Jane's Addiction and Summer Moon. About live shows and "Lollapalooza".
Describing your play, critics always noticed the influence of John Bonham. Could you please tell me when you heard Bonzo's play for the first time ?
The first time I remember hearing Bonham was in 1977. I was 10 years old. It was the first song on the first Led Zeppelin record "Good Times Bad Times" which has percussive fireworks & huge drum events throughout the tune. A drummer loud in the mix as well ! At last ! I remember in particular thinking... How a powerful series of funky beats. With cowbell & tom interplay was so tribal... Then again, so deliberate, perfectly written & precise. To me, the drumming in that song, always felt like I was running down a steep hill out of control but never falling!
There is an opinion that while learning to play an instrument, musicians should find this balance between "following the great masters" and "don't be afraid to be yourself" – was it hard for you to combine your things ? And according to you, what did help you to develop your skills ? Was it just practicing or playing and gigging too ?
Like anything in life, I learn from the masters, but I never try to replicate... It's not possible & it's personal then. I am ultra aware of my environment and the times I live in... The personal angle. I need to be "in the moment" to have a clear art reflection...Life's experience and my experience that day, even up to that one moment before I sit down at the instrument. I put that feeling of experience straight into the next performance.You need to keep your ears and your chops fine-tuned to honour your potential. So you can pull off what you feel on your instrument with fluidity. Mind meets hands, feet, fingers and toes and go!
There are too many factors for each drummer. Isn't it difficult to take into account EVERYTHING ?
Never difficult, no , not being an Artist. But... to break what's been done before. It is a painful violent act against what is —consider Jackson Pollock... mmm? Throw the paint at the canvas! Bam! Everything changed!
The day before Jackson was using brushes like every other artist - this is where the spirit cracks the whip and then changes the world.
Throughout the years your style changed quite a lot, from the first recordings of Jane's Addiction, to quite soft and emotional Porno For Pyros and Summer Moon, where you're playing now. So speaking in terms of your work – each time, starting something new, where does your music start? Is it your rhythm or sudden guitar chords ?
Music spawns from so many places in so many ways... Never the same but always familiar. The lyrics, the subject/topic of the song, the bass-line, the guitar tone & feel, the speed/BPM of the tune etc...It all goes hand-in-hand in writing and opening the rhythm door.
Being a member of Jane's Addiction you developed your skills with the development of your career. Now, with Summer Moon, you work with well-known musicians who already established themselves. So how hard was it for you to find your sound taking into account the background of all members ?
So in a sense...It's like a tennis match...You learn to play with new people and you learn how to fit together like an M.C. Escher painting: there is a white duck and a black duck...The pattern goes on and on, forever, they fit together and to ponder.Which duck am I looking at? That's the chemistry of a great band -we fit but we stand out on our own.
When you first got together as Jane's Addiction you've basically started one big experiment.
Later on, when your colleagues answered the questions about the very-very beginning of your career they said about contradiction of the tastes.
In particular, Dave said that "It was four different guys who really,honestly had no business being together".
So how hard was it for you to get with each other's tastes and ideas ?
It was easy and it was meant to be! It could not be stopped! It's a magnificent magnetic attraction with the 'push and pull' of a real magnet...That's all in sound of the music as well.
Speaking about artists we may say that the place they're working in also plays an important role. You've started gigging from the Scream club, which in fact became the home for Jane's Addiction. How do you remember that time and your first fans ?
An Explosive creative time -musicians, artists, poets, designers. Film makers, writers and thinkers... All working together, not trying to repeat the past...Just moving forward and pressing boundaries and then...the Sun comes up!
As far as I know, recording your debut work you put everything you had into it. But can you say that it was a hard record to make ?
It was a pleasure, mate! Live at the Roxy. A two part show in front of our family and friends, recorded with a mobile truck and then we go to Capital Records to refine the mix. I love listening to it...Still!
There is an opinion that all the cult masterpieces were created on the verge of something. For example drug addiction or some specific kind of mood. Recording "Nothing's Shocking" you got quite a hard time in the band. But how do you think, without that, you could have recorded such a powerful record ?
"Nothing's Shocking" has a sound of the live on stage urgency met with our excitement to use a professional studio as an instrument — really for the first time without having to rush out and finish because of a budget. "Nothing's Shocking" has the raw energy and it's exploding while the restraint is atmospheric!
After the record came out critics and fans started to call you as the leading band of alternative rock. But at that time, have you thought that this musical scene finally got a kind of collectivity or did the term "alternative rock" just become cliché for mass-medias?
We were the alternative to what was happening in Los Angeles at that time -if you take that and go Global... it means Music lovers had new and brave musical options to choose from...I like that!
"Ritual De Lo Habitual" became quite diverse. From point of view of its mood and the material itself. Can you tell us what affected these changes and how did you record it ?
"Ritual" is a progressive record...We progressed from "Nothing's Shocking"! We progressed as players... We progressed with our relationships with each other! Progress with our relationship at the studio gear. When you have ten months on tour together, the promise, the work, together & bonding, travelling, eating, museums, movies, concerts and all that jazz... Then we go record... call it...a ritual... That is the sound of "Ritual" - it is the insight to our core bond!
Many critics notice a certain fatalism on the record itself. Probably because of your break up after successful "Lollapalooza". But while recording have you got any thoughts that this record would led to your break up ?
Never thought about tomorrow... Every piece of music I play...Is my first one..My last one...My only one...Be in the moment...
After the breakup of Jane's Addiction Perry and you formed Porno For Pyros. Could you please tell me about that stage of your career ? In particular, now do you think that Porno For Pyros was a kind of transitional phase for you ? Or was it a whole new chapter ?
1991! The same day Jane's addiction broke up in Hawaii... I was joined and was 'in' Infectious Grooves. Some funky two years of touring and recording. Extremely satisfying live experiences and powerful recording sessions with them. I'm drumming all over the record - Infectious Grooves "The groove that makes your booty move"...So fun to listen to! In 1993 Porno For Pyros ignites - another new band. A set of great players and thinkers. A dance-punk-sonic-wave-band. I was thinking about hand drum rhythms with sticks on percussion with a hybrid drum set to match my vision as my vehicle with a multi colour sound pallet. Every song is a new chapter, every band is a new story…
Now you're touring actively with your new project – Summer Moon.
How was the band formed ?
We were brought together by the pull of the Zone...a source which is 'inspiration' and the power to act on it in time!

Speaking in terms of Summer Moon. How can you describe your NEXT record ?
Dance, body moving world beats with tones from beyond! Inspired from ancient and modern rhythmic sensibilities. Using the frequencies from deep below subs to the glass ceiling cracking highs…Today, we can play with tomorrow!
After all these years of touring and different releases, what do you feel each time getting to the studio to record a new album ?
Always go into a session with the Philosophy to record new music. With full unhinged attitude and a full self-awareness at the same time! The meaning of art to me is to exercise your personal experience out and open into the world. Leave it there…For others to love or hate.
Once you said that you don't remember when you took the drumsticks for the first time. But playing with these musicians now, do you feel that sort of joy you had back in the days ? Or some other feelings changed it ?
Playing the drums keeps me young....playing music keeps me in...And meeting new players...old and young... that experience...always leaves an impression on my playing ! I'm 51 And I can't wait to steer the next 50!
Danil VOLOHOV
26/03/2019
---