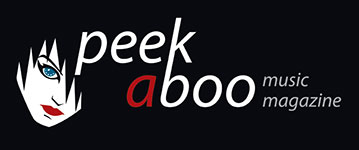 like this interview
---
VAZUM
An Interview With Dark Rock Act VAZUM
09/08/2019, William ZIMMERMAN
---
VAZUM is a dark-rock band from Detroit, MI. Since forming in 2017 they have independently released 3 albums. Their most recent, 'Variant', draws on the band's post-punk and goth influences, featuring covers of the Bauhaus classics She's in Parties and The Passion of Lovers. The band has a wide range of influences and is further pursuing different directions to take their music. We'd like to thank VAZUM for their time in this interview
Can you talk a bit please about the meaning behind the name VAZUM and the background of the project?

Vasum was an unreleased Sega Genesis game. I don't know where I heard about it, I just thought it sounded cool. I had been working on demos and wanted to start my own project but couldn't quite get a handle on my singing. Then one night I had a confrontation that left me feeling a bit salty and I wrote the song Fall Guy. It was a sound I felt good about pursuing and used it as the starting point for the band.
You guys released a couple of amazing Bauhaus covers and did videos for them. Why specifically were those two particular tracks important to you?

I had been wanting to cover Bauhaus for some time and the opportunity came along when we played a few Halloween shows as Bauhaus. From the songs we did She's in Parties and Passion of Lovers sounded the best. When it was time to record the album we figured we'd record those two and see how they turned out.
You have a video for the track "Someday" with some pretty interesting (what looks like family) footage. Can you talk about the track and where the footage is from?

I wrote Someday when I was feeling down and not wanted. It's based on being in a band that no one likes or cares about. It was a collaboration with bassist Michael O'Connor. He played the chord progression for the verse on guitar and we took it from there. I have a bunch of family videos my dad took of me and my brother when we were kids. I thought including some of that in the music video would give it a feeling of vulnerability.
Your latest album is "Variant" which has some pretty stark cover art. Is it more important for you to create songs that are equally stark and transparent or would you rather create tracks that more likely leave to the imagination of the listener?

I'd like to create both types of songs but I don't think we've done anything that's too stark yet. Would be cool to do in the future though, maybe with just piano and vocals. The cover art for Variant is a still from the music video I made for Promise. I used the green screen effect in imovie and messed with the colors until it looked cool enough to use. When deciding on cover art I sent a handful of stills to my bandmates Zak and Mike and they both thought the stark, blue cover was the best.
Can you talk about some of the other tracks on the album?

Repeat is another collaboration with Mike and I think it's one of the stronger songs. That song is about finding your own voice and coming out of your shell. Ice Man was the first song I wrote for the album and is based on the idea of being void of emotion and non-empathetic. Promise was an older song I had that I reworked. Zak took the guitar leads I had recorded in demos and made them his own. He did that for all the songs and really improved the songs. Glad to have Zak and Mike in the band, they make everything sound better.
Vazum seems to have an interesting hybrid of sounds. I'm curious about the variety of musical influences between you all.

Me, Mike and Zak have common ground with classic rock, particularly Pink Floyd. Zak and Mike are more into progressive rock, like Zappa and King Crimson. We all love shoegaze and new wave. I'm more into Bauhaus and Sisters of Mercy. I think Zak overall knows more music and bands though.
Your site notes that you are seeking to take your music in different directions. Stylistically, where do you anticipate you will go next?
We're working on our next album which will be more synth and electronic drum heavy. It will be somewhat of a new wave or shoegaze album. After that I'd like to get more experimental with the drums and create songs that are based around intense drumming.

What plans do you have for the remainder of 2019 and into 2020?

Would like to release another album and start touring.

Situation: You are performing at the WGT Festival when your entire backline goes down. The next band invites you to play with them since you know most of their songs. What band is this and why?
Smashing Pumpkins. I know their discography pretty well, could play drums on any song.
Situation: Many years in the future, a very distant relative locates a Vazum album in the attic of an old home. They also find something to play it on. What do you hope this person learns of your legacy simply from listening to your music?

Hopefully they'd feel something from listening. Maybe they could relate to one of the songs and find value or meaning in it.
For more information:
William ZIMMERMAN
09/08/2019
---