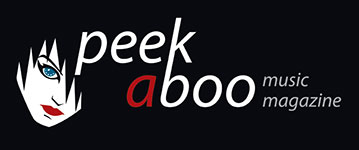 like this concert review
---
MASCHINENFEST 2K11
Or how to destroy your senses in a few days time...
Concert
05/10/2011, Chris KONINGS
---
Not that people from Belgium aren't spoiled, but if you are a fan of harsh electronics, there isn't much to do. Sure, the occasional band will be playing at the gothic festival but other than the Bimfest, it's like butter spread too thin. In Germany however, the dark electronic scene is very much alive in all it's beauties and the main festival for hardhitting noise and crazy electronics is Maschinenfest. The name alone brings up some mythical visions. MA-SCHI-NEN-FEST. YES!

A dusty parking lot, trains slowly rolling by, massive concrete stairs leading up to an old factory. The soundcheck that was going on in this concrete and steel beast made me lose a few teeth fillings. This was heaven for a few and hell for the rest. It could become an expensive weekend, with shops a plenty and overly priced beer... First up was Dirk Geiger, who shifted between ambient and glitch idm. It had some nice moments but in the end these were shortlived and the show was unfortunately quickly forgotten. Listening to Geiger while sitting in a nice comfy sofa works a lot better for me. Unknown to me, the project Spherical Disrupted was my first major discovery, basses deeper than the deepest ocean that are overlapped with dark soundscapes. The only comment I can have on such beauty was that it wasn't 100% purified, the sporadic rhythmic sections were not necessary but it sure was a lovely trip into deep space. Sometimes even a bit psychedelic, lots of knob twisting and some parts were sounding like Korg MS20 loops.

Next was Ahnst Anders who made some allright uptempo idm that certainly got some of the crowd moving. But in terms of being impressive it was nothing next to the previous artist. Went outside for some much needed fresh air and I was happy to see a great but short performance by this weird repetitive industrial artist called LKW Walter. A rest was needed for the horror that was going to be thrown at you by the next few bands, first Suicide Inside who are actually Ambassador 21. Very raw electronics with sloganesque screams. They did their regular earsplitting job. More interesting was Igorrr who managed to mix most music styles this world has ever seen, all mashed together in one hour of insanity. Great stuff and amazing that all those broken up sounds came together.

The so called bigger names were on their way and Xabec is one of the bigger names in the idm style. He didn't let me down, very compelling tracks with heaps of layers and thick production, you could hear a needle fall in the audience and by this time the place was getting crowded. That crowd got a chance to start moving with Contaminant who provided us with some bassy industrial soundscapes, topped off with a rhythmic industrial goo. Contaminated? Sure! Next was tribal ambient master Empusae. I was thrilled to hear some tracks from Error 404, which I think is one of the best albums of the past ten years. Close your eyes and take a trip to the dark side of his psyche. He did not let me down. Last artist was Synapscape who just came out with a new album and he immediately starts off with the opening tracks of "Traits". Half an 'impressick' show later I was forced to stumble to my car, my feet gave up on me.

After a great sleep in my car and some sightseeing in Oberhausen (purchasing much needed insoles), the second day was getting started. The_Empath has been exploring anything between idm, downtempo and industrial on his own label and last year Mike Erkau had his first release on Hymen. A small crowd watched as he let loose nice but somewhat plain idm ambient music using mainly stereotype sounds. In the third song things were looking up, warped noises crackling and screetching that moved to a climax in the fourth song. A mix between playful and agressive sounds, they do need to check their spelling on the background images (We're alredy dead???). Mobthrow got a bunch of people moving with breaky glitch electronics and some rhythmic noise for good measure but it was not my cup of tea. Only halfway through he caught my attention with some cool shifty dub noises, but it was too little too late...

Worse was still to come, 16pad Noise Terrorist had some very bassy drum n' noise going on. The only reason for their name is their stage performance but the whole thing was not very exciting. Atrabilis Sunrise is another one of those bands that had some confusing stage act going on. The slow ambient industrial may very well be impressive while sitting in a darkened room with your headphones on. However, Pascal Bourdon was creeping around slowly, constantly acting like he was having religious moments on stage and that looked quite ridiculous and out of place. His ever changing wardrobe was also absurd, pointless and merely worked distracting. Not a very good day it seems and the next band was baffling. N.A.O. is a new act on Ant-zen but why they got a place on that label is beyond me, a combination between post rock and idm is something new for them. I will check out their new album but I fear the worst...

Pankow did a great job, their music is difficult to categorise but new singer Bram Declerck was screaming away on some of the most fearsome (and best) industro ebm I have ever heard. Very rhythmic and most of the time you just have to bow your head and freak away, the stage set was only distracting you anyway with some lame visuals. But what a sound! Even better was Thorofon, very rhythmic but I was also slightly dissapointed there was no old school industrial powerdrill and other tools going on. Their newest album has a very strong SPK/Throbbing Gristle feel about it (they do a cover of Flesh And Steel by SPK) and I would have loved to have seen something like that. But musically it was amazing, Anton Knilpert disbanded the project some years ago but they got back together and thank you very much for that. The whole crowd was getting crazy with their aural explosives.

Since I had some obligatory things to do early sunday morning, I was forced to drive back home after that gig. Unfortunately I did not get to see Needle Sharing, and it was pure horror when I learned that Lustmord was playing on sunday. But it was a great experience and I will be back next year.
Chris KONINGS
05/10/2011
---