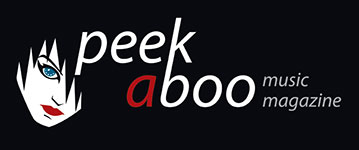 like this movie review
---
FREDERIC BERTHE
Les Invincibles
Movie
[57/100]

Belga Films
03/02/2014, Didier BECU
---
Once Gérard Depardieu was one of the greatest names in French cinema that stood for quality, but as said in the beginning: that was once. Of course Gérard Depardieu still can act, but just like De Niro he has difficulties to pick up good roles that are required to impress movie buffs. The Frenchman rather plays on automatic pilot while cashing in. I guess a forthcoming masterpiece from him is not be expected in the future, but at least he sometimes shows up in decent movies and Les Invincibles is one, at least it is if you're a fan of silly French comedies like the ones with say Pierre Richard or De Funès.


Les Invincibles is a typical French comedy with a script that is rather dumb. Jacky (Gérard Depardieu) is a pensioner who never reached something in his life. He's always penniless and the little money he earns is by cheating people with pétanque. Yes, you read it right: this is a movie about pétanque, the national sport of France that is also known as le jeu de boules. Jacky travels through France with his good friend Momo (Ahmen Kelif). Momo is a real champ in pétanque, but that's a hidden fact for other players. Jacky is a hustler who uses Momo and of course it happens a lot that he has to run away from some angry jerks that are ripped off. Jackys wife is totally bored by this and decides to leave her husband. It even gets worse for Jacky when the French pétanqueteam discovers Momo's talents as suddenly the poor sod is totally left alone.


It's true that director Frédéric Berthe has used all the possible clichés imaginable, but in a way Les invincibles has a certain charm as well. There are absolutely no surprises as you can imagine the whole story without actually seeing the movie, but that's not the point. Anyone who adores French comedies like the ones that were made during the 70's and 80's (and usually got "praised" with one star) will enjoy this, while others better avoid Les Invincibles. Perhaps it's better for them to watch Lulu or Les Valseuses again....

Les invincibles is out on Belga Films on both DVD and Blu-ray.
Didier BECU
03/02/2014
---
Ooit was Gérard Depardieu één van de uithangborden van de Franse cinema, maar ondertussen is er veel verandert. Depardieu kan nog wel steeds acteren, maar net zoals dat bij De Niro het geval is moet je van hem geen meesterwerk meer verwachten. Deze Bourgondiër speelt liever op automatische piloot om zo nog wat extra centjes binnen te rijven. Les Invincibles ook weer zo'n film geworden die wellicht met moeite de voetnoten van zijn al bij al indrukwekkende filmografie zal bereiken. Les Invincibles valt (ten minste als je van Franse inhoudsloze (zeg maar dwaze) komedies houdt) best mee, alleen valt het moeilijk te begrijpen dat dit icoon ooit in een meesterwerk als Les Valseuses schitterde.


Les Invincibles is dus een komedie. Zoals dat wel vaker het geval is met Franse prenten van deze soort is het verhaal volledig van de pot gerukt. Jacky (Gérard Depardieu) is een bejaarde nietsnut die op een oneerlijke wijze wat geld probeert te verdienen met pétanque. Jawel, u leest het goed deze film gaat over de Franse trots: le jeu de boules. Jacky schuimt heel Frankrijk met zijn jeugdvriend Momo (Ahmen Kelif) af. Momo kan als geen ander met pétanque overweg, maar dat weten andere spelers niet met wie Jacky weddenschappen afsluit. Wie op zo'n manier zijn brood verdient, moet natuurlijk ook geregeld op de vlucht slaan. Ondertussen is Jackys vrouw dat beu als koude pap en laat daarom haar echtgenoot in de steek. Ook Momo zoekt andere oorden op, want het Franse nationale pétanqueteam heeft het talentvan deze Algerijn ontdekt.


Riep iemand daar F.C. De Kampioenen? Inderdaad, maar deze komedie heeft ten minste nog het voordeel dat de cast kan acteren, ook al gebruikt regisseur Frédéric Berthe zowat alle platgetreden clichés die je maar bedenken kan. Want ja, natuurlijk komt alles op het einde op zijn pootjes terecht en je moet ook al geen genie zijn om te raden wie er op het einde van de prent met de beker aan de haal gaat.

Wie gek is op Franse komedies waarbij het verstand in slaapstand mag staan zal Les Invincibles misschien nog net leuk vinden, anderen zouden bijv. gewoon eens Lulu of Police uit de kast kunnen halen. Het is maar een idee…

Les invincibles is uitgebracht door Belga Films, en dit zowel op dvd als Blu-ray.
Didier BECU
03/02/2014
---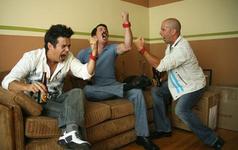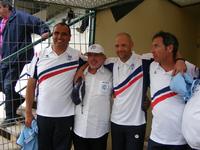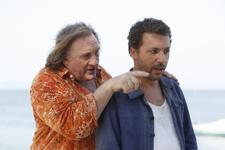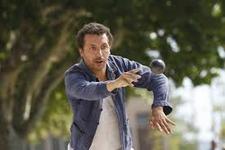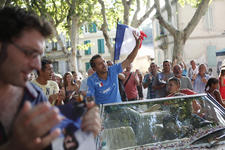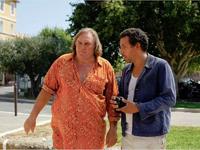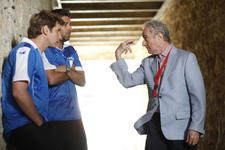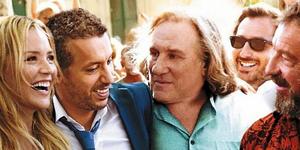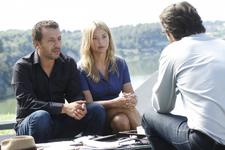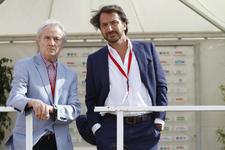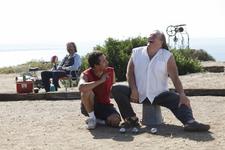 ---