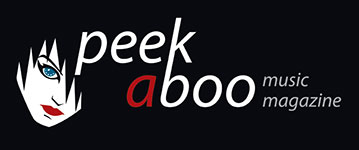 like this concert review
---
INTERNAL SUN, CRASH COURSE IN SCIENCE + SIMI NAH
Casino St;-Niklaas 28/2/2015
Concert
08/03/2015, Benny CALUWE
---
After the successful passages of Front 242, The Klinik and The Neon Judgement, another new wave and EBM night was organised at the cosy Casino in St.-Niklaas. Internal Sun's set was almost finished when we arrived. The first thing I noticed while entering was the striking sound quality. Internal Sun played a weird kind of electronics, combined with modern wind-instruments. I am not going to judge.
Crash Course In Science started with a delay of half an hour. Their mix of vintage synths, industrial sounds and modern elements, was well received. Dale and Mallory alternated in the vocals and that was adventageous for the dynamic. Cardboard lamb and especially Flying turns were much applauded.
After CCIS, Simi Nah mounted the podium. She made the successful and critically acclaimed Be My Guest album, on which she covers new wave classics with the help of big names from the Belgian alternative and black music scene. Unfortunately, Dirk Ivens (The Klinik) and Danny Mommens (Vive la Fête) could not make it, and Marcel Van Tilt (Arbeid Adelt !), who did not collaborated on the album, was announced, but did not show up due to illness.
Wim Punk (Wolf Banes) was the first guest on stage. Together with Simi he sang Chérie. Ghost rider, another Suicide cover, followed. Then Kenny KGB came from behind his keyboard to bring an ode to the recently passed away Steven Strange of Visage. Fade to grey, with nice percussion, was the first highlight of the set. Dirk Da Davo of The Neon Judgement came on for a catching version of Los Ninos de la paque.
Luc Van Acker was also present. Along with Simi he sang Disco rough. A nice version, followed by a noisy climax of Warm Leatherette. I was impressed by Luc Van Acker's convincing performance. The next guest on stage was Nikkie Van Lierop, aka Jade 4U, the queen of new beat. They played a medley of 2 hits of Nikkie's former projects. Lords Of Acid's I sit on acid seamlessly passed on to 101's Rock to the beat. Although Darling Nikkie is not 21 anymore, she still is a goodlooking woman. She set the place on fire. Both fine women did a sexy version of Follow me, a hit of Amanda Lear, the white queen of disco.
Kenny KGB performed strongly again on Spin me around like a record. Then it was Sayfée's turn to leave the synths and sing. Behind her black veil, she sang her father Micky Mike's greatest hit Euroshima (Wardance), the Snowy Red classic. Dirk Da Davo then returned. He played guitar on Leash, a more recent TNJ-track. Then he announced a mean motherf*cker: a wild version of Cabaret Voltaire's Nag Nag Nag set the place on fire once again. With Icebear, KGB raised the temperature even more!
As an encore Simi Nah played one of her own new songs, a nice electro track called I know what you need (no pain, no gain). Maybe she felt the urge to prove that they are more then a cover band for the people who aren't familiar with Simi Nah. But fans know that they are able to bring a nice set of their own songs. In the end all guests appeared for a version of Fad Gadget's Coitus interruptus.
The headliner of the night, A Split-Second, started with a delay of one hour. They immediately started in style with the mesmerizing Colonial Discharge, my personal favourite. With Rigor Mortis and The Colosseum Crash, other major classics followed immediately. The mixture of EBM, synth pop and new beat with some eastern sounds and guitars, made the crowd move enthusiastically. After this awesome kick off, it was difficult to sustain the atmosphere, maybe to much hits to start with. But beside this minor remark, Marc Ickx and his mates (the keyboard player, who is also in Sol 19, and his guitarist whose face was painted like the Joker in The Dark Knight for the occasion), did great once again. Towards the end of the set, the atmosphere raised again with tracks like Scandinavian bellydance, Firewalker, Mambo witch and On Command. After this, I unfortunately had to leave because my driver got hungry. So, I missed the encores and Flesh once again. I hope to have better luck on Eurorock. By leaving, I missed the exciting end of the evening, so I heard. After the encores, the crowd still wanted more and A Split-Second returned with a song from the beginning of the set.
Check out the pictures of Xavier in our photosection.
Benny CALUWE
08/03/2015
---