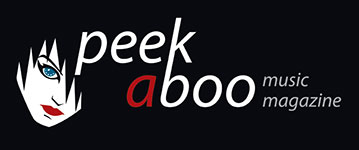 like this interview
---
ROB SHERIDAN (HOW TO DESTROY ANGELS)
'How To Destroy Angels contributed my vision more than any other projects'
29/07/2019, Danil VOLOHOV
---
There are not so many cases when an artist and designer have played an important role in the history and development of music. Of course, you can provide many examples of bands saying that the background of selected members played an important role in the creation of the unique style and further understanding of things. In this connection, I can say that Rob Sheridan is the artist who understood what he should do and how. During the years that he studied art and design, Rob was a huge fan of Nine Inch Nails and he still is now. He recollects his memories about the time he spent working with them as the band's art director. All the fans already know Rob because of his work, abstract and containing a certain tension that we could hear in the music of Nine Inch Nails. In 2010 Rob Sheridan co-formed How To Destroy Angels, continuing his long co-operation with the members of Nine Inch Nails. Now Rob has moved to the next step of his creative evolution and is successfully working on his comics series – "High Level".
In this interview for Peek-A-Boo magazine Rob Sheridan spoke about his creative evolution from art-director to writer, about the visual component of rock-n-roll, How To Destroy Angels, about the creative aspects of his work and future plans.
I'd like to start our conversation with a question about High Level. Could you please tell me how everything started ?
It actually started with my editor Andy, from DC Comics. He was a fan of "Year Zero" and the whole story we put together for "Year Zero". He was looking for some people, outside of the world of comics who might have interesting story ideas. Andy thought about the story we created for "Year Zero" and reached out to me asking if I had any ideas to pitch to them, for comics. When it happened I was actually working on some story ideas and thinking about making a book or something like that and I did up with bunch of ideas! We worked on a pitch and I put together the world of High Level and DC liked it. Suddenly there was a comic, which was really cool as it kind of happened at the right time for me, when I was looking to move more into storytelling in my career.
The creative side of artists' work implies a search for different ideas and combining these ideas with the ways of their realization. As High Level is your first experience in literature how hard was it for you to realize your ideas ?
I think I took the whole transition in this type of medium very well. Mostly because, I think, I spent more of my career as an art director always thinking about visual storytelling. Even when it's abstract, I like to incorporate a certain narrative concept into the visuals that I create. When we were doing live shows and I was doing live visuals for Nine Inch Nails, we really had to think about how visuals tell the story and go along with music. In this sense graphic novels are really cool because they're a lot more like directing. This is as much directing as writing. So it felt really natural to me to think about storytelling in a visual way. It's been a good way to transition from visual art to writing.
How long did it take for you to form your vision of the work and develop the plot ?
We had a long period of time between our first talk about it and when we ultimately ended up getting a green light for the pitch. And then, starting from there and finishing with the release of our first issue there's probably about a year of time, coming from initial concept to fleshing out the details. That's what's cool as we get to really flesh out a detailed world and put a plan together with the entire whole story so we could know how it would end and we knew what the things are. So it gave us a lot of material for places we could go in the story and a lot of details for the artists to incorporate with the background and stuff like that. We really fleshed out a big story, most of which never has to change to get in the comics' pages 'cause there is so much space in there! But it kind of shines through a lot of background details and textures of the novels. There is a lot of stuff that we'll keep exploring in later issues.
When people try to describe your work, there is a phrase that is used: the image of distortion. So can you say that your work, from the very beginning, was something like a synthesis of music and art or did these things come a bit later, when you started your co-operation with Nine Inch Nails ?
I think the type of work I associated with… "distortion" as you say, I think a lot of that came from music I'm really into. When I was young, in High School, I was actually less into that type of visual art and more into graphic novel type of stuff. Which is quite ironic. When it came to work with Nine Inch Nails, that was kind of the first time when I really had a major opportunity to create visuals to represent and be tied to music and speak for music. Since Nine Inch Nails was my favourite band for years before that it really impacted how I created visuals. I learnt a lot about glitter and distortion aesthetics by watching the way Trent [ Reznor ] approaches music. Watching recording and seeing how he likes to use things the wrong way, or to do things the wrong way to create interesting results. And that's kind of an artistic philosophy of mine, is never be afraid to do things the wrong way and see what happens. And that created a lot of aesthetics out of that.
Being the art director for Nine Inch Nails you initiated the new level of their creativity and shows…I think a comparison with Pink Floyd would be appropriate. In this connection let me ask you, what did you see in the music of the band and what had you been seeking while working with them ?
I think with Trent's music it conveys so much emotion…a wide range of emotions. And I think that I understand it more now, and people as well but back at that time, in the 90s it was mostly associated with rage, anger and aggression, heavier stuff they become famous for in 90s. But there's actually so much going on there…Part of what I was liked about Nine Inch Nails – albums like "The Downward Spiral" that was very, very heavy and loud and noisy. With it, they got really kind of "calm" artwork for it. Organic textures with this, very small font over it. It looks like fine art and putting something like that in front of this really heavy music kind of helps to bring out all the smaller emotions, little details and quiet moments and helps you appreciate it more than just "rock out" tunes. There is so much depth and complexity in music that the visuals always were important as the way to frame how you are gonna listen to it. And hopefully open up more about your interpretation giving you a new window to experience.
Up to some point gigs were just gigs. People on stage, instruments and some sort of decoration, while your work is possibility for listeners to feel images of music they're listening to. To feel the nature of the music but speaking about history how do you think, when and why artists started putting their stress on visual part of their performances ? I
I think in terms of rock and industrial music there were only a few artists that wanted to present it in more visual way. Going back into the 70s with Pink Floyd and artists like that, that tend to lean into more of the psychedelic experience part of everything and thought about artwork along with music. As opposed to being like: here is the show, here is the band, turn the lights on, play song – "rock out". And that's all that it was. In the case of Nine Inch Nails, I think we were pretty influential to a lot of bands who might have just originally thought: "Let's go out and play a rock show! That's a rock-show!" but if they'd seen what we've been doing with Nine Inch Nails early on…it was impossible not to realize that the show could be more than just music. It can be the whole experience and Trent always really felt that way because he grew up really liking Pink Floyd and Kiss and Queen and David Bowie - artists that always, always, always put the visuals and always a theatrical element at the forefront. We thought that we, ourselves, want to make a stage performance.
You started your cooperation at the beginning of 2000s but speaking about the whole period of your creativity you always focused on "With Teeth". In this connection, let me ask you, how different this particular period was in comparison with the things you did before and after ?
I worked with Nine Inch Nails before that, on "The Fragile" and things between "The Fragile" and "With Teeth" but I wasn't art director. At the time David Carson did "The Fragile" I was mostly working on supplemental stuff around it. "With Teeth" was the first big album after "The Fragile" and I was doing some concept, while Trent was recording it, to help and see where visual ideas could go. Trent was looking for other artists who could potentially make an artwork for it. The things David Carson did for "The Fragile" he thought I was doing so he said: "Hey! You should make an artwork for it! This stuff is better than other stuff we're looking at!" and up to that point I was kind of designer and internet-guy but I wasn't an art director before that. So that was my first opportunity to create the entire visual experience. Everything from the artwork to the font, to the music videos, to the merchandise, to the live stage visuals. It was big step in my career ( laughs ) and it was a huge honour to give something to it that also really set the stage for the rest of my career.
As a result of your common creativity you formed How To Destroy Angels. How did everything come about with this project ?
Trent was working on these ideas with different types of songs he wanted to do, with Mariqueen, his wife, and Atticus [Ross]. He had this idea that he wanted to make something that was a bit more…a collective of ideas of the people he was surrounded with whom he worked all the time and spent time with. And, at that time it primarily was Mariqueen, Atticus Ross and myself. He wanted it to be a deeply visual experience. So he had this idea that he'd call it more of a collective than traditional band. And having me as a part of this collective was a way to show that…as I'm not a musician! It's not like recording tracks or anything but he was trying to show that the visuals were just as important to that project as the music itself and I don't think we displayed it any better than in the live shows which were massive audio-visual experiences. And that was how we show what these shows were about – within these live-shows 'cause you can't get a separate visual experience from the music. That's what it all was about.
While working with Trent you have always been combining ideas fromeach other, searching for the ways of realization of these ideas but what was different about the process of work you had in How To Destroy Angels ?
It was different in a sense 'cause the process was more collaborative. In Nine Inch Nails we worked on visual ideas together and everything but it's ultimately Trent's vision and my job is to make sure that the vision comes out the way that he imagines that. And it's not strange that I got to bring my personal artistic elements to it and entirely take over the visual side. How To Destroy Angels contributed my vision more than any other projects. It was a more collaborative spiritual product.
As member of How To Destroy Angels you made the visual component not just following the show but as a full-time accompanist and instrument, a part of the whole thing you've been doing in this band. I can't but speak about it as about a certain evolution, for the music in general. Don't you think so ?
I think music is slowly becoming a more visual experience. It's definitely Trent's thing, how music is performed and how it's presented. The audience now is very "visual" audience. In terms of how culture is consumed, from the people listening to music on YouTube and watching videos that way. When you go to a concert – you're competing with lots of types of visual entertainment that is used now. Going into a room and seeing people playing instruments, it doesn't compete on the same level…I think a lot of artists: pop artists, rock artists, electronic artists especially think a lot of more now about how the visual presentation is made and I think it's good thing!
We started our conversation with the question about High Level. Have you thought yet about your next step with this world ? Would you make a movie or anything like it ?
Yeah, "High Level" is a gap bridging experience for me that helped me to go from art directing to being a writer creator. I learnt a lot about the process. So from here I definitely would start a few projects in terms of graphic novels and also television and film because, graphic novel is kind of a natural step towards directing television or film as it's basically storyboarding and thinking in terms of visual editing and direction when you're crafting a graphic novel. It's a really natural progression from there to film. My next step is putting together all these ideas and see what it would be like!
Danil VOLOHOV
29/07/2019
---