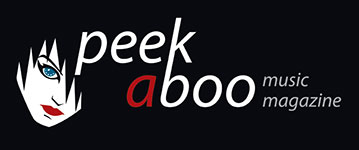 like this concert review
---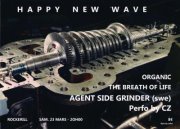 AGENT SIDE GRINDER, ORGANIC & BREATH OF LIFE
Review of the HAPPYNEWWAVE concert at the Rockerill in Charleroi on 23rd March 2013
Concert
[90/100]

26/03/2013, Philippe BLACKMARQUIS
---
If a venue can claim to be called "industrial", then it will be the Rockerill in Charleroi. This art complex is located in the buildings of a former Cockerill steel factory, which was built in 1832 and was the largest metallurgical site in this industrial region. And you couldn't have imagined a better venue for a concert by Agent Side Grinder, the Swedish band that has achieved quite a large fan base all around Europe with their analog, postpunk and... industrial music. But it's even more than that: this second edition of HAPPYNEWWAVE offered a triple bill with two very interesting Belgian supporting bands: The Breath Of Life and Organic.
The Breath Of Life
It's The Breath Of Life that started the program. This well-known Belgian darkwave band is led by the heavenly voice of Isabelle Dekeyser. Formed in 1989, the band has released 7 studio albums and has played gigs all around Europe. The line-up of the band includes Isabelle, Didier Czepczyk (guitar), Giovanni Bortolin (violin and keyboard), Benoit Sokay (bass) and Marc Haerden (drums).
The band presented its excellent new album, "Whispering Fields" (Danse Macabre), plus a selection of older songs. Their music is a subtle and magical mix of gothic rock, ethereal voices, delicate synths and brilliant violins. It relies on well crafted harmonies and arrangements, somehow reminiscent of The Eden House and The Mission UK, but with the band's unique style.
On stage, Isabelle is of course the focal point of the band, with her lyrical voice and her elegant movements. On her right, Cz provides sparkling riffs and licks with his black Gibson guitar. Sometimes, especially on "To The Wild", the music reminds you of Collection d'Arnell-Andrea or even Kate Bush, but some songs like "Cutting Wings", are pure gothic rock anthems, with a fast beat à la Sisters of Mercy or Faith And The Muse, on which high-pitched voices and violins hover gently.
The band played a song they hadn't played for a long time: "Nightmare", from their first cassette in 1990 (and later published on "Painful Insanity" in 1992). But the main highlight of the concert was their biggest, "Nasty Cloud", an enchanting song with a memorable violin riff. This time, they added a nice, soft introduction. Then it was the very dark "Forgotten Sins" and the final song was "Waving To Shades", a wonderful composition built around a bass riff à la Tony Pettitt and powerful guitar licks. The reaction of the audience was very positive and it was a great performance! Watch them perform "Nasty Cloud" below.
Setlist: Intro + Impromptu, The Dark Side, Down, To The Wild, Noamina, Cutting Wings, Nightmare, Nasty Cloud, Forgotten Sins, The Valley, The Souls Remain, Waving To Shades.
Organic
Next on the program was Organic, a new band from Brussels that created quite a stir last year with the release of a double debut LP (!), "Under Your Carbon Constellation", which is one of my favorite albums of 2012. The band is composed of Raphaël Haubourdin (vocals, synths, programming) and Joris Oster (bass, programming), recently joined by Olivier Justin on live drums. Organic is a real musical UFO, which combines post-rock, electro, progressive, psyche, stoner, new-wave and postpunk, no less!
On stage, Raphaël Haubourdin sings and plays keyboards. His voice is very original. Versatile, it can be soft, a bit like in The Young Gods, or become incisive and screaming, evoking Bertrand Cantat (Noir Désir), Kristoffer Grip (Agent Side Grinder) or even our national hero Arno! In comparison with previous live performances, he has gained a lot of confidence and he's giving much more energy than before. Joris Oster has a natural impressive presence and his bass play is one of the pillars of the band. It is ubiquitous and is inspired by masters like Peter Hook (Joy Division, New Order) and Chris Squire (Yes). It can turn into a lead guitar and sound stoner or metal, thanks to an armada of effects. Olivier Justin's drums adds more punch and dynamics to the live sound and Justin managed to follow the extremely diverse styles from the album, with a krautrock / metal overtone.
The concert began with the more wave/postpunk songs, namely "Seeds", "Johnny Craque" and "Waves Are Running" and then evolved progressively to more complex, even experimental compositions. The highlight of the concert was, without a doubt, the fantastic interpretation of "Katharina Distortion". Four minutes of pure pleasure, beginning with a hypnotic, postpunk atmosphere but when Haubourdin starts screaming like hell: "Encore, Encore..." on a screaming shoegaze bass and mellotron sounds, the intensity in the hall is amazing and all spectators are mesmerized. A great moment. "Ordinary World" was another highlight with its very catchy chorus. The two last songs of the concert were a bit too prog/experimental in my opinion to be played at the end and the band lost a bit of the public's attention. "Katharina Distortion" or "Waves" would be much better placed as last songs. But, as a whole, the concert was (again) amazing and with Organic, Belgium has found a new act of international level! Let's all support them!
Setlist: Seeds, Johnny Craque, Waves are running, Sequence of my Projector, Disturbing Street, Ordinary World, The Day of the Locust, Colossal Baroque, Katharina Distortion, The Meat We Kill, Waiting.
Watch them performing the second part of "Waiting' below:
Agent Side Grinder
When the headlining act, Agent Side Grinder, took the stage, the venue was full, even packed. This Swedish band burst onto the scene in 2008 with a never-heard blend of industrial, psyche-post-punk, old school EBM and minimal wave topped with the apocalyptic crooning of singer Kristoffer Grip. The band call this genre: "Industrial Beauty". They can boast 3 amazing albums and a reputation of killer live act. The band is composed of Kristoffer Grip on vocals, Peter Fristedt on tape loops, Henric Sunbring on keyboards, Tobias Eidevald on bass and Johan Lange on synths.
As soon as they started playing "Sleeping Fury", from the highly acclaimed last album "Hardware", the public was hypnotized by the drilling industrial sounds, robotic synth sequences, post-punk bass lines and feverish vocals. The ghost of Ian Curtis was clearly hovering over the music, but references also included Cabaret Voltaire, Klinik, Einstuerzende Neubauten, Front 242, Suicide and Kraftwerk.
Then came "Life In Advance", "I Look Within" and "Mag7", and it appeared clearly that all the music besides the drum machine was performed live on analog synths. Johan Lange concentrates to play the complicated sequence that forms the basis of the track, while Grip is getting more and more frenetic in his vocals and movements. The comparison with Nick Cave, and even Jim Morrison becomes even more obvious as he gets into a complete trance during "Telefunk", screaming the lyrics like incantations.
When they played "Rip Me", I couldn't help thinking about the great remix version by Organic, of which I got a sneak preview last week... Then, the band played a great new song, "Into The Wild", which was much in the style of "Hardware", somewhere between "I Look Within", "Rip Me" and "Mag7". Johan Lange started clapping hands, asking the fans to follow him, which they did without hesitation! Can't wait to hear the release of this new song!
Among the last songs of the concert was "Wolf Hour", the single, in which Johan Lange takes over the vocals created on the album by Henric de la Cour. Finally, it was "Bring It Back" and of course, the band's masterpiece "Die To Live", a drilling song that evokes "Isolation" from Joy Division. The ending was hypnotic with swirls of vintage synth sounds.
In a nutshell: a truly awesome concert, full of raw violence and mastered tension. This band is a must for all lovers of minimal, trance-oriented EBM with a 80ies touch! I had the opportunity to interview two members of the band in Utrecht last August: check this here!
Setlist: Sleeping Fury, Life In Advance, Look Within, Mag7, Telefunk, Rip Me, Into The Wild (new), Wolf Hour, Bring It Back, Die To Live
Watch the band perform "Die To Live" below:
Organization: Rockerill
Philippe BLACKMARQUIS
26/03/2013
---