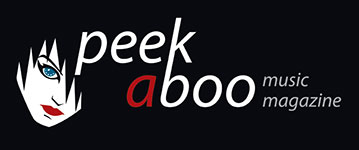 like this festival review
---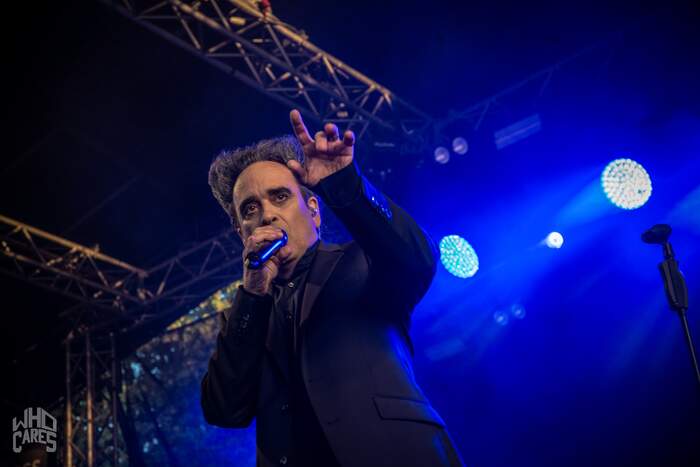 AMPHI FESTIVAL 2023
Thunder in Cologne
Music
•
Festival
20/08/2023, Xavier KRUTH
---
It is the second post-corona edition of the Amphi festival, and everything seems to be back to normal. The Tanzbrunnen in Cologne once again receive throngs of black-feathered people for a weekend full of high-quality, but dark music. Unlike last year, when the sun got on the nerves of the goths, it is a cooler edition, with even some rain now and then. The weather is never ideal, but I tend to prefer the cooler temperatures.
The crowd is present en masse, but we have to make the same observation that we have made at goth festivals for years: we haven't gotten any younger. I do not mind. I even find it charming that all these people remain true to the ideals of their youth, even if for some it is already visibly done with a cane, walker or even wheelchair. I also plan to keep going to gigs and festivals until I drop, so we have to show some solidarity here, and that's' what we do at Amphi.
But even though we are getting old, we continue to dress as before. Black is the main color. Some people here are still living works of art. The clothes, the haircuts, the make-up and the tattoos, they are often impressive, and looking out for improbably dressed creatures in the audience is still a good reason to go to a goth festival.
Saturday July 29
Let's talk about the music, because that remains the main reason for our pilgrimage to Cologne. Last year, I noticed that there was a lot of Neue Deutsche Härte and metal programmed. This year, I find more classic wave and electro in the program. Perhaps the intention last year was to attract a younger audience, but that was not such a success. Anyway, the festival is sold out as always.
The first band I see – A Life Divided on the main stage – may lean a little bit towards Neue Deutsche Härte, but it is actually mostly classic rock, with poppy choruses. A friend who knows them better, says she is not that impressed with their live performance, even though she can appreciate their records. I like it, but am not overly impressed either.
A friend drags me to Xotox in the theater room, warning me that it might not be my cup of tea. The duo is announced by the very popular forensic biologist Mark Benecke, who humorously traces the history of the project since 1997. 'Here is a group as fresh and young as you,' he concludes. Then the pounding starts. Then comes more pounding, and yes, the pounding continues to the end.
Luckily, it is varied. There are samples in the songs, and now and then masterbrain Andreas Davids shouts something into the microphone. Something about Nazis, for example, in 'FCK You Very Much'. The rhythms also vary, but you never escape that fat bass drum. I see a lot of people filming, which is surprising for a performance by two people behind computers and mixing desks. But the setting in a dark hall with an impressive light show is also visually strong, and does full justice to the phenomenally good music.
It's my third Amphi, but I've never been on the Orbit Stage. That stage is on a boat that is moored a hundred meters from the Tanzbrunnen on the Rhine. The local group Rabengott is allowed to open there. They have decorated the stage nicely with candles, and have also dressed themselves in goth, with leather pants and make-up, as befits a group that imitates eighties guitar wave. However, they appear to suffer from the disease of many contemporary wave groups: it is always the same rhythm, boom-chak-boom-chak. In addition, the compositions are weak. I fled and went to have a drink in the sun on the top deck, with a mighty view of the Cologne Dom.
Whispers In The Shadow is a quartet around Ashley Dayour, who performs here dressed in a long black and white striped dress. Yes, Ashley is also the front man of the trance rock group The Devil And The Universe, a project we absolutely recommend to see live. With Whispers In The Shadow, he plays psychedelic goth rock. In 2021, the group celebrated its 25th anniversary with the double vinyl 'Guilding the Lily', and although a new album is in the pipeline – 'Ghost' will be released at the end of August – we still get a 'best of'-set that traces the entire career of the group, from the early days when The Cure were the main source of inspiration, over the alchemically inspired records, to the more socially critical last records.
We return to the main stage for a piece of teenage nostalgia. The men of Das Ich still know how to look great. Three fat guys in long black robes, faces painted white and with extravagant haircuts, run across the stage behind three mobile synths. What they play live is still an open question. At the first tones of 'Die Propheten', singer Stefan Ackermann enters the stage completely painted in red.
Stefan had no less than seven cerebral hemorrhages in 2011, which he barely survived. He is not quite the same anymore, but does his best to revive the insane atmosphere of yore. I suspect that Das Ich now performs with three keyboard players, all of whom sing along, to compensate for Stefan forgetting the lyrics now and then. At a certain moment, Stefan also disappears, and the musical mastermind Bruno Kramm takes over the vocals. I think Stefan ran off the podium with his texts, or something like that.
It may seem like I'm sneering about it now, but I actually have the utmost respect for Stefan's superhuman efforts, and for the support of Bruno Kramm and the band. Das Ich hasn't released any new work since 2008, so I expect a set with all the hits. That is also what we get: 'Der Schrei', 'Kain und Abel', 'Uterus', 'Kindgott', 'Gottes Tod' and 'Destillat' as closing track. Let it be known that Das Ich is still a great live band!
We don't want to miss Calva Y Nada, and there are rumors that the theater hall will be closed due to the large turnout for the cult project's very first concert in 25 years. So we hurry to the venue of the performance. There, Centhron is still finishing their set, and they sound like we expect them to: like an avalanche of devastating beats with extremely obscene lyrics.
But what a scoop for Amphi! We are simply witnessing the resurrection of Calva Y Nada here! Constantin Warter, alias Breñal, caused a thrill in the early 90s with dark electro records such as 'Le Pesto Perverso Lieva Mi Peluca', 'Dias Felizes' and 'Monologe Eines Baumes'. And yes, it's still perfectly clear why this project was cult at the time. Breñal did not work on the staging. He has become a balding man in his fifties with glasses, wears an everyday T-shirt and trousers, and is accompanied by a keyboard player who simply stands at the back of the stage.
However, it is a powerful performance, and that is primarily due to the strong music. Calva Y Nada alternates fast and atmospheric tracks, but they all reveal a gripping darkness, like a tormented journey through the dark recesses of the human soul. Breñal has not put any effort into new versions of his hits either, but opts for raw, unpolished and recognizable versions. I won't say I recognize all the songs, but I heard some great versions of 'Dias Felizes', 'Paradies?!' and of course the closing track 'Racheln'.
When I step back outside, the Belgian EBM pioneers of Front 242 are playing on the main stage. I have already received the comment that it is strange that as a Belgian I am not so crazy about EBM, the Belgian music par excellence. This does not prevent me from acknowledging the importance of Front 242 in music history. They were the first to make this kind of music, and although they were often copied, they always delivered unparalleled quality at a solitary level.
You will be surprised to learn that the opinions about this performance varied a lot. Some thought it was genius, others described it as terrible. It is certain that Front played their hits: 'Body To Body', 'Don't Crash', 'Funkahdafi', 'Headhunter', 'U-Men', 'Welcome To Paradise'… That was enough for some to love it, but others thought they were just lame versions. I myself enjoyed it, although this will never be my favorite band.
I found it strange that Front 242 wasn't the headliner. That honor goes to the German darkwave band Deine Lakaien. I had a dilemma, because you can also see the post-futuristic technology critique of Welle:Erdball in the theater at the same time, and I've always loved that. Deine Lakaien, on the other hand, was a band that couldn't really convince me in the past. But I've seen Welle:Erdball many times, and never saw Deine Laikaien. That is the crucial factor, in addition to the fact that mastermind Ernst Horn has made beautiful things with Qntal and Helium Vola.
The performance starts with some melancholy songs, in which the warm voice of singer Alexander Veljanov is an important asset. 'Over And Done' – a song that deals with the group's favorite theme: failure – heralds a number of more rhythmic songs, and for the first time I feel that the music does not leave me unmoved either. Deine Lakaien also plays a few striking covers, because their latest record 'Dual' – from 2021 again – consisted partly of covers, and partly of their own songs that were inspired by those covers. 'Because The Night' by Patti Smith and 'The Walk' by Robert Smith are picked out.
The group closes with a drawn-out version of 'Love Me To The End'. It starts as a piano ballad, but grows into a pop song. The encore 'Reincarnation' also stands out because of its interesting structure and arrangements, which are perhaps Deine Lakaien's greatest strength. Afterwards, I hear that Welle:Erdball was fantastic. For me it is clear: although I enjoyed Deine Lakaien, I will choose for Welle:Erdball when faced with the same dilemma in the future.
Sunday July 30
It is good for us, older people, that Amphi closes fairly early. We are quickly at the hotel, and can appear fresh and cheerful on the roll call the next day. Schöngeist is a bit too early for us, but we are present at Wiegand. This project by Helge Wiegand got attention because Helge plays keyboards with Diorama, whose singer Torben Wendt praised his compositions. Unsurprisingly, the music is very similar to Diorama (although you don't have to extend that to Diary of Dreams, which gave Diorama a similar boost at the time). Wiegand brings melancholic, electronic, but above all intelligent compositions, which are especially impressive when sung in polyphony.
We get more melancholy with Qntal. In the early 1990s, Qntal grew out of an alliance between the medieval folk group Estampie and Ernst Horn – Deine Lakaien's masterbrain – to create electronic versions of medieval songs. Since then Qntal have parted with Ernst Horn, but Sigrid Hausen and Michael Popp continued to make very beautiful records, still based on old poetry.
Qntal is always good live. The music is slightly danceable, but more in the sense of rocking the hips than chopping away. I am sorry that Naranbaatar Purevdorj, a musician who was of great added value to the music with his throat singing and horse-head fiddle, is not here today. Although Michael Popp occasionally plays santoor or saz, it makes the performance mainly electronic
We go back to the Orbit Stage on the ship, a very pleasant place at this festival. We are lucky enough to see a part of Oberer Totpunkt's performance there. They bring a kind of intelligent EBM with female spoken word in German. It is remarkable that they have brought a man whose act is to look angrily into the audience. He doesn't do that without merit, but it is especially fascinating that he keeps it going for an entire performance. Anyway, Oberer Totpunkt is original and is very successful here.
Oberer Totpunkt conquered the audience, but Potochkine does that just as well, or maybe even more. The French duo brings a kind of minimal electro. It's danceable, that's for sure, but it's also artistic. Pauline's vocals are extremely expressive, ranging from spoken word to screams and even opera vocals. The lyrics are philosophical and deal with love, loneliness, sadness, hate and despair, while Hugo conjures rousing beats from his machinery. It may be due to the French language, but I would dare to call it existentialist.
Friends of mine leave to see Whispering Sons, which I know will be great. However, I prefer to stay and see a project I haven't seen yet, and which is even a bit outside of my comfort zone: Fïx8:Sëd8. As you can expect from this kind of electro-industrial acts, the decoration is great. Martin Sane looks like a zombie in butcher's apron, and brought several mutilated mannequins, one of which serves as a micro-tripod. There are also background images of death and destruction, and the music is of course strong and violent. Conclusion: Fïx8:Sëd8 also knows how to create its own atmosphere and thus convince the audience.
I return to the theater hall for Coppelius, an eccentric group that plays with cello, double bass and clarinet. And yet it sounds quite loud, although that may be due to the drum – the only conventional rock instrument in the line-up – and the fact that the cellist has put distortion on his instrument. They make original compositions with numerous rhythm changes, and have absurd binding texts in which the different musicians each play their own type. I'm not saying you'll often listen to this at home, I'm just saying this is a great experience live.
While Eurovision song festival losers Lord Of The Lost prepare for an undoubtedly successful performance on the main stage, I prefer to watch something more daring in the theater. Unfortunately, I had never heard of Kite before, but the Swedish synthpop duo is very popular here. I understand why, when I hear their wistful, bombastic mix of heavy synth tones with the melodramatic high voice of singer Nicklas Stenemo. For me, this is a true revelation.
And so the weekend flew by. Or not quite yet... We'll conclude with a party at the main stage, because that's where OMD, or Orchestral Maneuvers in the Dark, plays as a closing act. From the very first notes, they make the audience dance, and they know how to elevate the atmosphere even further. One hit follows another, and singer Andy McCluskey takes the fact that those hits are now a few decades old with humor. 'This is a new song, from 1878,' is his introduction to 'Messages.'
With 'Electricity' – OMD's very first composition – he cites the correct year: 1979. The band is just a jukebox, as 'Souvenir', 'Maid Of Orleans', 'Sailing on the Seven Seas' and of course 'Enola Gay' all follow, and ensure that the attendees all leave the festival site with a broad smile afterwards.
This second post-corona edition of Amphi was a success. A drizzly shower now and then could not spoil the fun. It is sometimes said that a festival like Amphi only invites well-known names that you have all seen before. That's not quite right, because I've discovered several things this year, and I've also seen remarkable performances from the groups I've been following for years. These performances will be etched in my memory for a long time.
Xavier KRUTH
20/08/2023
---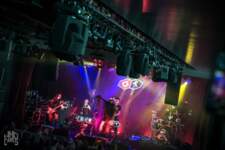 ---