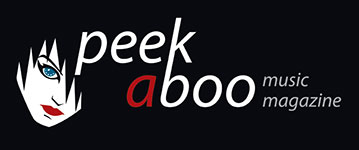 like this concert review
---
DE DELVERS, STAATSEINDE
Genste Feesten, Kinky Star , 28 juli 2019
Concert
06/08/2019, Jurgen BRAECKEVELT
---
The last evening of the Gentse Feesten (Ghent Festivities). After almost 10 days in a row of partying in Ghent's city center, which even suffered from temperatures of around 40 ° C for a couple of days, many visitors were like walking dead with tiny eyes. A number of them have clearly made efforts to keep themselves upright with an overdose of wheat liquids and other alcoholic stuff in their tired bodies.
Your undersigned servant went to the very small but cosy club Kinky Star and together with 30 other music lovers we filled the club pretty well. Given that most of us had the obligation to work on Monday we limited ourselves to the performances of the Belgian De Delvers and Staatseinde from the Netherlands.
The Delvers is a Dutch-language night orchestra. They bring short, angular New Wave and postpunk songs sung … in Dutch, with a nod to the raw post-punk of the 80s. From rhythmes that at first sight seem to have been made up by children, to rather solid punk with the necessary critical society views. Like an eagle eye that exposes a number of social evolutions.
The set contained something for everyone. From blissfully floating post-punk songs such as opener 'Onrust' (Unrest) and 'Alles Vatte Vuur' (Everything Caught Fire)', to 'We Weten Niet Waarom' (We Don't Know Why). And we even get some dream-pop with '1000 Vragen (Questions). The length of the songs prove it can be short and angular too. The 5-headed band succeeded to shove 14 songs up our throat in only 40 minutes. 'Robotman' the sort of sing-along, with catchy guitars and tight basses, economically supported by some synths, swallows like cand. Beside the fact a new mixing desk was fixed last minute, since the former one got spilled with beer the night before, it all sounded very cohesive. Even if the band has three guitar players, a bass player and a lady (with great backings by the way) it sounded very tight and right. Respect for what they manage to bring with basic instruments and endless number of floor effect pedals! To conclude they performed a very strong cover version of Eisbär, a very solid performance indeed!
And then it was time for Neue Niederländische Welle with the Staatseinde! A trio torn away from a Star Trek episode who, with their minimal / electro / electro-punk and even more, usually stand for a danceable event. They always drag the necessary machinery with them and already played Kinky Star before in 2017. Around 10 pm the electro party started. What immediately struck me was that the relatively modest sound on vinyl, when performed live, reveals a much stronger "experience". It thumps, pounds and beats, it is intense, danceable and roar boy Jonash jumps around like crazy. Several times he took a walk through the audience, where he aggressively drove the vocal chords to extremes, sweat pearling on his forehead, and a gaze looming at the already warmed up audience. The fact they do not always take themselves too serious is made clear by the lyrics. 'Ruimtevaart Vooruit' (Space travel Forward) "space travel is moving forward, we are flying out..." or "from behind the black hole, we flew to here. We flew through star rain, over galactic roads... ", a song with a very high Welle: erdball feel. Or a beauty such as 'Just Chao's, which embodies both a synth-pop and synth-wave spirit. Or stompers like 'Gut Gemacht', a nice and retro-sounding track, with the singer going around the audience like a madman. Their energy can be felt so intensely. 'Blaue Augen' also made it clear these gentlemen master the tastiest ingredients of various electro styles and can put it down so convincingly. When you like to hear, it does contain also a lot of old-school EBM. It was a crazy party! When a cable of one of the synths broke down, the singer used that opportunity to create a song about this event. A song about how good they could manage it without the poor keyboard player. A very good, very strong and crazy performance it was! Check out their EP Dreiheit!
It was indeed a short visit to the Ghent Festivities, but I'm happy I was able to witness two such great acts, in good company and with a fresh beer at hand. And oh... even my 17-year-old daughter liked it!
Jurgen BRAECKEVELT
06/08/2019
---
De laatste avond van de Gentse Feesten. Na bijna 10 dagen feestgedruis in de Gentse binnenstad, die een aantal dagen te lijden had onder temperaturen van tegen de 40° Celsius, liep al menig bezoeker met piepkleine oogjes rond. Een aantal met zichtbare inspanningen om zichzelf staande houdend door een overdosis gerstenat of ander alcoholhoudend spul in het vermoeide lijf.
Uw dienaar zakte af naar de kleine maar fijne club Kinky Star. Een 30-tal andere muziekliefhebbers deed dat ook, waardoor de club vrij goed gevuld was. Omdat maandag een werkdag is en de plicht al begon te roepen, is het bezoekje beperkt tot de optredens van het Belgische De Delvers en het uit Nederland afkomstige Staatseinde.
De Delvers is een Nederlandstalig Nachtorkest. Ze brengen korte, hoekige New Wave en postpunksongs in het Nederlands. Met een knipoog naar de rauwe postpunk van de jaren '80. Van rijmpjes die op het eerste zicht door kinderen verzonnen lijken, tot vrij stevige punk met de nodige kritische kijk. Een arendsoog dat een aantal maatschappelijke evoluties aan de kaak stelt.
De set bevatte voor elk wat wils. Van zalig zwevende postpunksongs zoals opener Onrust en Alles Vatte Vuur, tot Wij Weten Niet. En waarom mag het niet eens wat dreampopperig klinken, met 1000 Vragen. En dat het kort en hoekig kan, bewijst de lengte van de songs. Het muzikaal zeer onderlegde 5-tal slaagde er in om in een goede 40 minuten 14 nummers door onze strot te rammen. Robotman is een soort van meezinger, en de aanstekelijke muzikale gitaar en strakke bassen, zuinig ondersteund door wat synths, gaan er in als zoete broodjes. En het klonk, ondanks een in der haaste gescoord mengpaneel wegens een met bier overgoten vorig exemplaar de avond voorheen, toch allemaal heel gestroomlijnd. Want de band heeft drie gitaristen, een bassist en een dame met trouwens zalige backings, aan de toetsen. En toch klinkt het zeer strak en juist. Een verdienste, want dat ze met hun instrumenten met een eindeloos aantal pedaaltjes, heel stevige en doorleefde muziek live geweldig kunnen brengen, ligt aan hen. Als je dan afsluit met een ijzersterke cover van Eisbär, dan is een heel sterk optreden echt compleet.
En dan tijd voor Neue Niederländische Welle met het uit Nederland afkomstige Staatseinde. Een uit Star Trek weggerukt trio dat met hun minimal/electro/electropunk en nog een aantal termen, meestal garant staat voor een dansbaar gebeuren. Ze sleuren de nodige machinerie met zich mee en speelden in 2017 al ten dans in de Kinky Star. Omstreeks 22 uur barstte het electrofeestje los. Wat meteen opviel is dat wat op vinyl relatief ingetogen klinkt, live ontpopt tot een veel steviger 'beleving'. Het dreunt, het bonkt en klopt, het is intens, dansbaar en brulboei Jonash gaat als een gek te keer. Verschillende malen maakte hij een wandelingetje doorheen het publiek waar hij agressief de stembanden tot extremen dreef, het zweet parelend op zijn voorhoofd, de blik dreigend naar het vanaf song één warmgelopen publiek. Dat ze zichzelf niet steeds ernstig nemen blijkt uit de songteksten. Ruimtevaart Vooruit 'de ruimtevaart die gaat toch vooruit, we vliegen er op uit…' of 'vanachter het zwarte gat, vlogen wij naar hier. Wij vlogen door sterrenregen, over galactische wegen…', een song met een heel hoog Welle:erdball-gehalte. Of een beauty zoals Just Chaos, dat zowel een synthpop- als synthwave-zweem in zich draagt. Of een meestamper als Gut Gemacht. Lekker retro klinkend, waarbij de zanger als een echte gek doorheen het publiek ging rondhossen. De energie is zo intens voelbaar. En dat de heren het lekkerste uit diverse electrostijlen beheersen en dat zo overtuigend neer kunnen zetten, maakte ook Blaue Augen duidelijk. Dat nummer draagt mits enige goodwill toch wel heel wat old-school EBM in zich. Het was een waanzinnig feestje. Ook wanneer door een losgekomen kabeltje één synt het noodgedwongen moest opgeven, maakte de zanger van die kans gebruikt om ter plaatse een song te wijden aan het euvel. Die (en ja het zijn Nederlanders, dus we mogen deze terminologie gebruiken) 'lulde' een halve minuut lang over 'hoe ze het ook met twee wel redden'. Geweldig. Muzikaal heel dik in orde, heel sterk gebracht en de laatste worp van het gezond gestoorde trio, de EP Dreiheit, is een topschijf.
Het was een kort bezoek aan de Gentse Feesten, maar als je twee zo'n groepen overtuigend op een podium kan bewonderen, in goed gezelschap en met een frisse pint in de hand. Tjah… het kon zelfs mijn 17-jarige dochter bekoren….
Setlist De Delvers
Onrust
Alles Vatte Vuur
Wij Weten niet
Robotman
Nieuwe Planeten
In stilte
Alles Zwart
1000 vragen
Ik volg De wind
Wij Worden Wakker
Hoofdspoken
Dansen op de bodem van de oceaan
En als de nacht valt
EISbaer
Setlist Staatseinde
The Long Road
Ruimte-issues
Vi Åker Dit
Just Chaos
Ruimtevaart Vooruit (remix version)
Wie gehen nicht mehr weg
Repa
Gut Gemacht
Min Min
Blaue Augen
Yedo
Anders
Glauben
Jurgen BRAECKEVELT
06/08/2019
---
---