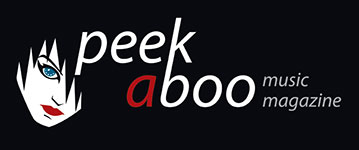 like this article review
---
FRANK AUERBACH
London, Tate Britain (Until/tot 13/3/2016)
Article
29/11/2015, William LIÉNARD
---
Until March 13, 2016, you can visit the extensive exhibition of work by Frank Auerbach at Tate Britain in London. The artist was born in Berlin in 1931, but in 1939 his parents sent him to London as part of the so-called Kindertransporte, that saved 10, 000 mainly Jewish children from the Nazi's death camps. They themselves would not survive the war and died in a German concentration camp in 1942. In England, Auerbach's artistic talent was noticed pretty soon and he got the opportunity to study at the art school. In 1956, a first exhibition of his work was organized at the Beaux Art Gallery, followed in 1978 by a retrospective, while in 1986 he represented Britain at the Venice Art Biennale, where his work was awarded. Meanwhile, he is almost as popular as painters such as Lucien Freud and Francis Bacon.
Feuerbach is often called an expressionist painter (based on his style), but actually he has nothing in common with artists who are looking for a visual equivalent of emotion and spirituality; he is much more an artist who is trying to put the experiences of each day into paint and to impose order upon the chaos around him. Feuerbach seeks and finds his subjects in his vicinity, resulting in portraits of people he knows and canvases in which he depicts his own studio and the landscape nearby. The same characters and situations often return because when the light changes, Feuerbach has sufficient reason to paint a scene again. Technically, he is a figurative painter, though in the early compositions, he approaches his subjects in a rather abstract way. This abstract approach remained, but in the 60s the figurative element was given a larger place, although in some portraits you can hardly recognize human features, and in his paintings of street scenes and impressions from his studio, he usually uses a seminal Cubist style with much attention to architectural forms that define atmosphere and space.
Feuerbach's paintings are colorful, with a preference for pink, buttercup-yellow and purple, with green and red geometric planes in the domestic scenes and similar subjects. The atmosphere is often menacing, his portraits are rarely beautiful, his street scenes are a tangle of lines and stripes with ominous cloud formations as if the scenes will collapse or be blown away by a storm or a hurricane. His work is intense and surprising, unique and colorful, and above all wonderful.
Frank Auerbach
Until March 13, 2016 at Tate Britain
Millbank, London SW1P 4RG
Opening times:
Every day from 10:00 to 18:00
Closed from 24th to December 26th, 2015
Tickets: 15 Pond
50% discount for holders of a Eurostar ticket
William LIÉNARD
29/11/2015
---
Tot en met 13 maart 2016 kan u in de Tate Britain in Londen terecht voor een uitgebreide tentoonstelling over het werk van Frank Auerbach. Hij werd geboren in Berlijn in 1931, maar in 1939 stuurden zijn ouders hem in het kader van de zgn. Kindertransporte – waardoor 10.000 hoofdzakelijk joodse kinderen aan de nazi's wisten te ontsnappen – naar Londen. Zelf zouden ze de oorlog niet overleven. Ze kwamen om in een concentratiekamp in 1942. In Engeland werd Auerbachs artistieke aanleg vrij snel opgemerkt en hij kreeg de gelegenheid om aan de kunstacademie te studeren. In 1956 stelde hij voor het eerst werk tentoon in de Beaux Art Gallery, in 1978 gevolgd door een overzichtstentoonstelling en in 1986 vertegenwoordigde hij Groot-Brittannië op de Kunstbiënnale in Venetië, waar z'n werk werd bekroond. Ondertussen wordt hij in één adem genoemd met schilders als Lucien Freud en Francis Bacon.
Feuerbach wordt vaak een expressionistisch schilder genoemd (op basis van zijn stijl), maar eigenlijk heeft hij niets gemeen met kunstenaars die zoeken naar het visueel equivalent voor emotie en spiritualiteit; veel meer is hij een artiest die probeert om de ervaringen van elke dag in verf om te zetten en op die manier orde te brengen in de chaos die hij ervaart. Feuerbach zoekt en vindt z'n onderwerpen m.a. w. in z'n nabije omgeving , wat resulteert in portretten van mensen met wie hij omgaat en doeken waarin hij z'n eigen atelier en het landschap in de buurt in beeld brengt. Dezelfde figuren en situaties keren vaak terug, want als de lichtinval verandert, is dat voor Feuerbach voldoende aanleiding om eenzelfde personage of tafereel opnieuw op doek vast te leggen. Stijltechnisch is zijn werk altijd figuratief, al was er in de jaren 50 minstens ook sprake van een zekere abstracte benadering van de onderwerpen. Die abstracte toets bleef altijd min of meer aanwezig, maar vanaf de jaren 60 kreeg het figuratieve element een ruimere plaats, al kan je in sommige portretten nauwelijks een mensenhoofd herkennen en hanteert hij in zijn doeken met straatgezichten en indrukken uit zijn studio meestal een rudimentaire kubistische stijl met aandacht voor architectonische vormen die sfeer en ruimte bepalen.
Feuerbachs schilderijen zijn kleurrijk, met een voorkeur voor roze, botergeel en purper, met groene en rode geometrische vlakken voor de huiselijke scènes en vergelijkbare onderwerpen. De sfeer is vaak dreigend, z'n portretten zijn zelden echt mooi, z'n straatgezichten een wirwar van lijnen en strepen met onheilspellende wolkenformaties alsof wat je ziet op instorten staat of zo meteen wordt weggeblazen door een storm of een orkaan. Zijn werk is heftig en verrassend, uniek en kleurrijk en vooral wondermooi.
Frank Auerbach
Nog tot 13 maart 2016 in Tate Britain
Millbank, London SW1P 4RG
Openingsuren:
Alle dagen van 10.00 tot 18.00 uur
Gesloten van 24 tot en met 26 december 2015
Tickets: 15 Pond
50% korting voor houders van een Eurostar-ticket
William LIÉNARD
29/11/2015
---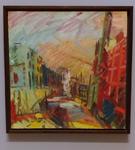 ---