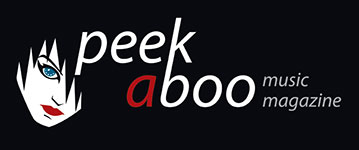 like this cd review
---
AHRAYEPH
AnimAElegy
Music
•
CD
Gothic Rock
Self-released
25/11/2015, Didier BECU
---
What do you do when the other band members call it a day? Well, then you do it all by yourself! It took more than seven years for Raf Ahráyeph to finish the successor of Marooned On Samsara, but even if AnimAElegy is not exactly what you call an easy album (who wants that anyway?), the second CD by this Belgian is excellent in all aspects.

Not that it was an easy task for Raf. He knows very well that he's a perfectionist, and that he is not quicklysatisfied, and above all he had to face some serious health problems. Raf could count on the support of Alex Martin (who did part of the drumming), but basically you can say that Ahráyeph is a one-man project by now.

Raf Ahráyeph's music is often categorized as goth rock, and even if we did that too, his music is much more than that. It is not the kind of music that makes you laugh, and the guitars regularly weep. However, his compositions make you often think of Pink Floyd and Porcupine Tree.

Not that you only will hear epic sounds on AnimAElegy, he also likes to expose his inner demons, and a track like Love/No Love is simply one of the most moving songs that has been written in this small country this year. White Square II (an old song by Crucifire that was on a demo from 1996) grabs you by the neck, and you also hear that typical Fields Of The Nephilim sound Raf Ahráyeph often is associated with.

AnimAElegy is a beautiful record of a musician who, due to circumstances, only believes in himself. It surely won't make his life any easier, but it gives you big music!
Didier BECU
25/11/2015
---
Wat doe je als de andere bandleden het voor bekeken houden? Wel, dan doe je het maar alleen! Het duurde wel meer dan zeven jaar vooraleer Raf Ahráyeph, de opvolger van Marooned On Samsara, klaar had, maar ook al is AnimAElegy een allesbehalve hapklare brok (wie wil dat trouwens?) is de tweede cd van deze Belg uitmuntend op alle vlakken.
Niet dat het een gemakkelijke opgave was voor Raf. Hij weet van zichzelf dat hij steeds het onderste uit de kan wil en dat hij niet gauw een tevreden man is, en bovendien had de muzikant af te rekenen met gezondheidsproblemen. Raf kon wel op de steun van Alex Martin rekenen (die een deel van het drumwerk verzorgt), maar eigenlijk kan je zeggen dat Ahráyeph anno 2015 zo goed als een eenmansproject is.
Raf Ahráyeph wordt dikwijls in het gothrockvakje ondergebracht, en al deden wij dat ook, is zijn muziek veel meer dan dat. Het is geen muziek die je doet schaterlachen en telkens klinken de gitaren wel wat weemoedig, toch doen zijn composities je geregeld aan Pink Floyd of Porcupine Tree denken.

Niet dat het louter epische geluidjes zijn die je op AnimAElegy hoort, hij stort ook graag zijn ziel uit en een track zoals Love/No Love is eenvoudigweg één van de meest aangrijpende die dit jaar in dit kleine landje zijn geschreven. Ook White Square II (een oude Crucifire-track die op een demo uit 1996 stond) grijpt je bij de nek, en je hoort tevens dat typische Fields Of The Nephilim-geluid waar Raf Ahráyeph alsmaar mee geassocieerd wordt.
AnimAElegy is een prachtig schijfje van een muzikant die door omstandigheden louter in zichzelf gelooft, het zal zijn leven er niet gemakkelijker op hebben gemaakt, gelukkig levert het wel grootse muziek op!
Didier BECU
25/11/2015
---