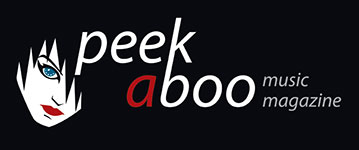 like this concert review
---
LUBOMYR MELNYK
Antwerp, Trix (22/11/2015)
Concert
24/11/2015, Didier BECU
---
The concept of Autumn Falls is known by now: creating a musical platform for unusual artists. And that certainly is the Ukrainian pianist Lubomyr Melnyk! The now 66-year-old musician is considered as one of the fastest piano players in the world, and that is necessary, because he is the inventor of the continuous music on piano. That means that he's playing without stopping for even a second.

The talent of Lubomyr Melnyk is worldwide known, and Peter Broderick and Nils Frahm are deeply impressed by him. It is thanks to them that he was offered a contract by the acclaimed Erased Tapes label. This month Lubomyr releases the album River And Streams on which he wants to produce the sound of water through the piano, but in the Antwerp Trix we were getting other goodies.

Before Lubomyr Melnyk sat down before his piano, Mionia played four songs. Mionia is the alter ego of the Lithuanian artist Maija Licite. Intriguing, heartbreaking songs on a piano, so blood-curdling beauty that makes you mumble Soap & Skin after hearing four songs.

Meanwhile Lubomyr had left his merchandise stall and went to the stage. The good man apparently could not believe his eyes: the Trix Club was almost completely sold out. No stardom for Lubomyr, because even before he began to play one note, he asked the audience to ignore him. The star of the evening was the 300 kilo piano. "The instrument makes music, not me", Lubomyr said and he started with a wonderful composition that he wrote a year ago.

It was followed by Butterfly (which is actually a children's tune). Then he called Mionia on stage with whom he's been on tour for some time. Together they played I Love You. The artist apologized for the banal title of the song, but there is a story involved. According to the pianist you find ugliness only in Twin Peaks, but everything in the world is beautiful. We only have to (re)discover it, especially these days, the Ukrainian said and then he broke our hearts again during five minutes.

And after three songs, he suddenly announced the fourth and last. Do not worry, the composition Windmills lasts almost 45 minutes. This long piece is normally played with two pianos, but live it is only possible to play it on one piano. Melnyk suspects he always had something with windmills (his surname means miller). His piano told the story of a 400-year old mill that is suddenly distroyed by a rising storm. When the mill is on its way to heaven, he's sad, but suddenly he's happy because he graces his creator for his 400 years on earth.

The narratives of Lubomyr Melnyk have something magical, and even though it must have cost the musician blood, sweat and tears to play at this level, he just shrugs his shoulders. When the organizer gave him a flower bouquet, the audience saw that the man was in tears. We as well during his songs. Respect, sir Lubomyr Melnyk!

This review is in collaboration with Concert Monkey.
Didier BECU
24/11/2015
---
Het concept van Autumn Falls is ondertussen bekend: een muzikaal platform bieden aan ongewone artiesten. En dat is de Oekraïense pianist Lubomyr Melnyk zonder meer. De ondertussen 66-jarige muzikant wordt als één van de snelste pianospelers beschouwd, en dat is ook nodig, want hij is de uitvinder van de continuous music op piano. Dat betekent gewoon dat hij aan één stuk door speelt, zonder ook maar een seconde te stoppen.

Het talent van Lubomyr Melnyk is wereldwijd bekend, en ook Peter Broderick en Nils Frahm waren diep onder de indruk van zijn kunnen. Het is dankzij hun dat hij een contract aangeboden kreeg bij het bejubelde Erased Tapes-label. Deze maand verschijnt van Lubomyr het album River And Streams waarin hij via de piano het geluid van water wil weergeven, maar in de Antwerpse Trix kregen we ander lekkers te horen.

Alvorens Lubomyr Melnyk zich achter zijn piano nestelde, mocht Mionia een viertal nummers spelen. Mionia is het alter ego van de Litouwse Maija Licite. Intrigerende, hartbrekende songs op een piano, zo bloedstollend mooi dat je na vier nummers Soap & Skin prevelt.

Ondertussen had Lubomyr zijn stalletje met cd's verlaten en hij betrad het podium. De brave man kon blijkbaar niet geloven dat de Trix Club (voor één keer met zitjes) bijna volledig uitverkocht was.

Van sterallures heeft Lubomyr alvast geen last, want nog voor hij begon, verzocht hij het publiek om hem te negeren. De ster van de avond is de 300 kilo wegende piano. "Het instrument maakt de muziek, niet ik", zei Lubomyr en hij begon met een prachtige compositie die hij een jaar geleden schreef.

Het werd gevolgd door Butterfly (wat eigenlijk een kindermelodietje is). Daarna riep hij Mionia op het podium met wie hij al een hele tijd op toer is. Samen vertolkten ze I Love You. De kunstenaar verontschuldigde zich voor de banale titel van het nummer, maar er zit meer achter. Volgens de pianist vind je lelijkheid alleen maar in Twin Peaks, maar is alles op de wereld mooi. We moeten er wel naar leren kijken, opnieuw de schoonheid in alles (her)ontdekken, zeker vandaag, vertelde de Oekraïener en brak daarna weer vijf minuten ons hart.

En na drie nummers werd plotseling het laatste muziekstuk aangekondigd. Geen nood, de compositie Windmills duurt bijna drie kwartier. Dit lange stuk wordt normaliter met twee piano's gespeeld, maar live is dat alleen mogelijk met één piano. Melnyk vermoedt dat hij altijd iets met windmolens heeft gehad (zijn familienaam betekent trouwens molenaar). Via de piano werd het verhaal verteld van een 400 jaar oude molen die plots door een opkomende storm tot puin vervalt. Als de molen op weg is naar de hemel wordt hij triest, maar plots weer blij omdat hij zijn schepper dankt dat hij 400 jaar op de aarde heeft mogen doorbrengen.

De vertellingen van Lubomyr Melnyk hebben iets sprookjesachtig, en ook al moet het de musicus bloed, zweet en tranen hebben gekost om op dit niveau te kunnen spelen, haalt hij er gewoon zijn schouders bij op. Als hij van de organisator een ruiker bloem krijgt, ziet het publiek hoe de man een traan wegpinkt. Hij is ontroerd door zijn publiek, wij waren dat door zijn muziek. Respect mijnheer Lubomyr Melnyk!

Dit concertverslag is in samenwerking met ConcertMonkey.
Didier BECU
24/11/2015
---