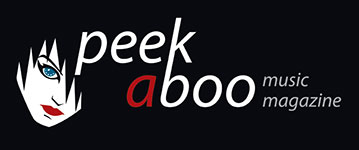 like this concert review
---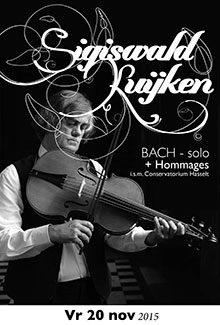 SIGISWALD KUIJKEN
Bach Solo (Hasselt, KC België, 20/11/2015)
Concert
24/11/2015, William LIÉNARD
---
On Friday, November 20th 2015, Bach scholar and founder of La Petite Bande Sigiswald Kuijken, was at the KC België in Hasselt for a day event, dominated by the music of the German baroque composer Johann Sebastian Bach, organized by KC België in cooperation with the Municipal Conservatory of Hasselt. In the afternoon, Sigiswald Kuijken gave a master class for teachers and students about the so called (re)interpretation of the music of J.S. Bach, to which the musician has significantly contributed in the past 40 years.
We headed to Hasselt for the evening program, consisting of three parts, of which we certainly didn't want to miss the second one (the concert by Sigiswald Kuijken). Around 20.30 there was a performance of people of the Hasselt Conservatory. Violinist Ruth Bouckaert played an excerpt from Bach's Partita No. 1 BWV 1002 (Double) and the Corrente from his Partita No. 2 BWV 1004) while a string ensemble played the Allegro from Vivaldi's L'Estro Armonico, Op. 3, Concerto No. 11 RV 565. Finally, the audience was treated to a work for two flutes and harpsichord, according to the press release of KC Belgium a chaconne of the 17th-century German composer Johann Valentin Meder. A beautiful en well played composition.
At half past ten, the theater of KC België was almost sold out for the concert of Sigiswald Kuijken. He started his performance with a brief explanation of the viola da Spalla, a sort of mid-sized shoulder violin or cello that would not survive the 18th century, but was still quite popular in the time of J.S. Bach. He chose a cello suite by the German composer, followed by a Partita for solo violin. Those familiar with the cello suites of Bach, surely were a bit surprised at first, because the instrument sounded a lot rougher and less warm in the 18th century dances than a contemporary cello, but Sigiswald Kuijken told me afterwards that it was probably partly due to the acoustic quality of the venue. In other words, the audience had to get used to the sound of this old instrument, but finally it did, and the master played a flawless and intriguing concert in Hasselt. The cello suites are not Bach's most accessible and easiest compositions. Actually they are a collection of popular court and folk dances which Johann Sebastian has arranged for cello, which means that he reduced the compositions to their most essential form. However, after a certain time, those who are familiar with the cello suites, easily reconstruct the original dance on the basis of the boned version, a principle that is still in use today, just listen to the version of Smells Like Teen Spirit by the young Croatian cellists of 2 Cello, although J.S. Bach would certainly go one step further still and eliminate the most melodious of the two cellos...
After a short break, Sigiswald Kuijken played a Partita for solo violin by J.S. Bach and it sounded heavenly. Again the musician started with a brief explanation and told the audience that he used a restored violin from the time of the German composer, but couldn't guarantee that its sound is authentic. How the music sounded at the time, we will never know. We only have the scores. We know how Rubens painted, because we can go and see his canvases, and we know everything about Shakespeare's writing style because we can read his works, but we will never know how the music sounded during an 18th century live performance because recording facilities didn't exist. Moreover, Sigiswald Kuijken told me afterwards that J.S. Bach left very few explanatory markings on his scores, and as a result it is very unclear for which instruments he composed, how many instruments were used at the time or how many singers were needed for the choral parts. But anyway, those who had defied this first cold Friday night and had bought a ticket for this special evening, went home satisfied.
Finally, at 11 am, the young singer-songwriter VINZ (Stefan Huber) went on stage, but unfortunately we cannot tell much about his performance, because we were already on our way home.
http://www.lapetitebande.be/sigiswald.php
William LIÉNARD
24/11/2015
---
Op vrijdag 20 november 2015 was Bach-kenner en oprichter van La Petite Bande, Sigiswald Kuijken in het KC België in Hasselt te gast voor een dagevenement dat helemaal in het teken stond van de Duits barokcomponist Johann Sebastian Bach, georganiseerd door het KC België in samenwerking met het Stedelijk Conservatorium Hasselt. 's Middags gaf Sigiswald Kuijken een masterclass voor docenten en studenten over het zgn. (her)interpreteren van de muziek van J.S. Bach, waartoe de musicus in belangrijke mate heeft bijgedragen in de voorbije 40 jaar.
Wij waren naar Hasselt afgezakt voor het avondprogramma dat uit drie delen bestond. Omstreeks 20.30 uur was er een optreden van mensen die aan het Hasselts Conservatorium verbonden zijn. Violiste Ruth Bouckaert speelde op een prachtige wijze een fragment uit Bachs Partita Nr. 1 BWV 1002 (Double) en de Corrente uit zijn Partita Nr. 2 BWV 1004, terwijl een strijkensemble flink te keer ging in het Allegro uit Antonio Vivaldi's L'Estro Armonico, Op. 3, Concerto No. 11 RV 565. Tot slot werd het publiek nog getrakteerd op een werk voor twee fluiten en klavecimbel, volgens het persbericht van KC België uit het oeuvre van de 17de-eeuwse Duitse componist Johann Valentin Meder, opnieuw een prachtige en bij momenten adembenemende prestatie.
Tegen halftien was de theaterzaal van KC België zo goed als helemaal volgelopen voor het concert van Sigiswald Kuijken. Hij leidde zijn performance in met een korte uitleg over de viola da Spalla, een soort van middelgrote schouderviool of –cello die de 18de eeuw niet zou overleven, maar die in de tijd van J.S. Bach nog vrij populair was. Hij koos voor een cellosuite van de Duitse componist, gevolgd door een Partita voor soloviool. Wie vertrouwd is met de cellosuites van Bach, die keek beslist een beetje verbaasd op, want op de viola da Spalla, klonken de 18de-eeuwse dansen flink wat ruwer en minder warm, maar Sigiswald Kuijken wist mij achteraf te vertellen dat dat beslist ook te maken had met de akoestische kwaliteit van de zaal. Het was dus even wennen, maar van een meester verwacht je een smetteloze prestatie en zo klonk het ook in Hasselt. De cellosuites van Bach zijn niet de meest toegankelijke of gemakkelijkste werken uit z'n oeuvre, maar eigenlijk gaat het om niet meer dan een verzameling populaire hof- en volksdansen die Johann Sebastian heeft bewerkt voor cello, wat betekent dat hij ze zo ongeveer tot hun meest essentiële vorm heeft herleid. Wie ze kent heeft na verloop van tijd evenwel geen enkele moeite om aan hand van hun uitgebeende melodie de oorspronkelijke dans te reconstrueren, een principe dat vandaag de dag nog wordt toegepast, luister maar eens naar de versie van Smells Like Teen Spirit van de beide jonge Kroatische cellisten van 2 Cello, zij het dat J.S. Bach nog een stapje verder zou gaan en de meest melodieuze van beide cello's zou elimineren…
Na een korte pauze speelde Sigiswald Kuijken nog een Partita van J.S. Bach op soloviool en ook die klonk wondermooi. In z'n voorpraatje vertelde hij dat hij ze uitvoerde op een gerestaureerde viool uit de tijd van de Duitse componist, maar dat hij niet kon garanderen dat ze helemaal klonk zoals ze destijds heeft geklonken. Hoe muziek destijds klonk zullen we trouwens nooit weten. Er is nl. alleen de partituur. Van Rubens weten we hoe hij schilderde, want we kunnen z'n doeken gaan bekijken en hoe Joost van den Vondel schreef, dat kunnen we controleren in z'n geschriften, hoe oude muziekmeesters te werk gingen kunnen we in hun partituren lezen, maar hoe de live-uitvoeringen klonken, daarover is niets bewaard gebleven. Bovendien vertelde Sigiswald Kuijken mij na afloop dat J.S. Bach maar heel weinig verklarende aanduidingen op z'n partituren achterliet, waardoor het bijv. bijzonder onduidelijk is voor welk instrument hij wat componeerde, met hoeveel instrumenten een compositie werd uitgevoerd of hoe groot een koorbezetting behoorde te zijn. Wie de moeite had gedaan om op deze eerste koude vrijdagavond de knusse huiskamer te verruilen voor het KC België in Hasselt, ging in elk geval voldaan huiswaarts.
Om 23.00 uur ten slotte was er nog een concert van singer-songwriter VINZ (Stefan Huber), maar jammer genoeg kunnen we u daarover weinig vertellen, want toen waren wij al op de terugweg naar huis.
William LIÉNARD
24/11/2015
---
---