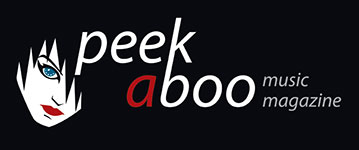 like this concert review
---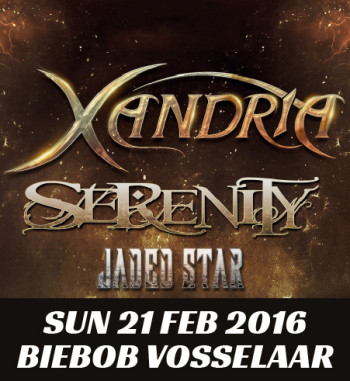 JADED STAR/SERENITY
Vosselaar, Biebob (21/02/16)
Concert
08/12/2016, Didier BECU
---
Crestfallen faces on a concert, it happens sometimes. Yesterday you saw them at the Biebob (a Belgian venue-ed.), because at the last day of the Symphonic Metal Nights-tour, singer Dianne of the headlining band Xandria was forced to cancel the gig because of a throat infection. Everything went on, but of course all the weight was on the shoulders of the other two bands (Jaded Star and Serenity). There are easier things to do in life, but the enthusiastic applause at the end showed that the two groups completed their task successfully.

Jaded Star is a new name in the metal scene, but the band has members like Raphael Saini (formerly of Iced Earth) and Maxi Nil (ex-Visions Of Atlantis). Last year, Jaded Star released its debut album Memories From The Future on Sensory. Even though the band is not ashamed to use clichés, nearly every song is a sing-a-long with clenched fists. The band got the audience effortlessly in its grip thanks to the excellent female vocals by Maxi Nil. Jaded Star is certainly not a subtle band, but it does make great symphonic metal with a high dose of rock 'n roll.
The Austrian band Serenity only needed a few seconds to charm the audience. Before front man Georg Neuhauser celebrated his birthday, he wanted to give his fans a hell of a party. He ran from one corner of the stage to the other. Musically, Serenity tries out almost all styles: from power rock, goth metal to symphonic metal. Georg used clean vocals and was regularly assisted by Natascha Koch, who is replacing the previous front woman (Clémentine Delauney). Many men's hearts were pounding harder when seeing this beautiful lady. You want us to talk about the music? As in the case of Jaded Star, you won't find the word subtle in Serenity's dictionary. However, every track sounded different and very accessible. Innocent metal with a great attention to melody (and because our eyes were open: with a beautiful woman too).
Didier BECU
08/12/2016
---
Beteuterde gezichten op een concert, het gebeurt soms. Gisteren was dat zo in de Biebob, want op de laatste toerdag van de Symphonic Metal Nights moest zangeres Dianne van de hoofdact Xandria op het allerlaatste nippertje verstek geven wegens een keelinfectie. Alles ging gewoon door, maar daardoor kwam natuurlijk wel al het gewicht op de schouders van de twee andere bands (Jaded Star en Serenity) terecht. Er bestaan gemakkelijkere dingen in het leven, maar het enthousiaste applaus op het einde wees erop dat de twee groepen hun taak met succes hadden vervuld.
De naam Jaded Star is nieuw, maar de band bestaat wel uit klasbakken zoals Raphael Saini (vroeger bij Iced Earth) en Maxi Nil (ooit bij Visions Of Atlantis). Vorig jaar verscheen het debuut Memories From The Future op Sensory. Ook al schaamt de band er zich niet voor om clichés te gebruiken waardoor zowat iedere song een meebruller met gebalde vuisten wordt, kreeg de band dankzij de excellent vrouwelijke zang van Maxi Nil de zaal zonder moeite in zijn greep. Subtiel is Jaded Star zeker niet, maar hij brengt wel heerlijke symfonische metal met een hoge dosis rock 'n roll.
Wat bij Jaded Star een paar songs duurde, klaarde de Oostenrijkse formatie Serenity in een paar seconden. Frontman Georg Neuhauser die een paar uurtjes later zijn verjaardag mocht vieren, wond er geen doekjes om en liep van de ene hoek van het podium naar de andere. Dit optreden moest een feestje worden en dat werd het ook. Muzikaal puurde deze band uit zowat alle stijlen: van powerrock, metalgoth tot symfonische metal. De zang van Georg was clean en hij werd regelmatig geassisteerd door Natascha Koch, die de vorige frontvrouw (Clémentine Delauney) moet doen vergeten. Visueel doet ze dit zonder twijfel, want menig mannenhart ging harder bonken bij het zien van deze mooie dame. Je wil dat we het over de muziek hebben? Net zoals Jaded Star staat subtiliteit niet echt in het woordenboek van deze Oostenrijkers. Iedere track klonk anders en bleef ontzettend toegankelijk. Brave metal met veel aandacht voor melodie (en omdat we nu eenmaal de ogen openhielden: ook met vrouwelijk schoon).
Didier BECU
08/12/2016
---