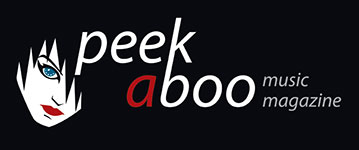 like this concert review
---
LED ER EST, MUSHY AND MATTHEW DEAR
Review of the concert at Beursschouwburg in Brussels on 28 November 2012
Concert
[80/100]

29/11/2012, Philippe BLACKMARQUIS
---
The first band of this concert evening was Mushy, an Italian female artist we had already discovered at a Fantastique Night in Brussels back in 2010. Accompanied by Alessandro Adriani (also manager at Mannequin records) on keyboards and loops, Valentina presented a majority of songs from her excellent brand new album, "Breathless". The music is very dark and solemn, with a mixture of analog drum-machine loops, brilliant synths and spectral chants which rise at the surface. There are less experimental and psychedelic aspects like cold drones or tempestuous noises than before, the new songs have rather a new-wave/dream-pop feeling, much in the style of the early Dead Can Dance or Cocteau Twins, as, for instance, on "Dreams" and "My Life So Far". Mushy's voice also evokes Zola Jesus and Chelsea Wolfe, with clear witch-wave (or grave-wave) overtones, as in the long litany "To Be Lost". The song is mournful, with a glacial shift of swooping synths and bass.
The venue was not full at this (early) time but Mushy managed to create a melancholic, dark atmosphere and to touch our soul deeply. A very nice set! It makes us eager to see her again soon in a full-fledged concert. Watch an excerpt from "I Don't Care":
Hailing from New-York, Led Er Est were eagerly awaited by a lot of minimal wave fans from Brussels. Their hit, "Scissors", is a favorite in our DJ playlists and their psychedelic, cavernous yet tuneful synth-wave has propulsed them as one of the flagships of this musical genre, besides Xeno+Oaklander and Martial Canterel. On tour in Europe to promote their new album, "The Diver", they gave a very interesting, yet a bit unequal show.
The trio consists of Samuel kK (Sam De La Rosa) on vocals, guitars, bass and synth, ShawNoEQ (Shawn O'Sullivan) on drum programing, synths and sequencing and Owen Stokes (Owen Hutchinson ) on synth and samples. They are inspired by 70′s synth prog and 80′s lo-fi new-wave, electronic and industrial music. On stage, Sam stands in the middle with his guitar, his face hidden behind his long black hair, and he sings like a modern Robert Smith, with a screaming and haunting melancholy. On the right, Shawn has the anti-star look with his glasses, his pull-over and his obvious uneasiness, but he is the true brain of the trio, as he controls drum loops, synth effects driven by a vintage controller full of plugs and cables, while Owen, on the left, produces chords or samples on his Roland synths.
The set is a collection of long songs reminiscent of Kraftwerk, OMD and The Cure. The music requests a precise setup for drum loops and synth sounds. You can see that the trio has to synchronize and improvise as loops or settings of analog equipment can bring surprises. But, despite a few hiccups, the band succeeded in bringing its complex music to life and songs like "Port Isabel" or "Kaiyo Maru" presented a fantastic cross-over of propulsive and intense synth-pop. Watch them perform "Kaiyro Maru", from "The Diver" (sorry for the lack of light but the band played most of time in the dark):
Other tracks, like "Bladiator", sounded more like industrial instrumentals with noisy touches. The extensive use of vintage analog devices on stage reminded me of Agent Side Grinder, the Swedish postpunk/wave geniuses. Their interpretation of "Scissors", though, was a bit disappointing: the synth sounds never seemed to be properly in place and during the chorus, the song didn't take off as it does on the studio version. But as a whole, it was an hypnotizing, mesmerizing set, full of great idea's and of a very original music. A real pleasure!
We had come for Mushy and Led Er Est but we discovered an American artist we didn't know before: Matthew Dear. Hailing from Kingsville, Texas, he is a music producer, DJ and electronic avant-pop artist. He is well-known in the techno scene with his project Audion but his solo project is rather a sort of dub-funk-wave à la Talking Heads (period "Remain In Light"), Gang Of Four, A Certain Ration or David Bowie (period "Fame") combined with elements from Nitzer Ebb and Brian Eno. On stage, he has a very sharp and classy look and the whole show is very, very professional. The sound is simply amazing: the instruments of the 4 musicians, drums, percussions, bass and synths are perfectly mixed and the vocals, presented with incredible live effects (reverb, gate, echo, flanger).
During his set, Matthew Dear manages to create a very hot atmosphere, moving around with energy. The venue was packed (the concert was sold-out) and the audience was dancing and singing like crazy, especially on songs like "Up & Out", "Monkey", "Fleece On Brain" or "Earthforms". Dear finished his set with "You Put A Smell On Me" and threw to the fans all the white roses which were serving as stage decoration. During the encore, he played a wild version of "Her Fantasy", one of his most famous songs. Even though this kind of music is not my cup of tea, I was very much impressed by this show. Watch Dear perform "Earthforms" below:
As a conclusion, a great evening, perfectly organised by Beursschouwburg and Buzz On Your Lips in a venue, the Beurs Café, that I really recommend!
If you want to see Led Er Est, they will play an additional show in Antwerp at the Hedonist on 18 December.
Wtach the pictures by Xavier Marquis: Mushy, Led Er Est and Matthew Dear.
Philippe BLACKMARQUIS
29/11/2012
---