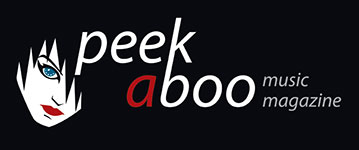 like this cinema review
---
PETE DOCTOR
Inside Out
Movie
•
Cinema
Animation
[85/100]

Walt Disney
23/06/2015, Didier BECU
---
It rarely happens, but at the last Cannes festival, critics were very enthusiastic about an animated film. Well, it's more than just an animated film, because the maker is Pete Doctor who made with Toy Story and Up undoubtedly the best Pixar-films. In his latest film Doctor took a very big risk. Pixar films are designed for young and old, but no one is surprised that the producers are mainly targeting at the heart of toddlers. Doctor dared to make a film about the human brain, and particularly the emotions that control it. It may seem as an impossible concept for an animated film, especially if you want to please the kids, but Doctor is a master of his craft.
We descend into the head of the young girl Riley who has to move from Minnesota to Los Angeles. This means that her father makes promotion at work, but Riley herself has lost all her friends, and especially her beloved ice hockey club. The girl is going through a deep crisis and inside her head all the emotions (happiness, fear, anger, disgust and sadness) start to work. Just like in the real head, but because not every child is familiar with the theories of Freud and Jung, Doctor conjured these emotions to colorful, fun characters that are even cuddly. It is certainly not an obvious thing, but Inside Out works from the first to the last minute. Of course this is a Disney production, and it is predictable that luck will win (imagine if the creators let the child end up in an asylum), but that does not mean Inside Out is not a masterpiece.
Didier BECU
23/06/2015
---
Het is bijna zelden of nooit gebeurd, maar tijdens het laatste Cannes-festival waren critici laaiend enthousiast over een animatiefilm. Nu ja, het is meer dan zo maar een animatiefilm, want de maker is Pete Doctor die met Toy Story en Up zonder twijfel de beste films uit de Pixar-stal maakte. In zijn nieuwste spruit neemt Doctor een zeer groot risico. De Pixar-films zijn wel bedoeld voor jong en oud, maar niemand is verbaasd dat de producers vooral op het hart van de allerkleinsten mikken. Doctor durfde het aan om een animatiefilm te maken over het menselijke brein, en meer bepaald de emoties die het controleren. Het lijkt misschien een onmogelijk concept voor een animatiefilm, zeker als de je kinderen wil meekrijgen, maar Doctor gedraagt zich als een meester in zijn vak.
We dalen af in het hoofd van het jonge meisje Riley dat tegen haar zin moet verhuizen van Minnesota naar Los Angeles. Haar vader maakt wel promotie op zijn werk, maar Riley is hierdoor wel al haar vrienden kwijt, alsook haar geliefde ijshockeyclub. Het meisje gaat door een diepe crisis en binnenin haar hoofd beginnen de emoties (geluk, angst, woede, afkeer en verdriet) tegen elkaar op te boksen. Net zoals in het echte hoofd dus, maar omdat niet ieder kind vertrouwd is met de theorieën van Freud en Jung toverde Doctor deze emoties om tot kleurrijke, grappige personages die zelfs een grote aaibaarheidsfactor hebben. Het klinkt allesbehalve vanzelfsprekend, maar Inside Out werkt van de eerste tot de laatste minuut. Natuurlijk is dit een Disney-productie en het is voorspelbaar dat het geluk zal winnen (stel je maar eens voor moesten de makers het kind een einde in een psychiatrische instelling hebben toegewenst!), maar dat betekent niet dat Inside Out geen meesterwerk is. Of om het anders te zeggen: wie zit er nu nog te treuren om het verlies van K3?
Didier BECU
23/06/2015
---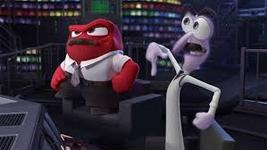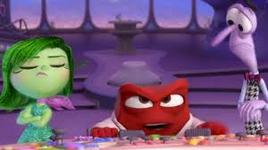 ---