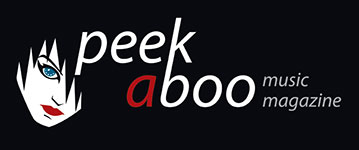 like this concert review
---
THE NEON JUDGEMENT
Brussels, AB (26th September 2015)
Concert
27/09/2015, Didier BECU
---
It's after eleven when we leave the concert hall. Since the Rue D'Anspach has been pedestrianized, dozens of people are having fun on the street. None of them is aware of the fact that a packed AB has just said goodbye to one of Flanders biggest music icons: The Neon Judgement.
After 35 years TB Frank (Frank Vloebergs) and Dirk Da Davo (Dirk Timmermans) have decided to say farewell to the audience as The Neon Judgement. What started on a concert stage of two by two meters in Leuven (Belgium), has ended in one of the world's finest concert temples, and thus, the circle is almost completed.
Before the concert begins, the concert-goers are shown a documentary about the origins of the band. Everyone in the venue has seen this film before, but it can't be showed enough, as the year 2015 looks very much like 1981. Around every corner there is a war going on, the Russians are back in attack position, the arms race is again in full swing and the capitalists are in a power position. It is from this fear that The Neon Judgement arose. Without batting an eye, the two consider themselves as prophets. These are big words, but somehow they are also true. When they composed TV Treated vin the early 80s, the duo knew that television would become the emperor of an Orwellian society one day. 35 years later, the song is not dated, but the text is, because the warning became reality.
The Neon Judgement is a band that has influences old and new, and that was ingeniously inserted in the last set. On the one hand, Dirk and Frank are icons of a cold wave generation, but on the other hand they are also the pioneers that many new dance gods (fromTerence Fixmer to Radical G) look up to. The duo opted for a greatest hits set, but each track was brought in a different way, just to show that The Neon Judgement is more than just a memory of the 80s.
The intro Army Green was a genius start. A monk (or something like that ) introduced the arrival of the two men with a deafening factory siren. On the screen the words Judgement Day appeared, and the debilitating Factory Walk was started. We have seen it a hundred times: a hyperactive Dirk behind the keyboards and Frank who looks more like a rock 'n roll-like Gregory Peck, but the contrast works every second! More rock'n'roll followed with Sister Sue and Too Cold To Breathe. The first surprise of the evening was The Right To Reject, simply because it is a daring thing to include this track in a farewell set, because (oh irony!), in a way some fans said farewell to the band when the album The Insult (of which the track is part) was released.
With I Wish I Could, Frank took over the vocals. The song went to the bone, and it was just as raw as it sounded in the 80s. In The Man, Dirk got the opportunity to make the stage his playground. But that was only for five minutes, because then Jean-Marie Aerts appeared on stage for two songs (Voodoo Nipplefield and 13:13).
The only thing we missed during Miss Brown was a handsome female dancer on stage, but this song was brought as it should be : raw, deafeningly loud and especially punky ! It was followed by another big hit: Tomorrow In The Papers, a song about JFK, who incidentally died on the day Frank was born.
During Schizophrenic Freddy, Glenn Keteleer climbed on stage. This choice is not so out of place. Not only was The Neon Judgement an inspiration for Glenn aka Radical G, he will also work with Dirk in Neon Electronics. With Glenn's contemporary electronica sounds, the song got a whole new dimension, one that showed that this band has stopped too early.
The dance floor hits Awful Day and The Fashion Party followed, and then the last guest of the evening was introduced: mister Luc Van Acker ! Thanks to the energy of the man from Tienen (Belgium), the sound suddenly changed. It was raw, but also dirty like only The Stooges can sound: STLG and Concrete NY - Stoney Wall Doll was electro punk of the highest level.
After more than half an hour fascinating music, Dirk and Frank announced the end of the set, which ended with Chinese Black, probably their darkest track (at least in goth terms) that they have ever recorded.
It was over, there was still some room for a farewell speech in which everyone was thanked for his part to the unique project called The Neon Judgement. Frank did a cover of his hero Johnny Cash (The Singer), and subsequently everyone climbed on stage to end with TV Treated , Human Fly (yes, that song of The Cramps), The Fear In My Heart (yes, that song of Luc Van Acker) and a noisy, but superb NION. The eardrums made ​​some strange noises, Luc Van Acker jumped in the audience and then it was over. Or no, there was still time for five minutes Neon Judgement music on this earth: Please, Release Me , Let Me Go -Go.
The Neon Judgement gave a farewell concert of which both the fans and they themselves can be proud of. It is only a pity that the end is coming at a bad moment, because they sounded never so good as now! Thanks, Dirk and Frank! Respect, and above all: keep on rocking in a free world!
Click here to see the photoshoot which is done by Xavier.
Didier BECU
27/09/2015
---
Het is eventjes na elven als we de concertzaal verlaten. Sinds de Anspachlaan verkeersvrij is gemaakt, amuseren tientallen mensen zich nog tot 's avonds laat met wat spelletjes op straat. Niemand van hun weet dat een bomvolle AB zo net afscheid heeft genomen van één van Vlaanderens grootste muziekiconen: The Neon Judgement.
Na 35 jaar gooien TB Frank (Frank Vloebergs) en Dirk Da Davo (Dirk Timmermans) definitief de handdoek in de ring. Wat begon op een concertpodium van twee bij twee meter in Leuven, is geëindigd in één van 's werelds mooiste concerttempels, en daarmee is de cirkel zo goed als bijna rond.
Alvorens het concert begint krijgen de concertgangers een documentaire te zien over het ontstaan van de band. Iedere aanwezige heeft het filmpje zonder twijfel al eens gezien, toch kan het niet genoeg worden getoond, het jaar 2015 lijkt immers angstvallig op 1981. Om iedere hoek loert er wel een oorlog, de Russen staan weer in aanvalspositie, de wapenwedloop is weer in volle gang en de kapitalisten zijn onwrikbaar aan de macht. Het is uit dit angstbeeld dat The Neon Judgement is ontstaan. Zonder blikken of blozen beschouwen de twee zichzelf als profeten. Het zijn grote woorden, maar ergens zijn ze dat ook wel. Toen ze in het begin van hun carrière TV Treated componeerden, wist het duo dat er ooit een tijd zou komen waarin de televisie de keizer van de Orwelliaanse maatschappij zou zijn. 35 jaar na datum klinkt het nummer nog geen tikkeltje gedateerd, alleen is de tekst volledig achterhaald, want de waarschuwing werd realiteit.
The Neon Judgement is een band die oud en nieuw heeft beïnvloedt, een gegeven dat ingenieus in de allerlaatste set is ingebouwd. Enerzijds zijn Dirk en Frank iconen van een coldwave-generatie, maar anderzijds zijn ze ook de pioniers naar wie heel wat nieuwe dansgoden (van Terence Fixmer tot Radical G) opkijken. Het duo koos wel voor een greatest hits-set, maar ieder nummer werd anders gebracht, net om aan te tonen dat The Neon Judgement meer is dan zo maar een herinnering uit de jaren 80.
De intro Army Green was meteen raak. Een monnik (of zoiets toch) introduceerde met een loeiharde fabriekssirene de komst van de twee heren. Op het scherm verschenen de woorden Judgement Day, en het slopende Factory Walk werd ingezet. We hebben het al honderd keer gezien: een hyperactieve Dirk achter de keyboards en Frank die eerder op een Gregory Peck in rock 'n rollformaat lijkt, maar het contrast werkt iedere seconde! Meer rock 'n roll volgt met Sister Sue en Too Cold To Breathe. De eerste verrassing van de avond is The Right To Reject, gewoonweg omdat het gewaagd is om dit nummer in een afscheidset op te nemen, want (oh ironie) met het album The Insult (waaruit de track komt), namen ook een paar fans (ten onrechte) afscheid van de groep.
Met I Wish I Could nam Frank de vocals voor zijn rekening. Blijkbaar ligt de Leuvenaar niet wakker van het geldende rookverbod, maar rebelleren is nu eenmaal een onderdeel van rock 'n roll en dat deed de man met verve! De song ging door hart en nieren, en net zo rauw als hij in de jaren 80 klonk. The Man gaf aan Dirk alle mogelijkheden om van het podium zijn speeltuin te maken. Maar dat was maar voor vijf minuutjes, want nadien verscheen Jean-Marie Aerts op het podium voor twee nummers (Voodoo Nipplefield en 13:13).
Het enige wat we bij Miss Brown misten was een knappe danseres op het podium, maar voor de rest werd dit nummer gebracht zoals het hoort: rauw, oorverdovend luid en vooral lekker punky! Nadien volgde die andere grote hit, Tomorrow In The Papers, een nummer over JFK die trouwens stierf op de dag waarop Frank werd geboren.
Tijdens Schizophrenic Freddy werd Glenn Keteleer op het podium geroepen. Deze keuze was niet zo maar uit de lucht gegrepen. Niet alleen kijkt Glenn als Radical G op naar deze heren, maar zal hij samen met Dirk nog een tijdje met Neon Electronics de toekomst (of zoiets toch) regeren. Door Glenns eigentijdse electronica kreeg het nummer een heel nieuwe dimensie, eentje die aantoonde dat deze band nog helemaal niet is uitgezongen.
De dansvloerkrakers Awful Day en The Fashion Party werden vervolgens ingezet, om te eindigen met de laatste gast van de avond: mister Luc Van Acker! Dankzij de energie van de man uit Tienen veranderde het geluid plotseling. Het klonk niet alleen rauw, maar ook vies zoals alleen The Stooges vies kunnen klinken, STLG en Concrete N.Y.-Stoney Wall Doll werden electropunk van het allerhoogste niveau.
Na meer dan anderhalf uur kondigden Dirk en Frank het einde aan. De set werd afgesloten met Chinese Black, waarschijnlijk hun donkerste nummer (ten minste in gothtermen toch) dat ze ooit hebben gespeeld.
Het was voorbij, al was er nog plaats voor een afscheidsrede waarin iedereen werd bedankt die zijn steentje heeft bijgedragen aan het unieke project dat The Neon Judgement heet. Frank deed solo nog een cover van zijn grote held Johnny Cash (The Singer), en nadien klom iedereen nog eens op het podium om TV Treated, Human Fly (jawel, dat nummer van The Cramps), The Fear In My Heart (en jawel, dat nummer van Luc Van Acker) en een noisy NION te brengen. De trommelvliezen maakten rare bewegingen, Luc Van Acker sprong pardoes het publiek in en dan was het over. Of neen, er was nog plaats voor vijf minuten Neon Judgement-muziek op deze aardbol: Please, Release Me, Let Me Go-Go.
The Neon Judgement gaf een afscheidsconcert waarop zowel de fans als zij zelf trots kunnen zijn. Alleen is het jammer dat het einde op een slecht moment komt, want nog nooit klonken de twee Leuvenaars zo goed! Bedankt, Dirk en Frank! Respect, en vooral: keep on rocking in a free world!
Klik hier voor de fotoreportage van Xavier.
Didier BECU
27/09/2015
---
---