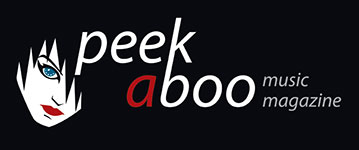 like this interview
---
CHRISTIAN WOLZ
Celebrating 25 years of music
28/06/2013, Tom PLOVIE
photos: © Andreas Paasch
---
Christian Wolz is a German vocal and performance artist and composer. In 2013, he will celebrate the 25th anniversary of his musical career and will release a new album: his 15th album up to now. Peek-a-boo had an exclusive interview with this unique avant-garde artist.
2013 is a special year for you: How did you start this year and formed the plans of doing something special?
Oh, this year started normally, like every other year. But, last year I had the idea of doing something special for my anniversary. The first idea was to produce a new album with almost all the styles, all the ideas and ways of working I had over all those years. Then, in the autumn, I thought of doing a special performance or concert, also for this anniversary. First, I started looking for money to realize this project, but that was too difficult. I thought of cancelling the whole idea. Finally, friends of mine persuaded me to do something special because I'm doing this avant-garde art for so long now. So, next to the release of this new album, I will do a special event in October.
What's your feeling about the 25 year period in which you've released 14 albums? You did a lot of collaborations with other artists, solo performances and you searched for a way of sharing and teaching vocal art to others.
Sometimes I don't realize it has been such a long time I've been working in this field. When I look back and see what I've produced on my own, together with the many collaborations with different artists and musicians, I'm proud of that. It gives me a good feeling to know this energy still exists. Teaching is a special thing. It gives me a lot of experience in different ways. To work with professionals, non-professionals, beginners and young people is nice. Just as to share that expertise and see how my work influences their own.
As an artist who worked for so long you've experienced various evolutions in the music industry and your personal work. Let's start with your voice. How does it evolve after working with it so intensely for such a long period?
The human voice is a very sensitive and intimate instrument. I started to use this instrument 25 years ago. I don't think about what I need nor how to use it. This was good because it came very naturally. It gave me a good base to develop my work. I have always trusted my own voice through all these years. That trust was important to find new elements, techniques and styles. Of course, there were a lot of different periods in my life which gave me new impulses to develop my personal voice combined with the base I founded right at the beginning of my vocal art.
I never questioned it. I always felt a deep desire to use my voice, it was my destiny to do so. This doesn't mean it wasn't difficult at times when certain circumstances restricted the work. But you have to do what you have to do so you'll find another way to deal with it. The voice also matures when getting older.
How did the use of electronics and modern technology help you over the years? What is the importance of it through your career?
At first I didn't see the use of electronics as an added value. I have seen it as an instrument on its own, right from the beginning. I'm very curious and interested in these kinds of electronics and technology. It started as a normal thing to me, to use it, and I like it to combine it with the natural human voice. As I said, it's an instrument that I play. The development of technology is so fast. That has been an advantage in my view. You don't need to transport so much hardware anymore to do live events. It saves the cost of a very expensive studio to produce music. It definitely has made my work easier.
Since 2007, you haven't released physical albums anymore, only downloads. Is this something you felt like a necessity to do? Don't you consider releasing limited or special editions, which are often more expensive?
I prefer the physical album, of course, because I come from the generation that grew up with vinyl. It's all about marketing and money. To produce a physical album is expensive and difficult to sell if you don't have a label or distributor. I do everything by myself: coming up with an idea, producing the work, organizing the concerts and performances. I don't do mainstream music so that makes it difficult. This way of work will continue in the future: everything via the Internet. With my last album I have earned more money in comparison with the last physical album. The problem today is that people want to have everything for free or almost nothing. They pay a lot for jeans which are very cheap to produce, not often in a 'fair trade' way. Music is something they want for free. But production costs are huge. Because of this, it's easier for me to work the way I work now. But, I do hope to produce a physical CD too in the winter.
The problems of the music industry are clear: decrease of sales, increase of illegal downloads,... What impact has it had on your career or on the way you work as an artist? What are the challenges and answers to it for the future?
That is very difficult. You know, as I told you before, I'm not a mainstream artist. For me it's important to have the options to share my music with all the people who are interested in this vocal art. This work isn't something where the return in payment is equal to the energy and work I put into it. I live with that knowledge and foresee no big changes in the future. The industry is like all industries: big companies who don't allow space for the art of music which is not mainstream enough. I do hope more people will learn to respect music and will pay the artists in a correct and honest way. I also think the public and audience have a lot of power to make changes!
What do you consider to be the most important element or feature throughout your work? For me it is the constant use of a non-existing language. What's your vision on this?
I agree with you. This is also a very important element for me. It's not my intention to tell you how to understand my work. It gives impulses and I wish for every listener to get his/her own interpretation of it, but with an understanding of the thread behind the work. There's also a big difference in my voice: hard and soft, high and low, how I play with these parameters in one piece. I like to work with contrasts and with the abstract. The sound can also be very obvious, clear, catchy or difficult. It should reflect our lives in an artificial way.
The new album is called "Wolz", a clear choice of title, and after the first hearing I knew this is definitely a strong selection of numbers and a good choice as an overview for your work. You've edited existing tracks on the new release, what was the main reason to do so?
Yeah, this album is just Wolz. I didn't really edited existing tracks. I used elements of old material. I searched a lot of old material and looked for the essence of the ideas, the stories and techniques of all that I have done. I started to take material of every album I've produced and re-recorded it combined with influences from today and new stuff. The whole idea is that the work has tracks of all the things I did the last 25 years and where I am now today. I did a lot of research to do so: to find the right material which I can link to Christian Wolz in 2013.
On 'Angelos Narrat II', you use a female choir. That was very surprising and exciting to hear. Does this come from the vocal ensemble you've started? What are the plans for the future on this?
Actually, it has nothing to do with my ensemble. It was the idea to have a choir in a lovely way combined with the harder voice in the front. There are three main voices and the choir, which I produced and manipulated on the computer. The ensemble you're talking about is a project on its own. I doesn't really influence my personal work. It started five weeks ago, when the new album was already finished. I don't sing with the ensemble. I am the director and give them impulses like new material. I don't exclude I will involve or co-operate with them in a live concert of my own. They have to find their own way first.
If you had to choose one project or album which means the most to you or you consider to be the highlight of the past 25 years what would it be? Or is this needless to ask?
That is very difficult indeed and I think every album I've made is special to me. Of course most of the work stands very close to the time it's been made in and is important. As to highlights, every album has them for me. After a while there's a distance to the production and one can see or hear them in another way in comparison to the time in which there were produced. Every album has its time.
Are there any performances planned to celebrate the occasion or to bring your fans together?
Yes. The project is called "ecencia" and will be performed on the 19th of October, in Berlin at the Uferstudios. That's a very nice place which views an empty swimming pool. The work itself consists of two pieces: "pure" and a selection of my earlier work: "works". On one evening we will record it to make a live CD of it. I'm planning to release it next winter, as I told you earlier. Right now, I've started a crowdfunding project, on startnext.de, to raise money for this event.
A lot of success with it and thank you for the interview!
official website : ​www.citoma.de
funding project : www.startnext.de/ecencia
Tom PLOVIE
28/06/2013
---