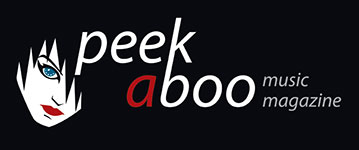 like this interview
---
HAPAX
Actually there isn't any specific "formula". We usually instinctively develop an impulse, a feeling, then the song takes its shape almost by itself, in a very natural way and without too much reasoning.
26/01/2019, Kristine HAFFGAARD
photos: © Jessica Squillante
---
Italian HAPAX combines the dark post-punk vibe of the eighties with modern dark-wave synths.The duo from Naples moves effortlessly from the dark and melancholic to the quivering intense and the songs are carried by solid, danceable melodies.

HAPAX consist of Michele Mozzillo, who is singing, playing bass and synthesizers, and Diego Cardone, playing guitar and synthesizers and also in charge of programming. The band has two critically acclaimed full-length albums out on Swiss Dark Nights, and has got a very positive reception on a number of international festivals and venues since their debut in 2014.

We met Michele for a chat before HAPAX will be playing a concert on the 7th of February 2019 in Copenhagenat Spillestedet Stengade, which is the band's first in Denmark.


Hello Michele. HAPAX is working as a duo. How did you first meet and what inspired you to form a band?
MM: Hi everybody! Diego and I had already played in other bands in the past, so we have always been actively engaged in music projects. It just came up, by chance we could say. The inspiration, the HAPAX-mood, had been in our minds for quite some time already. We got a couple of tracks done, drafts at that time, and after Valerio (Swiss Dark Nights) heard them, he immediately wanted us to be part of the artists produced by his label. Thus we started working on our first album.
Could you briefly describe the creative process? How do you work together?
MM: Actually there isn't any specific "formula". We usually instinctively develop an impulse, a feeling, then the song takes its shape almost by itself, in a very natural way and without too much reasoning.
The electronic/post-punk scene is blooming right now with many very talented bands. Do you feel part of a specific European or Italian music scene?
MM: We are very close to our fellow townsmen Geometric Vision and Ash Code, not only because we share the same label, but above all because we are linked by a very long-term friendship, preceding our respective projects. Of course during our career we had the opportunity to meet several talented bands, we are still in touch with. I would like to mention for example the Gorgonas, who last November arranged for our gig in Mexico City.


HAPAX is named after a term that refers to a word or phrase that only appears once in a literary body of work. Can you explain more about choosing this name and what it means to you? Does the name also affect the songwriting?
MM: Well, Hapax in ancient texts are usually difficult to decipher; but the term is also often used to describe a word that occurs in just one of an author's works. So within a music genre which is very well coded by a set of consolidated conventions like "Goth" in general is, we wanted (we hope with success) to take up this sense of uniqueness and indecipherability (or at least of non immediate accessibility) with our works. This could maybe also affect the songwriting process, but in a more unconscious way than intentional I guess.

You have released some very beautiful videos to a number of your songs, When the Marble Falls, VitriolandHands. What are your thoughts on the importance of the visual aspect in connection to your music?
MM: The visual aspect is highly significant for us. Since the concept of "total artwork" is a focal idea today, visuals cannot be left aside by music only in the creative process. Videos are also part of our live performances because we think they can support the audience to get closer to our own imaginative dimension.


HAPAX has been touring intensely, among other places USA, Mexico and South America, as well as European festivals as WGT. How do you divide your time between gigs and creating music? Do the gigs and the time in the studio influence each other?
MM: Last two years have been really amazing. We still can't believe how many incredible places we had the chance to visit. When our project was born, we had never figured out to play on so many stages. Each single trip and everyone we met has influenced our work somehow.

The debut album from 2014 Streamof Consciousness was re-released on SwissDark Nights. However, the second press is not just a reissue of the CD. Instead, you went back into the studio to re-record the entire album. Why did you decide to do this?
MM: Actually, at first we just wanted to remix the debut album with a riper sound. But afterwards we decided to fix some aspects, that didn't win us over anymore and had fun while arranging it once again. We are lucky indeed because the label lets us express ourselves freely.

What can we expect when HAPAX enters the stage at Spillestedet Stengade?
MM: We can't wait to perform for the very first time in Copenhagen! We are going to play a brand new single that is going to be included to a new release that should come out mid of this year. To be honest, every gig is a one of a kind experience, so we never make any prediction. We are very excited for this show and thank you for the interview!

07.02 HAPAX + Cosmic Waves @ Spillestedet Stengade, Copenhagen, DK
Kristine HAFFGAARD
26/01/2019
---