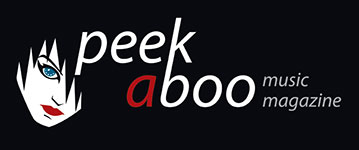 like this interview
---
A PLACE BOTH WONDERFUL AND STRANGE
An Interview with A Place Both Wonderful And Strange
28/01/2019, William ZIMMERMAN
---
A Place Both Wonderful And Strange is the Brooklyn-based duo of Russ Marshalek and Laura Hajek. While their namesake comes of course from the Twin Peaks television series, their dynamics extend far beyond the limitations such a name might bring.
For the PeekABoo Readers, could you introduce the band and provide a brief history please?
Russ: a place both wonderful and strange started out as a terrible, terrible, just awful solo noise project of mine that involved a lot of stomping, and a lot of wearing ugly black creepers, that finally evolved into an electronic goth EBM-leaning shoegaze-leaning performance art project that utilizes both my and Laura's desires to present emotional music wrapped up in various packages.
Laura: Hi my name is Aplaceboth and we are the biggest twin peaks themed dark electronica insane-o long form poetry act to ever come out of the swamps of new east williansburgtown.
The last release was an EP called "The City Smells Like Cat Spit." Where did the title and intriguing cover art come from?
Russ: The title is from a song from our third full length, called "Every Stone a Seance". It's the first and so far only love song I've ever written, and the lyric came from being out in Brooklyn with my now-wife and thinking "this place is a shithole but this person makes me love it."
Laura: WHAT IS THAT LITTLE DUUUUUUDE!? He popped up on the roof of a car outside of a hotel in maybe Virginia when we were on tour and Daniel (our tm) and I were on our way back from walking to the gas station to get smokes and maybe a beer to drink while we were getting ready and I looked at that weird little dude and he looked back and I turned to my boy Daniel and was like,"Wait, you see that too, right?" And he did and so a star was born.
Russ: OUT IN THE SHAL SHAL SHALLOW OUT IN THE SHALLOW NOW

You recently did a show called "The Laura Palmer Deviations" in your hometown of Brooklyn. How did this come about and how did you receive the commission from the Lynch Foundation.
Russ: The David Lynch Foundation found me through a former project, and so a star was born.
Laura: OUT IN THE SHAL SHAL SHALLLOWWWWWWW
Russ: The show is an intense re-telling of the final moments of the life of Laura Palmer, and there's a LOT involved. Ticket prices are higher, because there's so many moving parts, and I'd be remiss in giving anything else away. We have a soundtrack, and we'll be re-releasing it remixed and remastered in 2019. You heard this here first.
You recently did a West Coast tour with your DJ collective and doing some "Robyn Parties." Can you talk about about the Robyn party, how that came about and how the first out of town parties went?
Russ: It's really, really hard to discuss this in a serious way, bc I begin to disassociate. What I would ask is for you to look up "Robyn Missing U film" (not the lyric video) and watch? The out of town parties were BLISSFUL. Living in NY, no one's ever gonna be like "OMG I SAW YOU IN A POP STAR'S MUSIC VIDEO!!" Out of town, people actually care about that stuff.
Laura: It was wonderful to meet so many great fans of Robyn.
You list your musical style as "occult electronic" and "doom gaze." Where did that come from?
Russ: Occult electronic is a term that I definitely don't think we originated, but comes from the fact that in a lot of our music we're working with legitimate rituals and invocations and spells meant to actually create and conjure specific happenings and outcomes in the moment, and not just "oh look cool here's some smoke and some cloaks and vague Pagan symbols we made up last night". Like, no hate on those bands, a lot of them mean a lot to me, but an upside down cross doesn't mean you're a witch. And we're definitely not the best witches, by any means, nor the most knowledgeable, but anyone who has seen us since 2017 knows the energy we convey.
Laura: I thought it was doom glaze. Wait, are we not a goth donut shop? Our music is electronic and loud and spooky freaky and every song is a sigil and every stone is a seance and we are casting real life magic spells with this so be scared or be prepared, I am directly after you and coming to destroy you.
What plans have you coming up in the next months as far as releases are concerned?
Russ: I guess the word is out that we're working on a compilation, with knifesex, of Robyn covers. APBWAS has been doing an encore of a mashup of the beat of our song New Jack Witch with a cover of a Robyn song since our spring 2018 tour, so we're looking forward to finally releasing that! Also I GUESS there's a new record but I don't know anything about that. Laura?
Laura: The new record is almost finished and should be released within the next month.
Russ: No it isn't oh god.
What is the most significant thing that has happened to you over the past year?
Russ: I think, with the collapse of some of the infrastructure we'd been relying on, we've come to realize we can rely on ourselves and our new orbit.
Laura: My heart was broken. Is broken. It wasn't by Russ, it was by Jordan, he's just some guy.
What might the strangest thing be that you listen to on the road on tour?
Russ: Um, did you know there's a dubstep remix of the song "Life Is A Highway"????!
Laura: Dane Cook. We listened to so much awful Dane Cook comedy— literally hours at a go—to try and see what anyone saw in his work, and WOOF.
One of you is a vegan and the other isn't. Is it difficult to decide where to eat while you are on the road and do you poke fun at each other for your choices?
Russ: It's not difficult because on the whole hotel bars only have hummus and wine, from what we've found.
Laura: Why would I make fun of Russ for something that isn't a choice?
Your name of course comes from the TV show Twin Peaks. To someone unfamiliar with the program, how do you describe it? And don't forget to include the "log lady."
Russ: Twin Peaks is a bit of a visual narrative on the evil that men do. The Log Lady is the antidote.
Laura: It's a true crime soap opera set in the Pacific Northwest based off a true crime that occurred in my hometown.
How do you describe a APBWAS live show?
Russ: It's an exorcism and then an invocation for love and health. We're about to start performing only songs from the upcoming record, and I cannot speak to what that's going to be, but it's feeling way less
Laura: Loud weird power hour ritualistic spooky goofball tunes for the freaky at heart.
William ZIMMERMAN
28/01/2019
---