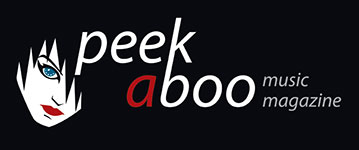 like this cd review
---
BETA EVERS
Delusion
Music
•
CD
[78/100]

Daft Records
06/02/2017, Fred GADGET
---
Beta Evers is the artist name of Brigitte Enzler, an electro DJ/musician from German Bavaria. Ever since the 90s she has managed to build up a solid reputation in her Heimat and beyond. For this new release, a first full album called Delusion, she chose Belgian label Daft Records to put this piece of art on CD.
The CD version of Delusion as usual contains some bonustracks that will not be on the vinyl version. And because 'electro' for some of you does not define things enough, and because we at Peek-a-Boo strive to inform you as best as we can, undersigned will gladly play the lazy music critic and engage in some name dropping. So at least you know what to expect.
Well, the music on this Beta Evers album reminds us mostly of a kind of mix between Chris & Cosey and Miss Kitten. This means the album contains 10 minimalistic songs. Minimalistic, but by no means less clever electronic songs drizzled with the always melancholic vocals of the lady herself. Luckily the looming and sometimes nearly emerging monotony that you could expect in this type of songs and music is battled by ckeverly placed and smart synthesizer melodies and sounds. Highlights of this album (or the most danceable tracks, if you wish) according to us are 'Stirring Dreams', 'Torrid Illusion' and of course also 'Frozen Breath'. You might recognize this last song from the fantastic 'Deep; A Female Orientated Electro/Wave Compilation' compilation album released by Daft Records earlier.
All in all Delusion is a must for all you Minimal/Electro heads!
Fred GADGET
06/02/2017
---
Beta Evers is de artiestennaam van Brigitte Enzler, een electro DJ/muzikant uit het Duitse Beieren. Al sinds de jaren '90 wist ze een stevige reputatie op te bouwen in haar heimat en ver daarbuiten. Voor uitbrengen van deze nieuwste release, een eerste full album met als titel Delusion, koos zij het Belgische Daft Records om dit kunstwerk op CD te laten persen.
Op de CD-versie van Delusion staan zoals bijna gebruikelijk ook enkele bonus tracks die niet op de vinyl versie te vinden zullen zijn. Omdat 'electro' voor sommigen onder jullie misschien een veel te breed en weinig veelzeggend begrip is, en omdat wij van Peek-a-Boo u graag zo goed mogelijk informeren, wil ondergetekende met veel plezier nogmaals voor u de luie muziekjournalist uithangen en zich bezondigen aan wat namedropping. Zo weet u ten minste welk vlees wij hier precies in de kuip hebben.
Wel, de muziek op dit album van Beta Evers doet ons vooral denken aan een soort mix van Chris & Cosey met Miss Kitten. Dit wil zeggen dat dit album tien minimalistische songs telt. Minimalistische, maar daarom zeker niet minder knappe elektronische songs overgoten met de steevast melancholische zang van de dame zelve. Gelukkig wordt de soms in de verte opkomende en dreigende eentonigheid, die men zou kunnen verwachten van dit soort nummers en muziek, op tijd en stond doorbroken door knappe en zorgvuldig geplaatste synthesizermelodieën en klanken. Hoogtepunten op dit album, of als u wil de meest dansbare nummers, zijn volgens ons: 'Stirring Dreams', 'Torrid Illusion' en natuurlijk ook 'Frozen Breath' dat u misschien al kende van de fantastische 'Deep; A Female Orientated Electro/Wave Compilation ' verzamelaar die eerder bij Daft Records verscheen.
Kortom, Delusion is een echte aanrader voor de Minimal/Electro heads!
Fred GADGET
06/02/2017
---