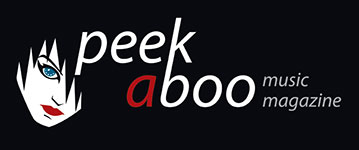 like this concert review
---
PETER HOOK & THE LIGHT
Playing Substance by New Order / Playing Substance by Joy Division @ Het Depot - Leuven - B - 27.01.2017
Concert
[75/100]

28/01/2017, Fred GADGET
---
With a heavy heart we thought we were going to have to pass on the performance of Peter Hook, the legendary bass player of the even more legendary band Joy Division. But quite unexpectedly plans changed and we found ourselves making our way head over heels to Leuven.
Arriving at the Depot the relatively big interest in this concert was evident by the amount of senior citizens braving the cold outside even before doors opened. The venue filled up nicely as soon as the doors opened. For this occassion 'Peter Hook & The Light - Play 'Substance' from Joy Division' had invited themselves as support act, but now as 'Peter Hook & The Light - Play 'Substance' from New Order'. To be honest that was an extra incentive for us to come to Leuven that evening because we have had the opportunity before to witness several strong perfomances of Peter Hook & The Light as a Joy Division incarnation. The room was full and the lights dimmed... We were ready!
Accompanied by loud cheers Peter Hook and his friends got on stage and immediately started with the captivating 'In A Lonely Place', originally written as Joy Division just before their iconic singer Ian Curtis decided to end his life. The ambiance was set. Or so we thought. Musically everything was sounding okay but it soon became evident that either Peter Hook or his voice was not feeling up to the job. Most of the time the sound of his voice sank to the background and ended up sounding like a kind of distant murmur. Luckily he was sometimes assisted by the slightly clearer voice of David Potts, the guitar player. Unfortunately this did not prevent the weak impression left by most songs, even though piece by piece these should have been gems of melancholic pop. But for some reason the flames wouldn't ignite... Maybe a little bit during 'State Of The Nation', 'Bizar Love Triangel' or 'True Faith', but still most of us returned slightly disappointed to the bar during the break to wash away all expectations not met with a fresh pint. We told each other that he, Peter Hook, had probably been saving himself and/or his voice so he could give it all in the second half. And maybe it wasn't even all his fault because we were under the distinct impression that the concert had been mixed slightly too goody-goody and tame. No pounding beats, no clearly whipping sequencers and synths... No, way too tame if you ask us.
But enough complaining, let's get ready for part 2 with 'Peter Hook & The Light Play 'Substance' from Joy Division'. Again Peter and his friends started strongly with 'No Love Lost' with the scanning refrain 'I need it!'. And we did need it after the New Order adventure earlier that night. Peter Hook's voice had suddenly returned and snarled the lyrics into the microphone in a way that was not too far removed from the late Ian Curtis' way of singing live. You could almost hear the collective sigh of relief coming from the audience... thank God this is going the right way...and when a few songs later 'Warsaw' resounded from the speakers the ban was finally broken and there was some severe dancing and singing along in the audience.
The New Order debacle was quickly washed away by songs like 'Leaders Of Men', 'Transmission' and 'She's Lost Control'. Because this is what Peter Hook & The Light do best: pay tribute to Joy Division. Just before the band started 'Atmosphere' Peter took a moment to commemorate Fred Velghe, a good assistant and friend of the venue who sadly past away recently and to dedicate the song to him. If there is any colour darker than black then his words made this already blacker than black song sound like it. In short: goosebumps! After the obligatory 'Love Will Tear Us Apart' the band left the stage under a well deserved thunderous applause. Unfortunately the lights went on immediately and we gathered that there would be no encore. The audience accepted the abrupt ending and left the room peacefully. And anyway in the bar DJ Malcolm Nix was ready to drain the last remaining energy from the persevering senior citizens with an excellent set that lasted till the early hours of the morning. Tired but still satisfied we left for home after some social banter and drinking. Peter Hook & The Light...we will be there again next time!
Fred GADGET
28/01/2017
---
Met een beetje pijn in het hart dachten we dat we dit optreden van Peter Hook, de legendarische bassist van de zo mogelijk nog meer legendarische band Joy Divison, aan ons moesten laten voorbij gaan door andere verplichtingen. Maar, geheel onverwacht veranderde de planning en konden we alsnog hals over kop naar Leuven scheuren.
Dat de belangstelling voor dit optreden redelijk groot was bleek al meteen bij aankomst aan het Depot, want nog voor de deuren openden stond er al een hele meute 40-plussers zich te verkleumen. Eens de deuren geopend stroomde het volk vlotjes binnen. Voor deze gelegenheid had 'Peter Hook & The Light – Plays 'Substance' from Joy Division' zich zelf uitgenodigd als voorprogramma maar dan als 'Peter Hook & The Light – Play 'Substance' from New Order'. We moeten eerlijk toegeven dat dit één van de extra redenen was om deze avond naar Leuven af te zakken daar we al enkele sterke optredens van Peter Hook & The Light as Joy Division re-incarnatie hadden mogen meemaken. De zaal was aardig volgelopen en het licht dimde … Wij waren er klaar voor!
Peter Hook en de zijnen betraden het podium onder luid gejoel van het publiek en zetten meteen in met het beklijvende 'In A Lonely Place' dat oorspronkelijk nog als Joy Division geschreven werd net voor hun iconische zanger Ian Curtis uit het leven stapte. De 'sfeer' zat goed … Dachten we want hoewel het muzikaal wel 'ok' klonk was het al snel duidelijk dat Peter Hook en/of zijn stem er weinig zin in had. Meestal zonk de zang weg naar de achtergrond waar het niet meer dan wat gemompel leek. Gelukkig werd Peter Hook soms bijgestaan door de iets zuiverder klinkende stem van zijn gitarist David Potts. Jammer genoeg nam dat niet weg dat de meeste nummers een slappe indruk nalieten, dit terwijl het toch stuk voor stuk pareltjes van melancholische pop songs zouden moeten zijn. Maar de vlam kwam er niet in … Misschien eventjes bij 'State Of The Nation', 'Bizar Love Triangel' of 'True Faith' maar toch keerden de meesten onder ons tijdens de pauze een beetje teleurgesteld naar de bar terug om alle niet ingeloste verwachtingen met een frisse pint door te spoelen. We maakten elkaar wijs dat hij, Peter Hook, zichzelf en/of zijn stem misschien wat wou sparen om er straks in het tweede deel een lap op te geven. Maar misschien lag het niet helemaal aan hemzelf want we hadden de indruk dat het concert wat te braaf en mak afgemixed was. Geen beukende beats, geen duidelijke opzwepende sequencers en synths … Nee.. gewoon te braaf als u het ons vraagt.
Maar genoeg gemekkerd, op naar de tweede ronde met 'Peter Hook & The Light play 'Substance' from Joy Divison'. Ook deze keer openden Peter en de zijnen sterk met het nummer 'No Love Lost' met het scanderende refrein "I Need It!. Ja we hadden het nodig na het New Order avontuur eerder op de avond. De stem van Peter Hook was opeens terug van weggeweest en snauwde de teksten door de microfoon op een manier die niet eens zo ver van wijlen Ian Curtis zijn live zang prestaties klonk. Men kon haast een zucht van opluchting horen opstijgen uit het publiek … God zij dank dit gaat wél de goede richting uit... en toen enkele nummers verder 'Warsaw' uit de speakers galmde was het hek van de dam en werd er her en der in de zaal duchtig gedanst en meegezongen.
Met daaropvolgende nummers als 'Leaders Of Men', 'Transmission' en 'She's Lost Control' was het eerdere New Order debacle al snel vergeten en vergeven want dit is wat Peter Hook & The Light echt goed kunnen; een hommage brengen aan Joy Division. Net voor de band 'Atmosphere' inzette zei Peter nog "Deze zaal verloor onlangs een goede medewerker en vriend, Fred Velghe, aan hem dragen we deze song op". Als er nog een donkerdere kleur dan zwart bestond dan deden deze woorden dit gitzwarte nummer eens te meer zo klinken. Kortom kippenvel met hoofdletter K! Na het obligatoire 'Love Will Tear us apart' verdween de band van het podium onder een daverend applaus dat ze steevast verdiend hadden. Jammer genoeg gingen toen de lichten meteen aan en was het duidelijk dat er geen bissen meer aankwamen. Ook het publiek nam vrede met het abrupte einde en verliet zonder veel morren de zaal. In het café stond DJ Malcom Nix trouwens klaar om de laatste restjes energie uit de volhardende 40-plussers te persen met een puike DJ set tot in de vroege uurtjes. Moe maar toch voldaan keerden we na wat sociale babbel drink gedrag huiswaarts. Peter Hook & The Light... volgende keer gaan we gewoon weer kijken!
Fred GADGET
28/01/2017
---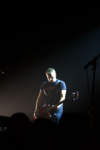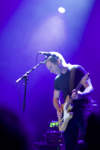 ---