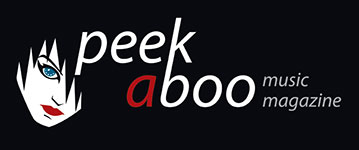 like this cd review
---
BEYOND THE LABYRINTH
Ghost Melody
Music
•
CD
[80/100]

Incommunicado B&M
13/12/2015, Mark VAN MULLEM
---
Two years after the single Healer, Beyond The Labyrinth is back. The remarkable new single Ghost Melody is a kind of marriage between goth, cabaret and musical. The song evokes the atmosphere of a circus, but there's also a Christmas feel. No panic though, as this is not another Last Christmas, thank God for that!
After a first listening, the melody is locked up in your brain, as Ghost Melody is a real catchy and infectious earwig. And to top it all: it makes a human being happy!
Ghost Melody, with its classic theatrical approach and an ¾ arrangement is atypical for Beyond The Labyrinth, and on the other hand: it's not! The band is often placed between classic rock and progressive rock, but you also hear heavy roots and a poppy influence. No, you never will be able to put Beyond The Labyrinth in a box. The question is whether you need to.
The warm, pleasant voice on Ghost Melody sounds very familiar. But who is he? The band is quite secretive about this mysterious guest vocalist. Anyway, the man is blessed with a beautiful voice. The single with its warm sound and rich instrumentation has actually everything to become a hit. Perhaps because of the atypical sound of Ghost Melod, some listeners may find their way to some other stuff ofthisband.
Ghost Melody is the harbinger of the fourth album by Beyond The Labyrinth. It will feature various guest vocalists. After the album Chapter III: Stories (2011), they released the single Healer, but then it was quiet. The live setup broke up in 2013, but in the meantime they have been working on new material in the studio.
You can listen, stream or purchase Ghost Melody via the popular digital platforms like iTunes, Spotify, Deezer and Emusic.
Mark VAN MULLEM
13/12/2015
---
Twee jaar na de single Healer, laat Beyond The Labyrinth opnieuw van zich horen. De opmerkelijke nieuwe single Ghost Melody is een soort huwelijk tussen gothic, cabaret en musical. Het nummer roept de sfeer op van een circus, maar evengoed dat van kerstmis. Maar dan niét die van Last Christmas en andere calamiteiten, God zij geloofd!
Na een eerste luisterbeurt zit je nog tot lang met de pakkende melodie in je hoofd. Dat maakt Ghost Melody tot een oorwurm. Erg catchy en aanstekelijk. En wat een niet onaangename bijkomstigheid is: een mens wordt er op slag goedgeluimd van.

Ghost Melody, met zijn klassieke en theatrale aanpak en een arrangement in een ¾-maatsoort, is atypisch voor Beyond The Labyrinth, en eigenlijk ook weer net niét. De band wordt vaak tussen classic en progressieve rock geplaatst, maar heeft evengoed heavy roots als poppy-invloeden. Je kan Beyond The Labyrinth eigenlijk nooit in een vakje plaatsen. Vraag is ook of dat moet.

De warme, bijzonder aangename stem op Ghost Melody klinkt erg bekend in de oren. Maar wie is het dan? De band doet nogal geheimzinnig over deze mysterieuze gastzanger. De man is alleszins gezegend met een fraai stemgeluid. De single met zijn volle warme sound en rijke instrumentatie heeft eigenlijk alles om een hit te worden. Ghost Melody kan een atypisch visitekaartje worden, met de hoop dat luisteraars dan ook de weg naar het andere werk van de band vinden.

Ghost Melody is de voorbode van het vierde Beyond The Labyrinth-album waarop de band met diverse gastvocalisten werkt. Na het album Chapter III: Stories (2011) volgde nog de single Healer maar toen werd het stil rond de band. De livesetup splitte in 2013, maar in tussentijd is in de studio aan nieuw materiaal gewerkt.

Ghost Melody kan beluisterd/gestreamd en aangekocht worden via de populairste digitale platformen als iTunes, Spotify, Deezer en Emusic.
Mark VAN MULLEM
13/12/2015
---