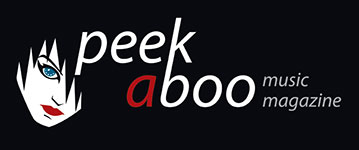 like this cd review
---
LUDOVIK MATERIAL
Model Generation
Music
•
CD
Electro Rock
•
Post Punk
[87/100]

KAPA Records
13/12/2015, Jurgen BRAECKEVELT
---
The post-punk sound of Ludovik Material stands for versatility. The Ljubljana trio (Tina Perić, Matija Dolenc and Jaka Berger Brgs) proves on Model Generation that the genre has no limits, in terms of origin end in terms of their quirky sound, that contains both guitar sounds of post-punk and grunge, even complemented with electronic influences.
The album contains eight songs that regularly crash into the sound barrier, and at other times they have an almost endearing sound. Although Ludovik Material mixes elements of noise-rock, post-punk and electro, the songs sound as great compositions.
Opener All Yours begins with a noisy sound pattern which is joined by a guitar riff. Tina's voice gives it a melancholic feel, at times even endearing. She always touches you, when she's sweet, but also when she sounds aggressive (and believe us…she can be!)
Model Generation is an earlier released single: a repetitive rhythm section with a minimal guitar sound plus some electronics as support.
Summertime is rather mainstream rock, and yet it has something extra. Rain Of Silence is down tempo and offers us the kind of noise The God Machine was known for. Towards the end of the song, you hear screams and grunts. A very powerful track that really begs to be played loud. In Let's Unite, Tina uses the maximum of her voice, with in the background guitars that have a spitting sound, there's something mesmerizing about that song!
Cleansing has some electronics, while the fast guitar sounds give the song a punk feel. Failed Plans is the most sensitive song on this album. A very quiet tune with seductive vocals that whisper words of pain and hope in your ear, both in one song. Later a heavy doom guitar joins in and it gives the song an extra twist. But it's not over yet, at the end some piano music gives you goose bumps.
in the last song, Working Ass, the vocals remind me of Guano Apes. Heavy, aggressive, with an electronic tune and a solid drum beat. The song ends as if you are sitting in front of an ancient, creaking radio with a bad connection.
This band deserves a stage on which itcan release its inner demons. It offers you a fresh look of how post-punk can be, especially when mixed mix with these many influences. A listening session is recommended, the purchase is worth considering, but setting up a party is required.
Jurgen BRAECKEVELT
13/12/2015
---
Ludovik Material staat voor veelzijdigheid in postpunk. Het uit Ljubljana afkomstige trio (Tina Perić,Matija Dolenc en Jaka Berger Brgs) bewijst met Model Generation dat het genre geen grenzen kent. Niet alleen qua afkomst, noch betreffende de eigenzinnige sound, die zowel gitaarwerk bevat uit postpunk- als grungewerk, doorspekt met elektronica-invloeden.

Het album bevat 8 nummers die regelmatig door de geluidsmuur gaan en op andere momenten bijna vertederend klinken. Alhoewel Ludovik Material met elementen uit noiserock, postpunk en wat flarden elektropop experimenteert, komen het wonder boven wonder allemaal samen in stuk voor stuk geweldige nummers.
Opener All Yours begint met een noisy klankpatroon, dat algauw wordt vergezeld door een vrolijk gitaarriffje. Tinas stem maakt het geheel nog weemoediger, zelfs bijna vertederend. Het raakt je, zowel op lieflijke wijze, als wanneer ze uithaalt… en dat kan ze!
Model Generation is een single die eerder uitkwam. Een repetitieve ritmesectie krijgt een minimaal gitaargeluid en een palet van elektronica als ondersteuning.

De song Summertime is eerder mainstreamrock en toch heeft hij iets extra. Rain Of Silence is downtempo en brengt een hoop gitaarherrie waarmee The God Machine ook durfde uit te pakken. Tegen het einde komen screams en grunts de zang versterken. Een heel sterk nummer dat qua compositie en sound vraagt om luid gespeeld te worden. In Let's Unite trekt Tina alle registers open. Gitaren spugen hun klanken op de achtergrond. Het heeft iets bezwerend...
Cleansing trekt de elektronicaregisters open, en het snelle gitaarwerk geeft het nummer een punky elan. Failed Plans is het gevoeligste nummer op deze schijf. Een heel rustig deuntje, heel verleidelijke vocalen die in je oor fluisteren en waarin je pijn en hoop in éénzelfde song hoort, later vergezeld door een zware doomachtige gitaar die het nummer toch weer die twist geeft, om dan weer uit te doven in een pianodeuntje met een stemgeluid dat je kippenvel bezorgt.
De laatste song, Working Ass, doet me qua vocalen denken aan Guano Apes. Zwaar, agressief, een elektronicadeuntje, een stevige drumbeat eronder en ja! De song sterft uit met een sound alsof je voor een stokoude, krakende radio met een slechte verbinding zit.
Deze band verdient een podium waarop hij zijn duivels mag ontbinden. HIj brengt een gezonde en frisse kijk op wat postpunk is, vooral met de vele invloeden die erdoor zijn gemengd. Een luisterbeurt is aan te raden, de aanschaf is te overwegen, maar een feestje bouwen is verplicht.
Jurgen BRAECKEVELT
13/12/2015
---