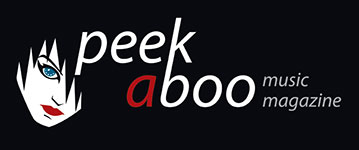 like this concert review
---
DISTORTED RETROSPECT
Distorted Retrospect - 6th March 2018 - Charlottesville, VA (USA)
Concert
[75/100]

12/03/2018, Charles "Chuck" MOORHOUSE
---
On 6th March 2018, Christof Krztov (also of Velvet Acid Christ) dropped his synths and beats into the basement of the Jefferson Theater in Charlottesville, Virginia to entertain at the weekly Goth Night held there every Tuesday. And entertain he did.
His vocals were smooth and his sounds were complete. Distorted Retrospect's orchestration and polished synths laid over deep danceable beats that let the surprisingly effective sound system wash over the lucky listeners at this suberranean venue. Christof did not move from behind his keyboards during the performance but the light beams enhanced even small guestures from the stage.
The densly packed crowd on the small dancefloor, however, did not need much extra encouragement for it get moving. The set seemed to go quickly and I left looking forward to hearing more live performances from Distorted Retrospect. The basement club seemed an appropriate venue for the performance and the weekly scene night. It was busy but not crowded. The patrons were diverse - from cyber to goth to bordering on cosplay - and the bartender was efficient and attentive. After Distorted Retrospect, DJ Angel Metro played some nice sets across the spectrum of the dark music genre but, by then, the crowd seemed a tad less interested. I left looking forward to the next visit to this underground club.
Charles "Chuck" MOORHOUSE
12/03/2018
---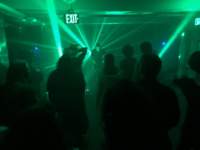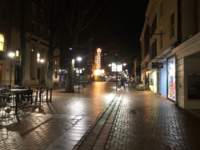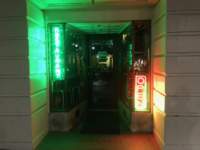 ---