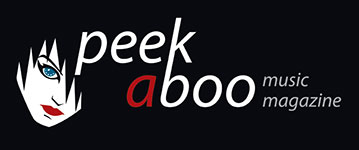 like this concert review
---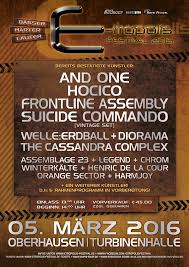 E-TROPOLIS FESTIVAL 2016
Oberhausen (5/03/2016)
Concert
[90/100]

09/12/2016, Peter HESELMANS
---
For the third time, the E-Tropolisfestival took place. since it was moved from Berlin to the Ruhr area in 2014, it has become more and more popular every year. The meeting place is still the Turbinenhalle in Oberhausen, an old power station for the steel industry until 1980, perhaps the perfect location for a festival with EBM, electro and industrial sounds.
The number of visitors of 2015 (4000) was equaled this year. The renovated rooms make everything more enjoyable : a new stage, a balcony and bars. This year more and more Belgian and Dutch visitors found their way to this indoor festival.

This year's lineup was again very diverse and promising, and of course a real must for all lovers of the dark electronic genre. Due to the rain, my scheduled two-hour ride was a bit longer, and so I missed a few bands that played at the start of the festival. But no worries, there were plenty of brilliant gigs planned during the afternoon and the evening.
The first complete gig I saw was The Cassandra Complex. Rodney Orpheus and Paul Dillon founded the band in 1980 and scored a few hits in the indie scene. After many ups and downs, the band members wanted to prove that they are still alive. And they are, the oldies of the festival could compete with the youngsters, and the hits that were composed 25 years ago were highly appreciated. Rodney has a very good voice and songs like Nightfall and Ground were performed with some Irish flair, nice to see them again. (85/100)

Winterkälte was one of the few pure industrial bands at the festival. For some mainstream concertgoers this was a little too much, but the real fans of the genre stood in the first row and made ​​a party. You love it or you leave after a few songs. Personally, I belong to the first group, and I floated away on a sea of ​​unadulterated rhythm 'n noise. Udo Wiesmann, the big boss of the Hands-label, founded Winterkälte in 1991, and along with drummer Eric De Vries, he played the set as a fighter pilot on speed. The energetic sound of explosions and harsh electronics was like a tsunami in your head, Winterkälte remains one of the best and hardest industrial acts on our planet. (95/100)
A small minus on this almost flawlessly organized festival was the fact that some acts began when the others were still on stage That caused a chaotic situation. So, when I entered the hall in which Welle:Erdball was playing, the band wa already on stage for a while. This German band was founded in 1990 and makes minimal electro. There is always a cheerful and childish atmosphere when I see this band. Despite their adoration for the serious work of pioneers such as Kraftwerk, the lyrics are poignant. They just make fresh and simple electro pop tunes, and this was appreciated by the public that loudly sung the lyrics. The gig reached a climax when a dozen large balloons were dropped on the audience during Schweben,Fliegen Und Fallen. (80/100)
Front Line Assembly was founded in 1986, when Bill Leeb left Skinny Puppy. The name was inspired by the Belgian EBM pioneers of Front 242. The band nearly died several times, but always managed to recover by releasing surprisingly good records. I was obviously not the only one with high expectations as it was difficult to find a place in the first rows. There was not a laptop in sight, so this was a real old school set with drums and synths that enriched the EBM sound. They also used a large video screen that accentuated the dark and hard beats. During three decades Front Line Assembly showed us its black electronic side and influenced many young bands. This set was exactly as we expected, no nonsense or extremities, just a very good gig of this still very productive and powerful underground band. (85/100)
Diorama was one of the headliners at the festival, because these Germans are very popular in their own country. When I entered the hall, the atmosphere was promising, and this synth pop band was a relief after the harder work by others. Two members of Diorama also play in Diary Of Dreams and Frozen Plasma: Torben Wendt and Felix Marc. Musically, the set worked perfect, and Torben is always present on stage. His dance steps and musical commitment were greatly appreciated, especially by the many female fans. The set consisted of the greatest hits and especially during the club killer Synthesize Me the audience went nuts. Even though I saw this band several times, I was enchanted by the smooth electronic dark wave that was presented with great energy and perfection. The danceable beats and the melodies did the rest. I must admit that this was a positive surprise on the festival, and I look forward to hear the new album, which is expected in September. (100/100)
The best performance was the opening act of the evening: Hocico. Erk sang on a large video screen, while on stage two latex-clad angels added more strength to the beats with heavy drums, simply delicious. The latest album Ofensor was in my personal top 10 in 2015, so my expectations were high. Erk Aicrag and Rasco Agroyam made a party, and that resulted in a jumping and dancing audience. Erk didn't stop moving and he caused quite some hilarity among the photographers. The hyperactive and pounding rhythms were fully appreciated. The brutal and harsh electronics make this band one of the top acts in the harsh electro/aggrotech scene. The explicit images on the video screen gave this performance an extra boost, and songs like Sex Sick and Bite Me caused violent moments in the first rows. It was really admirable to see what an energy Erk has on stage. Perhaps Hocico should add some variety to the songs, as for some spectators it may sound monotonous after a while. Anyway, the set was a perfect mix of older and newer material, but without a climax. This had everything to do with the fact that Suicide Commando had started playing in the other hall. (90/100)
A band I really looked forward to, was Suicide Commando. I had the luck to see this vintage set before, and I was euphoric about it, and so I thought this gig would be one of the highlights of this festival. Some may not know it, but the first tape of Johan Van Roy was made in 1988, more than twenty-five years ago. Johan realized that there are actually two generations who are familiar with his music. Because he wanted to separate the older and the new songs, he launched these vintage shows. No Mario on stage, and Torben was supported by Gert Haelevoet (Frames A Second). Suicide Commando was a nostalgic electro bomb, and the lyrics of the club hits Necrophilia and See You In Hell were loudly screamed by the public. It was wonderful to hear these old tracks. Johan slightly modified the set list by drawing the line until Construct-Destruct of 1998. It was extraordinary to see how a packed hall enjoyed the music of this Flemish pioneer and respects his older work. Some young colts were hopelessly waiting for Attention Whore or Bind Torture And Kill. But no, They'll have to wait for the 'normal' Suicide Commando shows. (95/100)
The main act then. And One or Rick Shah, Joke Jay, Nico Wieditz and of course Steve Naghavi. This band shouldn't be introduced any longer as soon after its founding, Metal Hammer became a club hit, and these guys stayed at the top in the synth-pop genre until now. The musical secret is sublime and simple: heavy energetic bass lines, typical And One synthesizer melodies and the fantastic voice of Steve. This Berlin boys gave E-Tropolis a worthy ending,.Streve knows his job, his movements, the melancholy that he puts into some songs, and of cousre how to push this party to the cllimax. Sometimes And One uses an EBM style, sometimes (too) smooth synth-pop. The many hits made the public stay until the final song. (90/100)
This indoor festival had the perfect location, sublime bands, an excellent organization, all the gigs started right on time, clean toilets, plenty of lockers and rest areas. There was even a wide variety of food stalls and everything at very reasonable prices (2 Euro for a beer). Only minus point is as said that you can't watch everything, personally I missed the Icelandic Legend. The next edition is already in our notebook: 18th March, 2017.
Here's a compilation video. The full tracks can be seen on my YouTube-channel (numanoid65)
Peter HESELMANS
09/12/2016
---
Voor de derde keer vond het E-Tropolisfestival plaats. Nadat het in 2014 van Berlijn naar het Ruhrgebied verhuisde, werd het ieder jaar groter en populairder. De afspraakplaats is nog steeds de Turbinenhalle in Oberhausen, een oud complex dat tot 1980 als krachtcentrale voor de staalindustrie in gebruik was, misschien de perfecte locatie voor een festival met EBM-, elektro- en industriële klanken.
Het bezoekersrecord van de vorige editie (4000 man) werd ook deze keer weer geëvenaard. De volledig gerenoveerde zalen maken het aangenamer: een nieuw podium, een balkon en bars; kortom een zeer mooi staaltje van Duitse grondigheid. Dit jaar vonden ook meer en meer Belgische en Nederlandse bezoekers de weg naar dit indoorfestival.
De line-up voor dit jaar was wederom heel uiteenlopend en veelbelovend, een must dus voor alle liefhebbers van het donkere elektronische genre. Mijn geplande twee uur durende rit viel door het regenweer ietsje langer uit waardoor ik enkele vroeg geprogrammeerde bands jammerlijk miste. Maar geen nood, de namiddag en de avond hadden nog menig prachtig concert in petto.
Het eerste optreden dat ik helemaal zag was dat van The Cassandra Complex. Deze oudjes lgaan al een tijdje mee in het circuit, Rodney Orpheus en Paul Dillon hielden de band boven de doopvont in 1980 en scoorden zelfs een paar hitjes in de indiescène. Na heel wat ups en downs wilden de bandleden nogmaals bewijzen dat ze nog springlevend zijn. En dat waren ze, de Nestors van het festival hielden goed stand tussen het jonge geweld op andere podia, en de hitjes van meer dan vijfentwintig jaar geleden werden geapprecieerd. Rodney was nog heel goed bij stem en nummers als Nightfall en Ground werden met de nodige Ierse flair gebracht, een heel aangenaam weerzien dus met deze band. (85/100)
Winterkälte dan, een van de enige pure industriële acts op dit festival. Voor een groot aantal mainstream concertgangers was dit misschien iets teveel van het goede, maar de echte liefhebbers van het genre stonden al enige tijd op de eerste rij en maakten er een feestje van. Je houdt ervan of je gaat na enkele songs weg. Zelf behoor ik duidelijk tot de eerste groep. Ik liet me wegdrijven in een zee van onvervalste rhythm' n noise. Udo Wiesmann, inderdaad de grote baas van het Hands-label, richtte Winterkälte op in 1991, en samen met drummer Eric De Vries raasde hij door de set als een straaljagerpiloot op speed. De energieke geluidsexplosies en harde elektronica waaierden als een tsunami door je hoofd. Dit is en blijft één van de beste en hardste industriële acts op onze planeet. (95/100)
Klein minpuntje op dit bijna vlekkeloos georganiseerde festival is toch weer een groot aantal onnodige overlappingen, en daardoor soms een chaotisch heen en weer geloop tussen de twee zalen. Welle:Erdball was al goed opgewarmd toen ik binnenkwam. Deze Duitse band draait ook al een tijdje mee, is opgericht in 1990 en zit in het vakje van de minimal electro. Er hangt altijd iets vrolijks en kinderlijks in de lucht als ik deze band zie, ondanks de adoratie van de bandleden voor het serieuzere werk van pioniers zoals Kraftwerk, en de soms aangrijpende teksten. Welle:Erdball maakt gewoon frisse en simpele elektropopdeuntjes, en het publiek zong duchtig mee. De band bereikte een climax met Schweben, Fliegen Und Fallen waarvoor een dozijn grote luchtballonnen in het publiek werd gedropt. (80/100)
Front Line Assembly gaat ook al een tijdje mee in het alternatieve circuit. Deze band werd in 1986 opgericht, toen Bill Leeb het voor bekeken hield bij Skinny Puppy. De naam is geïnspireerd door de Belgische EBM-pioniers van Front 242. De band was al enkele keren op sterven na dood, maar weet zich steeds te herpakken en komt vaak verassend uit de hoek. Met enige verwachting ging ik dus naar dit optreden en ik was kennelijk niet de enige, het kennerspubliek uit de Ruhr-regio stond al voor het podium te drummen. Geen laptops te bespeuren, een echt 'old school'-optreden dus met drums en synths, wat de EBM-sound en sfeer zeer ten goede kwam. Het gezelschap maakte ook gebruik van een groot videoscherm wat nogmaals hun donkere en harde beats accentueerde. Front Line Assembly geeft ons al drie decennia lang een kijkje op zijn zwarte elektronische prestaties en heeft ondertussen menig andere jonge bands beïnvloed. Deze set was precies zoals we verwachtten, geen onzin of extremiteiten, gewoon een fijne en bijwijlen zeer goede prestatie van deze productieve en krachtige undergroundband. (85/100)
Diorama stond heel hoog op de affiche, want deze Duitsers zijn razend populair in eigen land, en alweer door de overlapping met de vorige band stond er een zee van publiek voor mij. De sfeer in de zaal was veelbelovend en de meer synthpopachtige tonen waren voor sommigen misschien een verademing na het wat hardere werk van sommige bands. Twee bandleden van Diorama spelen ook in respectievelijk Diary Of Dreams en Frozen Plasma, namelijk Torben Wendt en Felix Marc. Muzikaal gezien is hun set tot in de perfectie uitgewerkt, en Torben is altijd heel aanwezig op het podium. Zijn danspasjes en de inleving in de muziek werden op prijs gesteld, vooral door de vele vrouwelijke fans. De set bestond hoofdzakelijk uit de grootse hits en vooral de club-killer Synthesize Me deed het publiek uit de bol gaan. Ondanks het feit dat ik deze band al verschillende keren aan het werk zag, moet ik toegeven dat hij me deze keer wel helemaal kon overtuigen. De vlotte elektronische dark wave werd met een geweldige energie en perfectie gebracht, en de dansbare beats en de prachtige melodieën deden de rest. Ik moet eerlijk toegeven dat dit de positieve verassing van het festival was, en ik kijk al uit naar de nieuwe cd die in september wordt verwacht. (100/100)
Van het beste optreden naar de beste openingsact van de avond die was weggelegd voor de Mexicaantjes van Hocico. Een groot videoscherm waarop Erk begon te zingen, terwijl op het podium twee in latex geklede engelen de beats nog wat extra kracht bijzetten met zware drums, heerlijk. Hococo's laatste cd Ofensor stond in mijn persoonlijke top 10 van 2015, en ik had dus hoge verwachtingen met betrekking tot dit optreden. Erk Aicrag en Rasco Agroyam maakten er een feestje van, met een springend en dansend publiek als gevolg. Erk staat geen seconde stil, wat dan weer wat hilariteit veroorzaakte bij de fotografen. Deze hyperactiviteit en de bonzende ritmes werden geapprecieerd. De brutale en harde elektronica maken deze band ook tot een van de topacts in de harshelectro/aggrotech-scène. Ook de expliciete beelden op het videoscherm gaven dit optreden een extra boost, en tijdens Sex Sick en Bite Me ging het er hevig aan toe op de eerste rijen. Het was werkelijk bewonderenswaardig met welke energy Erk op het podium staat, alsook de authenticiteit van deze band. Hocico steekt misschien iets te weinig variatie in zijn songs waardoor de neutrale toeschouwer na een tijdje dezelfde monotone dreun hoort. Ondanks dat, bestond de set uit een perfecte mix van ouder en nieuw materiaal, al was er tegen het einde toch geen climax, maar dat had vooral te maken met het feit dat Suicide Commando al aan zijn set begonnen was. (90/100)
Een van de optredens waar ik echt naar uitkeek was Suicide Commando. Ik had het geluk gehad om deze vintageset al eens te mogen bewonderen, en ik was toen zo euforisch dat dit waarschijnlijk wederom een van de hoogtepunten van dit festival zou worden. Sommigen zullen niet eens weten dat de eerste tape van Johan Van Roy al uit 1988 dateert, meer dan vijfentwintig jaar geleden dus. Hij besefte dat er dus eigenlijk al twee generaties zijn die z"n muziek kennen en naar de optredens komen. Omdat Johan de oudere tracks bewust gescheiden wilde houden, werden deze vintageshows gelanceerd. Geen Mario op het podium, en Torben kreeg de steun van Gert Haelevoet (Frames A Second). Suicide Commando sloeg in als een nostalgische elektrobom en de clubhits Necrophilia en See You In Hell werden luidkeels meegebruld. Het was heerlijk om deze oudere tracks nogmaals te horen en het iets oudere gedeelte van het publiek genoot met volle teugen. Johan had de setlist wat aangepast en trok ditmaal de lijn tot en met Construst-Destruct uit 1998. Het was ook buitengewoon om te zien hoe een bomvolle zaal genoot van deze Vlaamse pionier. Enkele jonge veulens stonden hopeloos te wachten op Attention Whore of Bind Torture And Kill. Neen dus: even wachten op de 'gewone' Suicide Commando-shows. (95/100)
Op naar de hoofdact dan. And One ofwel Rick Shah, Joke Jay, Nico Wieditz en natuurlijk Steve Naghavi. Deze band moet eigenlijk niet meer worden voorgesteld. Kort na het ontstaan van de band werd de clubhit Metalhammer uitgebracht, en deze jongens zijn sindsdien constant aan de top gebleven in het synthpopgenre. Hun muzikaal geheim is even subliem als simpel, de zware doortastende basslijnen, de kenmerkende And One-synthesizermelodieën en de fantastische stem van Steve. Deze Berlijnse boys gaven dit E-tropolisfestival een waardige afsluiter en ze hadden natuurlijk ook een streepje voor bij het lokale publiek dat de Duitstalige tracks luidkeels meebrulde, soms neigend naar EBM, dan weer meer (te) gladde synthpopklanken en vooral de talloze hitjes deden het publiek tot de laatste tonen blijven. Steve weet hoe hij het publiek kan onderhouden, zijn bewegingen, de melancholie die hij in sommige liedjes legt en natuurlijk ook hoe hij het 'feestgehalte' opdrijft tot de climax.(90/100)
Een perfecte topact voor het grote publiek dus en een geweldig einde voor dit indoorfestival. De locatie en vooral de bands waren van een zeer hoog niveau. Ook een positieve noot voor de organisatie, vlekkeloos, alle optredens precies op tijd, maar ook schone toiletten, voldoende lockers en rustplekken zijn van belang. Er was zelfs een brede verscheidenheid aan eetkraampjes en dit alles tegen zeer democratische prijzen (bijv. bier en frisdrank voor 2 euro). Het enige minpunt is de overlapping van de acts, met soms een heel nerveus heen en weer geloop tussen de twee zalen, om dan nog maar een klein gedeelte van de set mee te pikken in een bomvolle ruimte. Persoonlijk heb ikdaardoor zelfs het IJslandse Legend volledig gemist. E-Tropolis wordt zeker een vaste waarde op de festivalkalenderd en we verheugen ons al op de volgende editie (18 maart 2017).
Hier een compilatievideo van de besproken acts. De volledige versies kan je op mijn YouTube-kanaal bekijken (numanoid65).
Peter HESELMANS
09/12/2016
---