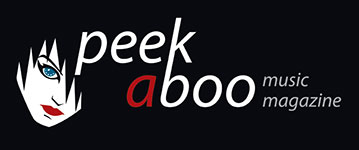 like this concert review
---
ENZO KREFT - DARK MINIMAL PROJECT - CAUSENATION
@B52 Music Club Eernegem
Concert
09/09/2023, Jurgen BRAECKEVELT
---
While a few hundred people lounge in their beanbags at W-fest in Oostende, watching eighties bands, we descend on Eernegem's B52. On stage two Belgian electro/EBM-acts and Dark Minimal Project from Rijsel. Time to get our dancing shoes on!
The opener is Causenation. The band of Antwerp's Ivan Heyligen, aka Vain Sancrosant, Dries De Vreeze from Gent and Jonas Herrnia (not present at B52 tonight). After 20 years of musical silence, Vain purchased a new synthesizer in 2015. More equipment followed, resulting in a real studio and the start of Causenation. And what they do, they do extremely well. The show was solid and very entertaining. Vain has a good voice. It's a mix of synth-wave, EBM and darkwave.
The band started their set with The Time Has Come from their last EP Divided We Fall. And that was all we needed to get this party started! Also from this EP: In The End. Nice tempo. Great rhythms. Yes, even for the people that don't believe: Belgian electro is not dead! A Better Day is a bit darker and slower - a blend of darkwave and postpunk. The audience swallowed it all with gusto. And this, for me, was the most memorable song of this really strong performance.
Second on stage are French Dark Minimal Project. A duo from Rijsel, Guillaume Van De Rosieren (vocals, keyboards & programming) and Ange Vesper (vocals, keyboards, pads). Their second longplayer Ghost Of Modern Times was only released in May 2023. Before that, they had released Cold Black Room in 2022. They bring synth-wave with a minimal edge and Depeche Mode-like synthpop. Both Guillaume and Ange do vocals. I had not seen them live before, so I was a bit apprehensive. After the intro, the party got started with Worksite. A catchy and easy-to-digest minimal synth song without vocals, taking us to a dark musical place. Followed by Black Light. Slightly more well-behaved, but what's wrong with that? In any case: musically sound and nice and varied. A song like Dancing Souls is more minimalistic synth-wave, whereas Infected By Love already has a bit more beats, but still sounds like the eighties. While the vocals on the albums are okay, the vocals live were not always up to scratch. Either that or my hearing is deteriorating strongly. But then again I am also not the youngest anymore... Anyway: we had a great time. They bring catchy music and thoroughly enjoy what they are doing. I will certainly follow them from now on.
And then there is headliner Enzo Kreft. The man from Mechelen who released two obscure-sounding minimal tapes in the early 80s of the (already) last century. His debut album Me Is was already released in 1983. A few albums later, he released Shelter in 2023. Another album to seriously take into account (see the review on this site). If you have seen Enzo Kreft live before, you know you're in for a party. Not in a playful way, because his songs deal with the more heavy themes in life. War, injustice, manipulation, environmental disasters, pollution, degrading, and social criticism, all packed in solid electro songs, varying from minimal to heavy, almost old-school EBM. He opens with Standing On The Soil Of Another. A slightly demure start. Duck And Cover, also from the last album, is a tasteful minimal song with bone-shaking synths. And Blood Diamonds seamlessly follows. A small jump to the previous album Different World is Woke Up This Morning. 'Sun is shining, it's a bright new day, life seems to go its normal way, ow yeah…' Lyrical and compelling. The build-up of the set is balanced. And the first songs are warm-ups to more solid stuff. Viral Paranoia is a first hammer blow. The deep old-school EMB bass is stomping firmly. After that some 'older' work with Abandoned Power Plants and, referring to the eighties, I Am The Cockroach.
It doesn't matter how young or 'old' a song is, Enzo Kreft brings them all with intensity. And the audience feels that too, as they start to stomp along and surf on the electro. A bit demure at Scanned. Intensely moving at Biometrics. And where the performance was supposed to end, the audience did not have enough yet. Not nearly enough. So Enzo sprinted to the finish line and the title song is the best way of explaining what it's all about: Because...It's Going On And On. If you were looking for a dance to end it all: here it was. Anyway: a really strong performance as usual.
It's going on... but not tonight. At around 01.15 hours we close for the evening. No, it's electro that's going on. In all its different shapes and genres. Tonight in the sympathetic B52 halfway down West Flandres. I hope many more will follow.
Setlist Causenation
The Time Has Come
In The End
Divided We Fall
A Better Day
Fear
The Future
The Things You Promise
Face Your Shame
Hearts Beat
Strong Structures
Setlist Dark Minimal Project: See pictures
Setlist Enzo Kreft
1. Standing on the Soil of Another
2. Duck and Cover
3. Blood Diamonds
4. Woke Up This Morning
5. Nature Isn't Bound By Borders
6. Ostrich Politics
7. Viral Paranoia
8. Smoggy Jungle
9. Abandoned Power Plant
10. I Am The Cockroach
11. Scanned
12. Connected
13. Biometrics
14. No to These Atrocities
15. There Is No Tomorrow
16. It's Going On And On
Jurgen BRAECKEVELT
09/09/2023
---
Terwijl op W-fest in Oostende een paar honderden mensen op zitzakken naar eighties-bands hangen te kijken, zakken wij af naar de B52 in Eernegem. Op het podium twee Belgische electro/EBM-acts en het uit Rijsel afkomstige Dark Minimal Project. Tijd om de beentjes te strekken denk ik dan.
Opener is Causenation. De band van de Antwerpenaar Ivan Heyligen, aka Vain Sancrosant. Samen met Gentenaar Dries De Vreeze en Jonas Herrnia (die er in de B52 live niet bij was). In 2015, na 20 jaar muzikale stilte, kocht Vain terug een eerste synthesizer. Na nog wat aankopen was het al snel een heuse studio en startte Causenation. En wat ze doen, doen ze steengoed. Het optreden stak stevig in elkaar, was onderhoudend. Vain zingt ook goed. Het is een mix van synthwave, EBM en darkwave.
Wat de set betreft, opende de band met The Time Has Come van de laatste EP Divided We Fall. Meer was niet nodig om het dansfeestje alvast op gang te brengen. Ook In The End komt van de EP. Lekker tempo. Mooie ritmes. Tjah, ook zij die het niet zouden geloven: Belgian electro is not dead! Het mocht wat trager en donkerder met A Better Day. Een blend tussen darkwave en postpunk. Het publiek smaakte het méér dan goed. En voor mij was het de song die het meest bleef plakken, van een overigens heel sterk optreden overall voor alle duidelijkheid.
Tweede band op het podium was het Franse Dark Minimal Project. Een duo uit het Franse Rijsel bestaande uit Guillaume Van De Rosieren (vocals, keyboards & programming) en Ange Vesper (vocals, keyboards, pads). Hun tweede langspeler Ghost Of Modern Times kwam pas in mei 2023 uit. Daarvoor brachten ze in 2022 al Cold Black Room uit. Ze brengen synthwave, met een minimal randje en synthpop à la Depeche Mode. Zowel Guillaume als Ange nemen een deel van de vocals voor hun rekening.
Ik had ze nog niet live gezien en dat is dan steeds een beetje spannend toch wel. Na de intro barstte het feestje los met Worksite. Een echt vlot door te slikken minimal synthsong. Aanstekelijk. Zonder zang. Sferisch vertoeven in een donker muzikaal oord. Gevolgd door Black Light. Wat bravere synthpop, maar wat is daar nu op tegen? Muzikaal gezien steekt het in alle geval heel goed in elkaar. Afwisselend ook. Een song als Dancing Souls is eerder minimalistische synthwave, terwijl Infected By Love al wat meer beats in zich heeft, maar toch eighties klinkt. Waar op de albums de vocals echt wel ok zijn, was er live toch regelmatig een valser klinkende noot te horen. Ofwel is mijn gehoor er heel sterk op achteruit aan het gaan… Ik ben er ook geen drie maal zeven meer. Anyway: genoten, ze brengen heel aanstekelijke muziek, genieten zelf enorm van wat ze doen. Ik ga hen zeker verder volgen, dat sowieso.
En dan als headliner Enzo Kreft. De man uit Mechelen die al in de vroege jaren 80 van de vorige eeuw intussen twee obscuur klinkende minimal-tapes uitbracht. Zijn debuutalbum "Me Is" dateert al uit 1983. Een aantal albums later, brengt hij in 2023 Shelter uit. Alweer een album om 'u' tegen te zeggen (review te vinden elders op de site). Wie Enzo Kreft al live aan het werk zag, weet dat het meestal partytime is. Niet dat het ludieke gehalte zo hoog is, want 's mans songs draaien niet rond de meest luchtige thema's. Oorlog, onrecht, manipulatie, milieurampen- en vervuiling, onterende praktijken, maatschappijkritiek,… worden allemaal verpakt in stevige electrosongs die variëren van minimal tot stevige naar oldschool neigende EBM. Hij opent de set met Standing On The Soil Of Another. Kwestie van niet meteen écht keet te gaan schoppen. Het eveneens op het laatste album verschenen nummer Duck and Cover, een smaakvolle minimal song met door merg en been dreunende synths. En Blood Diamonds volgt naadloos. Dan een sprongetje naar het vorige album Different World met Woke Up This Morning. 'Sun is shining, it's a bright new day, life seems to go its normal way, ow yeah…" Lyrisch en meeslepend. De opbouw van de set is evenwichtig. En de eerste songs zijn opwarmers voor stevig(er) werk. Een eerste stevige mokerslag kregen we bij Viral Paranoia. De diepe oldschool EBM-bassen stompen stevig. Iets later komt wat 'ouder' werk met Abandoned Power Plants, en het aan de eighties referende I Am The Cockroach.
Op zich maakt het niet uit hoe jong of 'oud' een song is. Enzo Kreft brengt het intens. Zo voelt het ook als het publiek meer en meer en steviger stampend meesurft op de electro. Bij Scanned nog eerder wiegend. Bij Biometrics intens bewegend. En waar het optreden zou eindigen… was het voor het publiek niet genoeg. Bijlange niet. Enzo trok nog even een eindspurtje… en de titelsong kan niet mooier samenvatten waar het over ging. Because… It's Going On And On. Als je wil spreken van een afsluitend dansje. Hier kreeg je er ééntje om u tegen te zeggen. Anyway: een heel sterk optrden zoals we van hem gewend zijn.
It's going on.. niet meer deze avond, die rond kwart voor één 's nachts afsloot. Nee: electro is going on. In al zijn verschijningsvormen. Deze avond in de sympathieke B52 halfweg in West-Vlaanderen. Zo mogen er nog vele volgen.
Setlist Causenation
The Time Has Come
In The End
Divided We Fall
A Better Day
Fear
The Future
The Things You Promise
Face Your Shame
Hearts Beat
Strong Structures
Setlist Dark Minimal Project: see pictures
Setlist Enzo Kreft
1. Standing on the Soil of Another
2. Duck and Cover
3. Blood Diamonds
4. Woke Up This Morning
5. Nature Isn't Bound By Borders
6. Ostrich Politics
7. Viral Paranoia
8. Smoggy Jungle
9. Abandoned Power Plant
10. I Am The Cockroach
11. Scanned
12. Connected
13. Biometrics
14. No to These Atrocities
15. There Is No Tomorrow
16. It's Going On And On
Jurgen BRAECKEVELT
09/09/2023
---
---