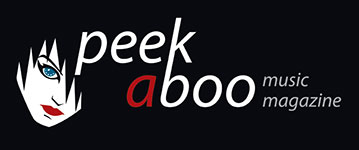 like this movie review
---
HENRY SAINE
Bounty Killer
Movie
[61/100]

Splendid Films
30/12/2013, Didier BECU
---
The text on the Blu-ray-cover describes this movie as a hybrid between Mad Max and Death Proof. Most of the times it's better not to take these promotional lines all not too seriously as they're often a lie, but in this case we tend to say that it's not far away from the truth. We won't immediately say that director Henry Saine is as gifted as George Miller or Quentin Tarantino, but he definitely made a movie that's worth your attention, at least if you're into that kind of pictures!

The story about these bounty killers is set in the near future. We never know in what year exactly, but it all happened after the so called Corporate Wars. This war between stingy business men turned the earth into a desolate wasteland in where life has become almost impossible. The Council Of Nine is a court device that wants to punish the remaining business people. And so, you'll find a lot of bounty killers who wants to earn a living by chasing them. One of them is Drifter (Matthew Marsden). Unfortunately for him, his greatest competitor is the sexy Mary Death (Christian Pitre) who used to be in better days his girlfriend. One day Mary discovers an edict that declares that Drifter himself is a wanted man. Drifter succeeds in convincing Mary that he's just the victim of some conspiracy. The two are going with gun caddy Jack (Barak Hardley) to the Council of Nine to discover the truth.

At first sight this story looks indeed quite silly. But it's true as well that, despite some inconsistencies in the script that's been written during a drunk night, Bounty Killer is a visual fest. Saine knows how to find the right soultunes, he transforms his actresses into irresistible über-babes and he adds some over-the-top violence to it as well. You surely have seen that before, and even better. That much is true. You can even blame him for adding the Gypsy-characters only to give him a perfect excuse to make his movie like Mad Max or it's even clear that the nurse-like dress that Mary is wearing could have come out of the Machete-franchise. It surely makes Bounty Killer some copycat, but people who like the above mentioned genres will embrace this movie as well. Bounty Killer is not a masterpiece or so, I don't even want to go as far by saying it's a good one, it's just a perfect opportunity to switch out the brains and grab a bag of popcorn. If that's your idea of having fun, then you must give Bounty Killer which is now out on both DVD and Blu-ray on Splendid Film a go..
Didier BECU
30/12/2013
---
De tekst op de Blu-ray omschrijft deze prent als een soort hybride van Mad Max en Death Proof. Alhoewel je meestal zulke promotekstjes beter met het nodige zout neemt, is dat deze keer niet eens zo sterk gelogen. Niet dat Henry Saine over hetzelfde talent van George Miller of Quentin Tarantino beschikt, toch mag deze actieprent in zijn genre er al bij al best wezen.

Het relaas van de huurmoordenaars speelt zich af in de nabije toekomst. Het precieze jaartal weten we niet, wel is zeker dat er van de aardbol maar weinig moois is overgebleven. Er woedde immers een bikkelharde oorlog tussen bedrijfsverantwoordelijken. Het gevolg van deze strijd is dat de aarde één grote (bijna onleefbare) woestenij is geworden. De Raad Van Negen wil de overgebleven witteboordencriminelen daarvoor dan ook straffen. Op de hoofden van de gewezen bedrijfsleiders staat een hoge prijs waardoor heel wat huurmoordenaars een aardig centje kunnen opstrijken. Drifter (Matthew Marsden) is zo'n man. Helaas voor hem is hij niet de enige die deze bijverdienste uitoefent, ook Mary Death (Christian Pitre) is er steeds als de kippen bij als er ergens een zakenman wordt gesignaleerd. De sexy Mary was vroeger Drifters vriendinnetje. Als zij een bevelschrift vindt waarop staat dat haar ex-vriendje wordt gezocht kan zijn haar ogen niet geloven. Gelukkig voor Drifter, kan de stakkerd Mary ervan overtuigen dat hij in het ooitje wordt genomen. Samen met haar gewezen vriendje en diens onhandige gun caddy Jack (Barak Hardley) trekt Mary naar de Raad Van Negen om achter de waarheid te komen.

Het verhaal lijkt inderdaad op het eerste gezicht wat onnozel. Maar toch, ondanks een paar ongerijmdheden in het scenario dat trouwens tijdens een dronken bui werd verzonnen, is Bounty Killer in de eerste plaats een visueel festijn. Saine pikt er voor zijn soundtrack wat aanstekelijke souldeuntjes uit, hij maakt van zijn actrices onweerstaanbare babes en voegt er heel wat grappig geweld aan toe. Je hebt het natuurlijk al eens eerder (en zelfs beter) gezien. De zogenaamde zigeuners waarmee de huurmoordenaars steeds moeten afrekenen zijn niet meer dan een excuus om te kunnen uitpakken met beelden die uit de eerste Mad Max konden komen of het verpleegsterpakje (of zoiets toch) waarmee Mary Death paradeert is dan weer duidelijk gepikt uit de Machete-franchise. En toch, alhoewel Bounty Killer niet meer dan een schaamteloze copycat is, komen de makers er aardig mee weg.

Bounty Killer is een film die je geen seconde serieus moet nemen. Het is zelfs geen goede film, want daarvoor is het allemaal net iets te veel afgekeken van de grote voorbeelden. Wel, blijft de actieprent een zeer leuk probeersel dat ideaal kan dienen voor zo'n gezellig popcornavondje waarbij het verstand voor anderhalf uur mag worden uitgeschakeld. Soms moet dat ook kunnen, niet waar?

Bounty Killer is uit op dvd en Blu-ray, en dit via Splendid Film.
Didier BECU
30/12/2013
---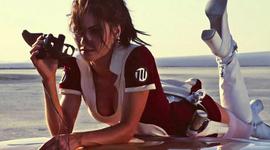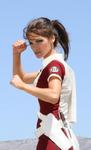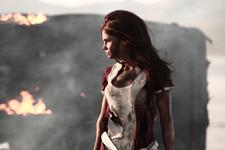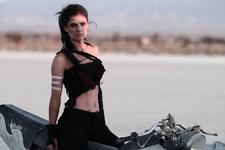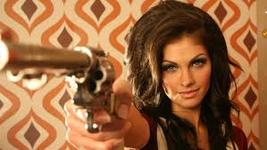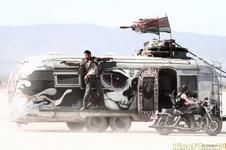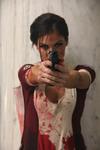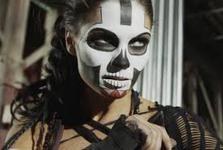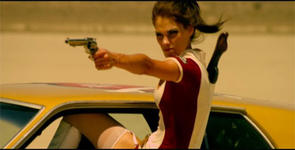 ---