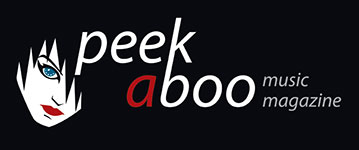 like this concert review
---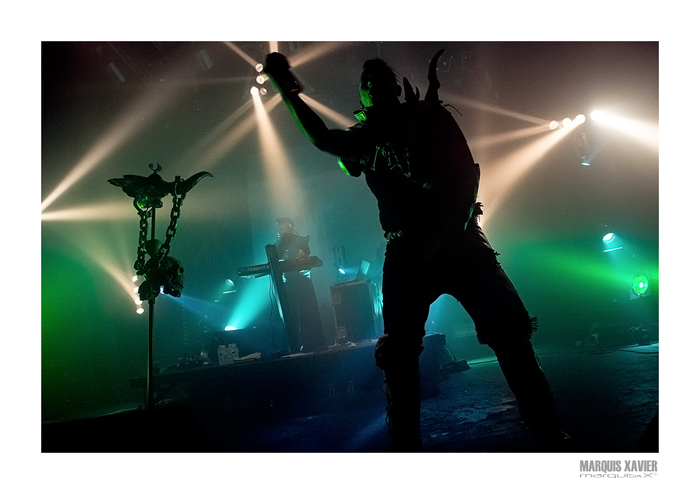 HOCICO, SHAARGHOT
Magasin 4 - 29 maart 2017
Concert
04/04/2017, Jurgen BRAECKEVELT
---
The Brussels hellhole Magasin 4 welcomed two bands to bring down the house on a weekday Wednesday: Hocico and Shaârghot. The blacklings in the audience needed a large dose of energy to match the musical violence that could be expected. Arriving in Brussels the outlook was good: a crowd at the door that would shake the foundations of the Magasin 4 barracks.
Exactly 24 minutes after 7 Shaârghot had the honour of staining the stage first. This band was totally unknown to me. I also did not check them out beforehand. I was going to experience them and see. The band is labeled as 'industrial metal' which evokes images of firing guitars, a high dose of vocal and musical aggression and a sound that can generally be called 'loud noise'. And also a musical and very loud wall of sound drifting from the stage over the audience like an ominous formation of dark clouds. But those are expectations, images that spring to mind spontaneously. Question being if this French outfit would match these images on that stage in dark and imploring Magasin 4.
A few persons, in darkest black as if covered in dark polish, crawled from the room onto the stage that was decorated with two steel frames covered in barbed wire and with an artfull microphone stand in between. Followed by a pounding? Indeed! We can summarize the next hour in a few words: visually very attractive, five star entertainment full of energy, musicians playing tight and well, clearly very well attuned to each other, a frontman breathing energy and managing to transfer this to the audience. And musical diversity. And especially that last part was clearly standing out.
Some bands in this genre make you feel that, after three songs. you will be able to predict what the rest of their set will be like. Not Shaârghot. Every song has a different structure, a nice mix of loud guitars, an in-your-face bass section, percussion supported by electronic beats and very attractive synths that play a clearly audible part in each and every song (as is typical for this genre, but sometimes gets lost in live shows because of the sometimes too loud guitars). The mixing was very good and the variety in the melodic synth parts through the tough industrial metal was really to perfection. No song sounded the same, neither did the structure of the songs: sometimes brutally loud, sometimes calm and with pure electro parts. Even the frontman does not have a 'monotone' sound. Sometimes shouting, sometimes almost rapping, aggressive but than again not at all.
If it wasn't clear yet: Shaârghot played a very good, varied, musically and visually great show. There was something happening on stage every single second. Musically and visually perfected down to each and every detail. Like a steamroller. Litterally, because there was not a second of silence inbetween the songs, every song was immediately followed by another. Not too much bla-bla, but a lot of musical boom-boom. The oildrum that was used as a drum was turned into a proper steamroller when it was hurled into the audience and passed along over their heads. But above all this performance was honest and lived through. Shaârghot loves what they do and that can be seen and felt in the audience. And the audience appreciation was honoured with 2 encores. This is a band to watch. Not just good but excellent industrial metal and, for me, a real relief in this genre.
After a quick recovery from this great opener and some time to recharge the batteries it was Hocico's (pronounced as 'Osziko') turn. Mexican cousins Erk Aicrag and Racso Agroyam have formed an inseperable duo since 1993. And a well-oiled tandem at that. The musical embodyment of anger ánd survival of the rising physical and psychical violence in the streets of Mexico City. The spider with the letter 'H' was a focal point on the stage, accompanied by only a single keyboard and above all plenty of space for the physically small but otherwise great Erk.
What does Hocico still need to prove? Not much, in my humble opinion. What do we expect? Not a lot... because everybody knows already that a show by Hocico is a one and a half hour trip with endless pounding darkbeats that mostly ends up with a wild dancing mob. Besides, Erk himself is a walking bundle of energy and his audience mostly follows.
And did Hocico manage to ignite the room? Yes! From the first minute. Full response. The members of Shaârgot could be seen in the frontrow that turned into a moshpit after three songs. With relatively young people, compared to other performances in the dark electro genre. Apparently this danceable dark electro violence is appealing to a young(er) generation. And looking around the three-quarter filled Magasin 4 we saw that each and everyone moved.
Erk and Rasco gave us a selection from their meanwhile 17 albums. Energetic, straight forward, with a 'swallow or choke' attitude. Impossible not to move to the well-balanced songs that poured out darkbeats from the speakers in a furious pace. I have had the pleasure of seeing this duo perform several times before and this seemed to me to be one of their better ones. Partly because of the excellent PA (hats off to those boys) because it was clear and not too loud which allowed the music to come into its own. An illustrious one and a half hour dark electro trip that I still was enjoying on my way home.
Conclusion: you know it was a good one if you, after only two bands, feel like you have experienced an entire festival day, with legs still shaking, beats still pounding in the underbelly and wishing the night would last longer. It was excellent. Two bands that do what they are as it were made for and manage to do this with energy and animation.... that is the best thing you can give to an audience. So thank you, good night and hope to see you soon...again.
Foto's Hocico - Foto's Shaârghot
Setlist Shaârghot

Sand Storm calling
Uman iz jaws
Mad party
No solution
Shaârghot
The way
UKTTOMH
Traders must die
We are Alive
Bis:
Break your body
AZERTY
Setlist Hocico:
Déjà vu Siniestro
Mind Circus
Sex Sick
Dog Eat Dog
In the Name of Violence
Bite Me!
Bienvenido a la Maldad
Auf Der Flucht
Dead Trust
Poltergeist
Heart attack
Bloodshed
The Watched
Bis:
I Abomination
Forgotten Tears
Jurgen BRAECKEVELT
04/04/2017
---
Op een doordeweekse woensdagavond was het Brusselse hellegat Magasin 4 de onvangsthal voor twee groepen die heel krachtig huis zouden moeten houden: Hocico en Shaârghot. Het overwegend zwarte gepeupel wapende zich best met een ferme dosis energie om het te verwachten muzieke geweld aan te kunnen. Bij aankomst in Brussel zag het er goed uit: vrij veel volk aan de deur, dat enkele minuten later de 'loods' Magasin 4 op haar grondvesten zou doen daveren.
Exact 24 minuten na zeven had Shaârghot de eer om het podium als eerste te bevlekken. Voor mij totaal onbekend tot dat moment. Ik had de band ook niet vooraf opgezocht. Ik zou het allemaal wel zien. Er hing een label op de band: 'industrial metal'. Dat roept bij mij een connotatie op van snoeihard gitaarwerk, hoge dosissen vocale en muzikale agressie en een klankbord dat globaal genomen als 'lawaai' kan worden bestempeld. Daarbij ook een muzikale, heel luide wall of sound die als een formatie onheilspellende wolken langzaam vanop het podium de zaal overspoelt. Maar dat zijn verwachtingen, beelden die spontaan in mijn gedachten opwellen. De vraag was of het Franse gezelschap dat imaginaire beeld ook zou neerzetten op dat podium in het donkere, bezwerende Magasin 4.
Enkele in het donkerst zwart, als het ware in schoensmeer gehulde personaliteiten beslopen vanuit de zaal het podium, dat was aangekleed met twee stalen frames waarin prikkeldraad was geweven. Daartussenin een kunstig microstatief. En dan rammen? Jawel! Wat we een heel uur lang te zien kregen is samen te vatten in een paar woorden: visueel héél genietbaar, energiek topentertainment, muzikanten die heel duidelijk geweldig op elkaar zijn ingespeeld én die bovendien goed en strak spelen, een frontman die energie ademt en die ook de zaal injaagt, en muzikaal divers. Vooral dat laatste viel enorm op.
Waar sommige bands in het genre het gevoel oproepen dat je na drie songs wel gehoord hebt wat de rest van de set zal zijn, is dat bij Shaârghot heel anders. Elke song heeft een andere opbouw, een mooie mix van snoeiharde gitaren, een hoorbare bassectie, drumwerk ondersteund door electronische beats en heel aanstekelijke synths die in élk nummer een duidelijk hoorbare rol spelen. Dat laatste is toch iets typisch voor het genre, maar verdrinkt live wel eens in té luide gitaren. De mixing was dik ok, en de variatie in de melodieuze synthpartijen doorheen het industrial metalgebeuren was echt af. Geen enkele song klonk hetzelfde, de opbouw van de nummers ook niet: dan weer snoeihard, afgewisseld met rustige, soms puur electro-passages. Ook de forntman klinkt nooit 'monotoon'. Soms schreeuwerig, dan bijna rappend, agressief, maar toch ook weer niet.
Mocht het nog niet duidelijk genoeg zijn; Shaârghot speelde een héél goede, gevarieerde, muzikaal en visueel geweldige show. Elke seconde gebeurde er iets op het podium. Muzikaal én visueel af tot in het kleinste detail. Een pletwals, en wel héél letterlijk: tussen de songs géén seconde stilte, elk nummer meteen na het vorige. Niet te veel blabla, wel muzikale boem-boem. Het olievat dat als slagwerk dienstdeed, veranderde echt in een pletwals, toen het vanop het podium over de hoofden van het publiek de zaal rond ging. Maar het optreden was vooral oprecht en doorleefd. Shaârghot is een band die houdt van wat ze doen en dat zie en voel je in het publiek. En het publiek waardeerde dat, en kreeg twee bisnummers cadeau. Dit is een band om in de gaten te houden. Dit was geen goede, maar een subliéme industrial metal en voor mij in dit genre een ware veraderming.
Na bekomen te zijn van deze geweldige opener, en na even de tijd gekregen te hebben om de batterijen op te laden, was het de beurt aan Hocico (spreek uit:"Osziko"). De Mexicaanse neefjes Erk Aicrag en Racso Agroyam vormen al sinds 1993 een onafscheidelijke duo. En goed geoliede tandem. De muzikale belichaming van de boosheid én het overleven van het stijgende fysieke en psychische geweld in de straten van Mexico City. De spin met de letter 'H' palmde het podium in, waar voor de rest enkel een keyboard stond en vooral veel ruimte voor de qua gestalte wat kleinere, maar voor de rest grote Erk.
Wat heeft Hocico nog te bewijzen? Weinig naar mijn aanvoelen. Welke verwachtingen koesteren we? Weinig... Iedereen wéét immers dat een show van Hocico een anderhalf uur durende trip is met onophoudelijk op je inbeukende darkbeats die meestal ontaarden in een dansende meute. Bovendien is Erk zélf een wandelende brok energie en zijn publiek volgt meestal.
Of Hocico er het vuur in kreeg? Ja! Van minuut één. Respons maximaal. De leden van Shaârgot waren in de eerste rijen aan het podium van de partij, die vanaf het derde nummer tot een moshpit werd omgedoopt. Daarin stonden in vergelijking met sommige andere optredens in het dark electro genre heel veel jonge mensen. Blijkbaar begint het dansbare donkere electrogeweld een jonge(re) generatie aan te spreken. Een blik achterom in een driekwart gevulde Magasin 4 leerde dat alles en iedereen bewoog.
Erk en Rasco brachten een bloemlezing uit hun intussen 17 allbums. Energiek, rechttoe rechtaan, met een attitude van slikken of.. slikken. Onmogelijk stil te blijven staan bij de uitgebalanceerde songs waarbij de darkbeats aan een razend tempo uit de boxen werden geslingerd. Ik mocht dit duo al verschillende malen bezig zien en mij leek het één van hun betere optredens. De PA zal daar voor een stuk tussen zitten (congrats voor die mensen) want het was helder en niet té luid, wat de muziek meer tot zijn recht laat komen. Een illustere, anderhalf uur durende dark electro-trip waar ik bij het verlaten van de zaal op de rit huiswaarts nog lang van kon nagenieten.
Conslusie: als je na amper twee optredens het gevoel hebt een dag festival te hebben beleefd, de benen nog natrillen, de beats nog voelbaar zijn in de onderbuik, en je eigenlijk wou dat de avond nog maar nét begon.. dan weet je dat het goed was. Het was zelfs steengoed. Twee bands die energiek en bezield doen waar ze als het ware voor geschapen zijn, en dat ook zo brengen: dat is het mooiste wat je een publiek cadeau kan doen. So thank you, good night and hope to see you soon... again....
Foto's Hocico - Foto's Shaârghot
Setlist Shaârghot

Sand Storm calling
Uman iz jaws
Mad party
No solution
Shaârghot
The way
UKTTOMH
Traders must die
We are Alive
Bis:
Break your body
AZERTY
Setlist Hocico:
Déjà vu Siniestro
Mind Circus
Sex Sick
Dog Eat Dog
In the Name of Violence
Bite Me!
Bienvenido a la Maldad
Auf Der Flucht
Dead Trust
Poltergeist
Heart attack
Bloodshed
The Watched
Bis:
I Abomination
Forgotten Tears
Jurgen BRAECKEVELT
04/04/2017
---
---