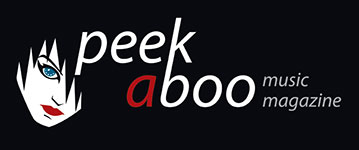 like this documentary review
---
JEANIE FINLAY
Sound It Out
Movie
•
Documentary
[85/100]

25/04/2015, Didier BECU
---
Perhaps no one voluntarily chooses to live in Teesside. Decades ago this coastal town was important for the steel industry, but since the crisis it has become one of Britain's darkest places. There is an enormous air pollution in the region, everything looks dull and gray, and over 30% of the population is unemployed. And yet, there is one bright spot in the city: a record store. A small miracle, just because all record stores have gone, except one: Sound It Out.
No music fanatic would ever dreamed it, but in 2015 it's rare that there still is a place for a small record store. Four people, led by Tom, ensure that music lovers from the North East of England don't have to go to HMV, the only store in the neighborhood where you can still buy a CD. The tiny shop that houses 70,000 records (from dance to obscure punk), also has a social role. It is the meeting place for dozens of music fans (young and old) who muse about their hobby, and especially look back on earlier times when everything was better. Despite the fact that they are aware of the fact that they do belong to a dying breed, they keep on going.
Jeanie Finlay became so fascinated that she decided to make a documentary about it. The result is stunning, rarely you saw the passion for music (especially the one for vinyl) so touching on screen. Finlay also sneaks into the living rooms of music fans. Very often they are people who are alone and have music as their sole support in life. If a guy says that it is his dream to be buried with his Status Quo records, simply because he has nothing else, then it is difficult not to get a lump in the throat. But there is more than just melancholy, there is also the passion. Collectors who seek with a real hunter instinct an almost unfindable record just because the name of the band is misspelled. Yes, we know them and if you want to meet the fans of Teesside, you should see Sound It Out. A more beautiful tribute to the music is almost impossible!
Didier BECU
25/04/2015
---
Wellicht is er geen mens die er vrijwillig voor kiest om in Teesside te wonen. Decennia terug was deze kuststad belangrijk voor de staalindustrie, maar sinds de crisis is het één van Engelands donkerste plekken. Er is een enorme luchtvervuiling in de streek, alles ziet er grauw en grijs uit en ruim 30% van de bevolking is er werkloos. En toch is er één lichtpunt in de stad: een platenwinkel die steevast is blijven bestaan. Zowat alle platenzaken uit de buurt zijn op de fles gegaan, behalve eentje: Sound It Out.
Geen enkele muziekfanaat had het ooit durven dromen, maar dat er in 2015 nog plaats is voor zo'n kleine platenboer is een uiterst zeldzaam fenomeen. Vier mensen onder leiding van Tom zorgen ervoor dat de muziekliefhebbers uit het noordoosten van Engeland niet bevoorraad worden door HMV (de enige plaats in de buurt waar je nog een cd kan kopen). Het piepkleine winkeltje, dat onderdak biedt aan 70.000 platen (van dance tot punk), heeft ook een sociale rol. Het is de ontmoetingsplek van tientallen muziekfans (jong en oud) die mijmeren over hun hobby, en die vooral weemoedig terugkijken naar vroegere tijden toen alles beter was. Ondanks het feit dat deze muziekfans er zich van bewust zijn dat ze tot een uitstervend ras behoren, doen ze voort.
Jeanie Finlay raakte er zo door gefascineerd dat ze besloot om er een documentaire over te maken. Het resultaat is verbluffend, zelden zag je de liefde voor muziek (en dan in het bijzonder voor vinyl) zo ontroerend in beeld gebracht. Finlay sluipt ook de huiskamers binnen van de muziekfans. Het zijn vaak mensen die alleen zijn en die muziek als enige houvast in hun leven hebben. Als een jongen vertelt dat het zijn droom is om te worden begraven met zijn Status Quo-platen, gewoon omdat hij niks anders heeft, dan is het moeilijk om geen krop in de keel te krijgen. Maar er is meer dan melancholie, er is ook de passie. Verzamelaars die met een echt jagersinstinct op zoek gaan naar een bijna onvindbare plaat omdat gewoon de naam van de band fout is gespeld. Ja, we kennen ze allemaal en als je de fanaten van Teesside wil ontmoeten, dan moet je Sound It Out zien. Mooier kan een ode aan de muziek niet zijn!
Didier BECU
25/04/2015
---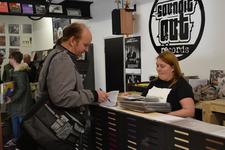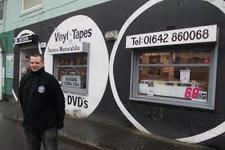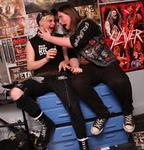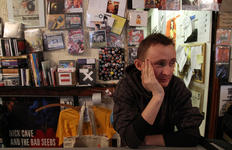 ---